5 Essential Indian Cooking Techniques that will take your favourite Indian recipes from 'meh' to 'wow' ... every time!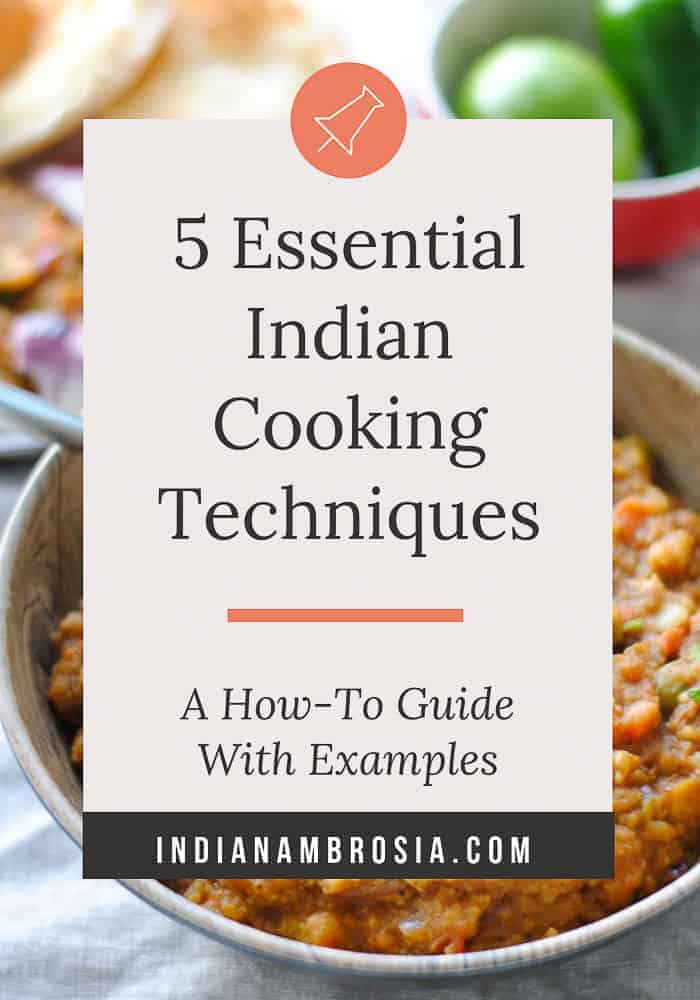 You love Indian food and you find yourself constantly feasting your eyes on drool-worthy pictures of kormas with deep, rich gravies, succulent chicken biryanis and melt-in-the-mouth kebabs all the time. The ones splashed all over food blogs and Pinterest.
Ever wonder what makes them look and taste so darn delicious? Can't be the recipes. As you probably already know, it takes more than a great recipe to make dishes with the 'wow' factor.
It's the way the food is cooked or the cooking techniques. Or I should say Indian cooking techniques.
You need to have some behind-the-scenes knowledge of a cuisine to really bring those recipes to life.
Cooks who are aware of Indian cooking methods are able to whip out dishes that look and taste completely authentic.
Now, with the help of this handy guide, you can too!
All you need to do is apply the correct method the next time you cook Indian food. After that, just sit back and soak in the compliments that pour in when you cook that korma or biryani!
There are 5 basic cooking techniques in Indian cooking. They are listed below with their most closely related English equivalents:
Baghar or Tarka (Tempering)
Talna (Frying)
Bhunao (Sauteing and Roasting)
Dum (Steaming)
Dhuanaar (Smoking)
Obviously, all these techniques are not applied in every recipe. It's usually a combination of 2 or 3 that completes the cooking process.
However, for the sake of understanding, let's imagine that a lamb recipe needs all five. What follows is a brief description and the order in which they will come in the cooking process.
Indian cooking techniques at a glance
Step 1: Baghar or Tarka
Heat some oil, add whole spices and let them sizzle.
Step 2: Talna
Add finely sliced onions, fry them on medium heat until they caramelize and turn a reddish-brown colour.
Step 3: Bhunao
Add ginger-garlic paste, ground spices and tomatoes. Saute on medium heat adding splashes of liquid. Stir until oil separates. Add meat and bhunao some more.
Step 4: Dum
Add a little water, cover the pan or vessel tightly, reduce the heat to low and let the food cook gradually in its own steam.
Step 5: Dhuanaar
Keep some red-hot charcoal in a small cup in the middle of the food. Drizzle some ghee on it. Cover the pan and let it rest  for a few minutes. Uncover when ready to eat and remove the charcoal.
This, in a nutshell, is how these techniques follow each other in the cooking process. Let's look at them in some detail now:
Technique #1 - Baghar (Tempering)
Baghar, or tarka (tadka) as it is also known as, can be done in two ways:
A. As the first step in the cooking process
Heat oil and add whole spices like cumin, cloves, cardamom and peppercorns. As soon as the spices begin to sizzle, follow with the rest of the ingredients in the recipe. Baghar as the first step is usually done while cooking meat and chicken curries as well as dry vegetables.
B. As the last step in the cooking process
Heat pure ghee or vegetable oil in a small pan and add whole spices to it. As soon as the spices begin to sizzle, pour the tempered ghee or oil into the bowl of waiting food, usually dal (lentils), beans or rice. Besides dal, some cooked vegetable recipes like palak paneer (spinach with cottage cheese) are also dressed in this manner.
Top tips on baghar as the last step
Pure ghee is preferred over vegetable oil in a traditional baghar. Two tablespoons of ghee are enough, less if you are squeamish about it.
The spices used are half a teaspoon each cumin or mustard seeds and one or two dry red chillies. Sometimes, herbs like coriander or curry leaves are added a second before pouring the oil over the dal.
Some dals, like arhar or toor (split pigeon peas) require a garlic baghar. Simply heat the oil and add one finely sliced garlic clove. When it blisters and turns brown, add one dry red chilli and pour the whole thing into the dal. Dal tadka is ready. Toor dal tastes divine with this simple baghar.
Yet other dals, like masoor (red lentils) or even rajma (kidney beans) taste great with a caramelized onion baghar. Finely slice half of a small onion and add it to heated oil. Keep stirring it with a spoon so that it doesn't burn. When it turns reddish brown, pour it along with the oil over the dal.
You can really get creative here. I also sometimes add curry leaves, mint leaves, mustard seeds and green chillies to my baghar. Play around with a variety of ingredients to make your tempering fun!
Baghar is the simplest way to jazz up plain ol' dal because it lifts its flavour in an instant. There is also something very appealing about the entire process. The heavenly aroma of pure ghee, the way the spices crackle and pop in the ghee, and the hissing of dal as the hot, spice-infused ghee hits it makes for a complete sensory experience!
Be careful while executing baghar, or you'll end up with oil splatters all over the place or worse, burnt hands. It's safest to wear kitchen gloves and spread a dish cloth or newspaper over the countertop while doing baghar.
Recipes using baghar
TOOR DAL - 
soup like lentils to be had with vegetables or rice

Technique #2 - Talna (Frying)
More often than not, you will find yourself frying lots of onions when you're cooking Indian food. But there's nothing more frustrating than peeling and slicing those tear-inducing little monsters, waiting ages for them to fry and then ending up with an under or over-browned mess (I've been there). In either case, you won't get the colour or taste of the gravy the way it's supposed to be.
How to fry onions
Slice the onions as fine as you can for even browning.
Heat enough oil in a pan to fry the onions and add the onion slices.
The temperature needs to be regulated for even browning. At the start, fry the onions on medium heat, but when you see them blistering, reduce the heat and stir them constantly until they are browned.
If the recipe calls for grinding the fried onions, remove them immediately from hot oil with the help of a slotted spoon onto absorbent tissue paper. You can use a small sieve too, if you want. You should do this as soon as you've achieved the desired reddish-brown colour or else they will keep cooking and turn darker than you intended.
If the recipe does not call for later use of the caramelized onions, proceed immediately with the next step, i.e., add the next ingredients as soon as the onions are caramelized.
Tips for the perfect fried onions
To lessen the stinging in your eyes while chopping onions, peel them and keep them in the fridge for a few hours before slicing them. It really works. I have even resorted to wearing my close-fitting dark shades while slicing them, no kidding!
Do not multitask while frying onions, especially in the later stage when they have started caramelizing. They will burn before you know it!
Don't forget to stir the onions continuously in the later stage to prevent uneven browning.
Recipes using talna
Technique #3 - Bhunao (Sauteeing and Roasting)
Stir-frying/Roasting the masala (mix of ground onion, ginger, garlic, tomatoes and spices) in oil until it is well cooked and does not smell or taste raw.
How to bhunao
Heat oil in a heavy bottomed pan.
Add the masala.
Start by cooking the masala on medium-high heat.
As the water in the masala evaporates, it will start sticking to the pan.
Lower the heat, add a splash of water/yoghurt/stock and stir continuously with a ladle in a circular motion.
Add splashes of liquid intermittently to prevent burning.
The masala is 'bhunaoed' when it becomes thick and shiny, and you can see that the oil has separated. It is now ready for the next step, most often, the addition of the main ingredient (meat, chicken or vegetables).
Bhunao is the single most important technique in Indian cooking and one which a lot of new cooks miss to do. If you're preparing any kind of masala as a base for a curry or gravy, it is a must to bhunao this masala first, and then bhunao the meat as well in the masala after it has been added to it. Vegetables are not bhunaoed as vigorously, often not at all.
Recipes using bhunao
GOBI GOSHT -
 A fantastic lamb curry with cauliflower, onions, tomatoes and spices.
MUTTON KORMA -
Succulent pieces of mutton in a rich gravy made with lots of fried onions, yogurt and whole spices.
ACHARI CHICKEN -
 A bold and spicy chicken curry made in Indian pickling spices.
Technique #4 - Dum
Dum is, in many ways, the opposite of bhunao. The food is slow cooked for a long time on low heat in a sealed pot. That is the essence of dum.
How to do dum the traditional way
The food is put in a clay pot or a handi (a deep and round vessel), and a firm dough made of wheat flour is used to seal the lid. The pot of food is allowed to heat up on a medium flame first to start the cooking process. Then it is placed over a tawa (griddle) so that the bottom does not come in direct contact with the heat. The heat is lowered further, to the lowest possible, and a handful of red-hot coals are placed on top of the lid to provide heat from above. If it is biryani being cooked, a clean, wet cloth is placed on top of the rice before sealing the pot with dough.
How to do dum the everyday way
A normal dum in everyday cooking simply means covering the food (that's already been bhunaoed) and simmering it on low heat until it is fully cooked. If it's a gravy that's cooking, a little water is also added. No-one goes through the rather involved process described above except when cooking something really special!
More information about dum
The most famous preparations using the dum style of cooking are Hyderabadi dum biryani and Kashmiri dum aloo although the technique can be applied to any recipe.
Recipes using dum
Technique #5 - Dhuanaar
Dhuanaar is the Indian style of smoking foods. Compared to dum, it is a relatively simple technique and can be done very quickly. We have discussed dhuanaar before; here, I give you an alternate method of doing it, especially if the quantity of meat that you have cooked is not large.
How to do dhuanaar
Heat some charcoal on an open flame until it is red-hot.
Nestle it inside a thick, circular piece of onion and place the onion piece on top of the food.
Drizzle a teaspoonful of ghee on the red-hot charcoal and cover immediately with a lid.
Remove the lid after a few minutes.
Voila! You have perfectly smoked food ready in a jiffy.
Dhuanaar is an easy and wonderful way to add depth and flavour to food, especially kebabs. The smoky taste is to die for!
Recipes using dhuanaar
BEEF KEBABS -
 soft as velvet kebabs that will melt in your mouth
So there you have it. The 5 essential cooking techniques that you must know.
No more wondering why your food doesn't turn out the way it's described in the recipes. Because now you know as much about Indian cooking techniques as any seasoned cook.
If you apply these techniques while cooking Indian food, you will notice a difference in the way your recipes turn out. They will look and taste better ... just the way they're supposed to.
Happy Cooking!