This is a delicately spiced aloo gobi recipe that gets its flavors from an onion and tomato base with just a sprinkling of the big three spices of Indian cooking – turmeric, coriander and red chilli powders. It's vegan, it's easy and it's tasty!
Cauliflower is a versatile vegetable that can be paired with any number of other veggies like peas, carrots and capsicum. But the classic combo, and the favorite in my home, is cauliflower florets with bite sized potato chunks. The spices add an interesting dimension to this aloo gobi masala recipe and a distinctly 'Indian' touch.
A simple and earthy dish, it is best eaten with fresh off the griddle rotis and a piping hot dal which makes for a complete north Indian meal. Simple, filling and deeply satisfying!
What you'll need for this easy aloo gobi recipe
A fresh head of cauliflower, leaves and all chopped up + peeled and chopped potato
You'll also need fenugreek (optional) and cumin seeds, chopped onion, chopped tomato, spice powders (red chilli, turmeric and coriander),  green chilli pepper, fresh ginger root (optional), and cooking oil and salt. 
Let's make aloo gobi sabzi
Step 1 - Heat the cooking oil and add the cumin and fenugreek, followed by the onions. Fry the onions until they are a beautiful, golden brown color.
Step 2 - Make the masala. Throw in the ginger, tomato and powdered spices and saute until the masala is thick and fragrant (2-3 minutes).
Step 3 - Time for the cauliflower and potato to go in. Mix, add a little water (not too much) and cook on low heat for 10-12 minutes.
Don't forget to garnish with the green chilli. Your aloo gobi fry is ready to be served with some warm Indian bread and a piping hot dal!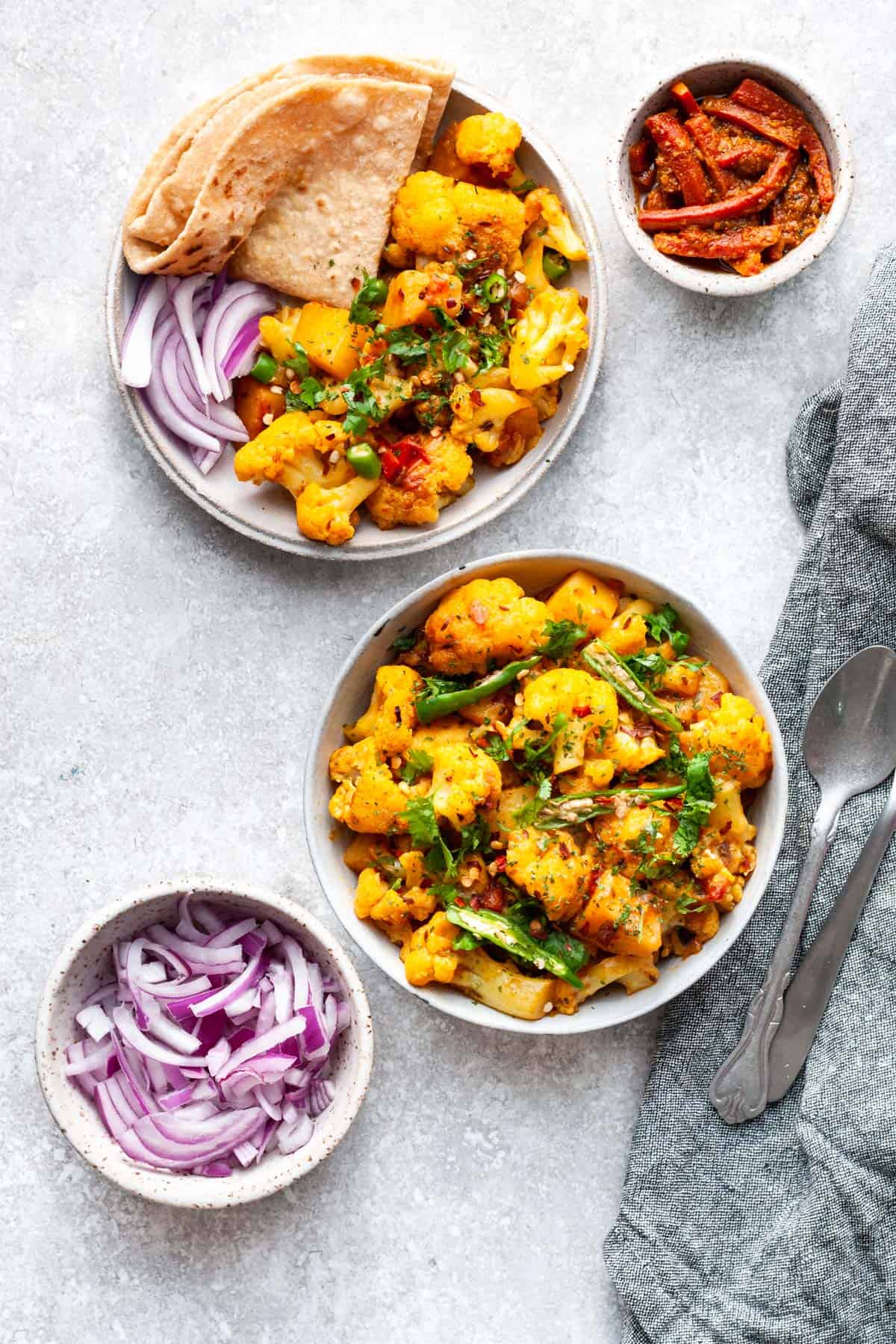 A couple of tips for making the perfect potato cauliflower sabzi
Tip #1 - While frying the onions, be careful not to over-brown them. I've walked away on more than one occasion while the onions are frying, and I've shed quite a few tears at the black mess that's greeted me. It's very aggravating so please don't. walk. away.
Tip #2 - Don't be tempted to add too much water to the cooking sabzi. Mushy sabzi is no fun and trust me, cauliflower is such a delicate vegetable, it breaks down very easily especially when water is added to it. A quarter of a cup is more than enough to soften the cauliflower, even less if you cook it on low heat.
Tip #3 -  You can omit the fenugreek, ginger and even Kashmiri chilli powder. However, if you're doing away with the red chilli, throw in 2 or 3 fresh green chilli peppers instead. Gobi aloo seasoned with just green chillies tastes fantastic!
Tip #4 - If you have a little fresh cilantro on hand, do add that as a garnish. A few sprigs of fresh chopped cilantro adds an interesting touch of color and fragrance to the sabzi.
Print
aloo gobi
This is a delicately spiced aloo gobi recipe that gets its flavours from an onion and tomato base with just a sprinkling of the big three spices of Indian cooking – turmeric, coriander and red chilli powders.
Author: Saima Zaidi
Prep Time:

10 minutes

Cook Time:

20 minutes

Total Time:

30 minutes

Yield:

4

-

6

servings

1

x
Category:

Lunch

Method:

Stove top cooking

Cuisine:

Indian
Ingredients
1

medium cauliflower head, cut into florets

1

medium potato, bite sized chunks

1

small onion, thinly sliced

1

medium tomato, chopped

¼ tsp

fenugreek seeds (optional)

½ tsp

cumin seeds

½ tsp

Kashmiri chilli powder or crushed red chilli

½ tsp

turmeric powder

1 tsp

coriander powder

1 tsp

salt

½ tsp

finely chopped ginger (optional)

¼ cup

cooking oil

1

green chilli, chopped
Instructions
Heat the oil in a non-stick pan and add fenugreek and cumin.
When the seeds turn golden, add the sliced onion and sauté until the onions turn reddish-brown.
Tip in the ginger, tomato and dry spices and cook for 2 minutes on medium heat.
Add the cauliflower and potato to the pan and stir to mix.
Sauté for 2 minutes, add a splash of water if needed and cover the pan.
Cook for 10-12 minutes. Stir once or twice during the cooking process to prevent the veggies from sticking to the pan.
Take off the lid and garnish with the chopped green chilli.
Notes
This is a dry aloo gobi, so resist the temptation to add too  much water during the cooking process. The vegetables should be soft but not mushy.
Kashmiri chilli powder is a milder version of chilli powder and has a pleasing red colour. It is easily available in Indian grocery stores. But it can be easily substituted with cayenne (use less), or fresh red chilli or even chilli flakes.
Take care not to over brown the onions, or else the vegetables will also take on an unappealing brown tinge.
The fenugreek and ginger are completely optional. They add a pleasing flavor to aloo gobi, but omit them by all means if you're in a hurry.
Nutrition
Calories:

145.9

Sugar:

3.8

Sodium:

430.8

Fat:

9.5

Saturated Fat:

0.7

Unsaturated Fat:

8.3

Trans Fat:

0

Carbohydrates:

14.2

Fiber:

4.1

Protein:

3.0

Cholesterol:

0
Keywords: aloo gobi recipe, cauliflower, vegetarian, Indian cooking