This baghare baingan recipe is a delicious eggplant preparation with tamarind, peanuts, sesame and coconut!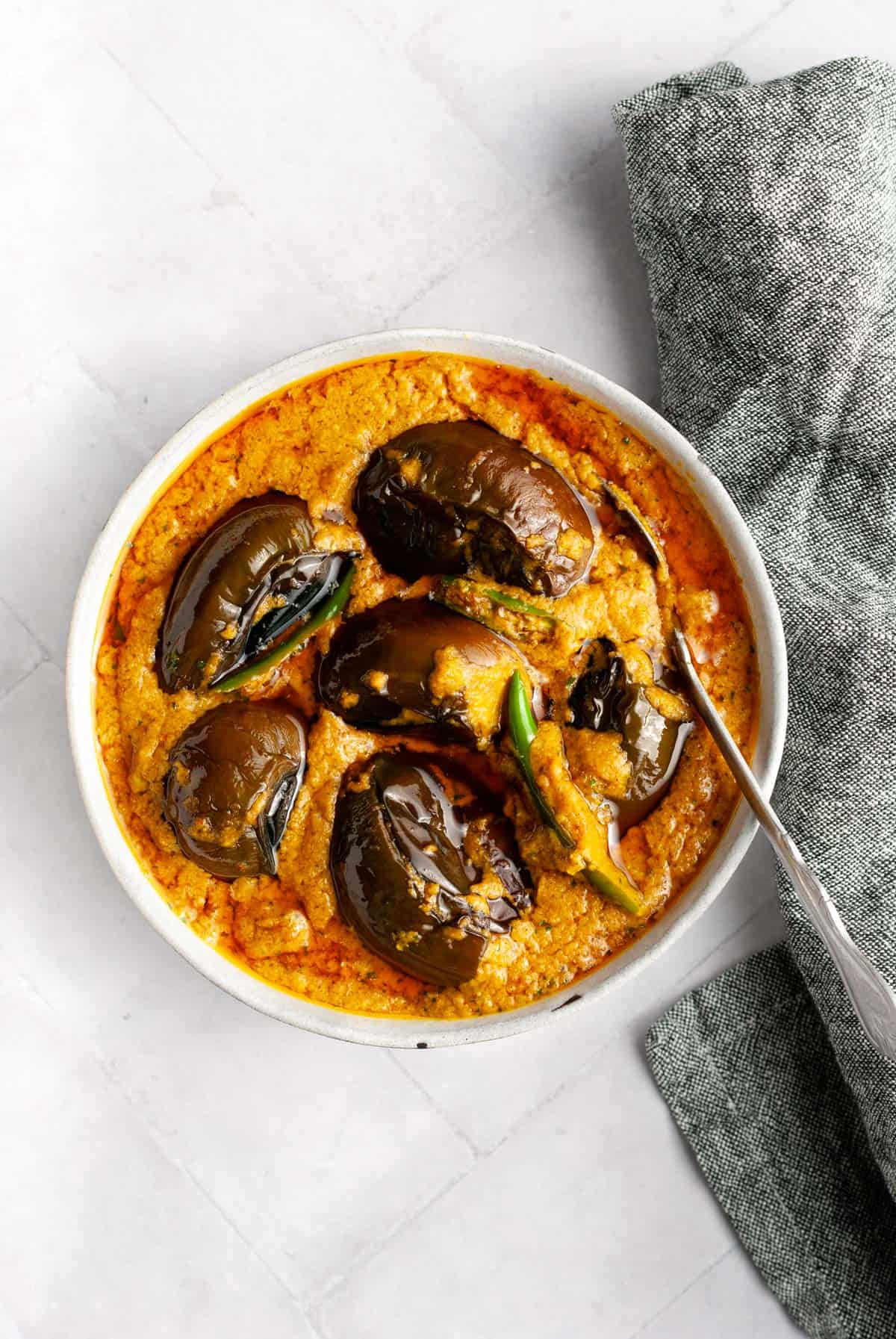 This baghare baingan recipe is right up your alley if you love tangy Indian curries. Eggplant cooked in this special blend of ingredients comes from the southern Indian city of Hyderabad, so it is also called Hyderabadi baghare baingan. The spices and masalas used in South India differ significantly from those in the North. Think tamarind, coconut, peanuts and curry leaves – all liberally used in dishes down South but hardly, if ever used in North Indian cuisine.
That was my little nugget about the difference in cooking styles within India. I learnt how to make this dish from a cousin of mine, Asma, who is married to a guy from Hyderabad. She, in turn, learnt it from her mother-in-law, so I don't doubt the authenticity of the recipe. The process of making it is a little involved and I cook it only when I have the time for all that roasting and grinding, but I so love the tangy, mildly spicy curry and it is a welcome change from my typical Awadhi-style gravies.
Serve baghare baingan with any Indian bread of your choice or white Basmati rice. It tastes wonderful with both!
baghare baingan
Yield 4-6 servings
This baghare baingan recipe is a delicious eggplant preparation with tamarind, peanuts, sesame and coconut!
Ingredients
9-10 baby eggplants, tops cut off and slit lengthwise
A fistful of peanuts, shelled
3 tbsp unsweetened coconut powder
3 tsp sesame seeds
1 tsp cumin seeds
1 tbsp coriander powder
1 tsp turmeric powder
1 tsp Kashmiri chilli powder or paprika powder
1 lemon sized piece of seedless tamarind, soaked in 1 cup of warm water for 20 minutes
1 big onion, sliced finely
4 tbsp ginger-garlic paste
1-2 green chillies
A sprig of cilantro leaves
3 + 3 tbsp cooking oil
salt
Instructions
Prep: 
Shallow fry the eggplants in 3 tbsp oil and keep aside. (5 minutes)
Fry the sliced onions in the same oil until golden brown and take out.
Pass the tamarind through a fine sieve, discard the solids and keep the water.
Dry roast the peanuts, sesame seeds, coconut powder and cumin seeds separately on low heat till golden. Mix with the fried onions.
Put the ingredients of step 4 in a blender along with the tamarind water and whizz them to make a puree.
Cook: 
Heat the remaining 3 tbsp oil and add ginger-garlic paste, puree (step 5 above), coriander, turmeric, Kashmiri chilli and salt. Sauté for one minute.
Add the fried eggplants plus 2 cups of water, stir once, cover the pan and cook for 20 minutes. Check once or twice to see that the curry does not stick to the bottom.
The eggplant curry is done when the curry thickens and the oil separates. Add the green chillies and cilantro leaves and serve hot.
Courses Lunch
Cuisine Indian