Baingan Bharta or Eggplant Bharta is an easy vegan, keto and gluten-free Indian recipe. Fire-roasted and mashed eggplant is stir fried in onions, tomatoes, garlic and spices to make a very flavourful side dish.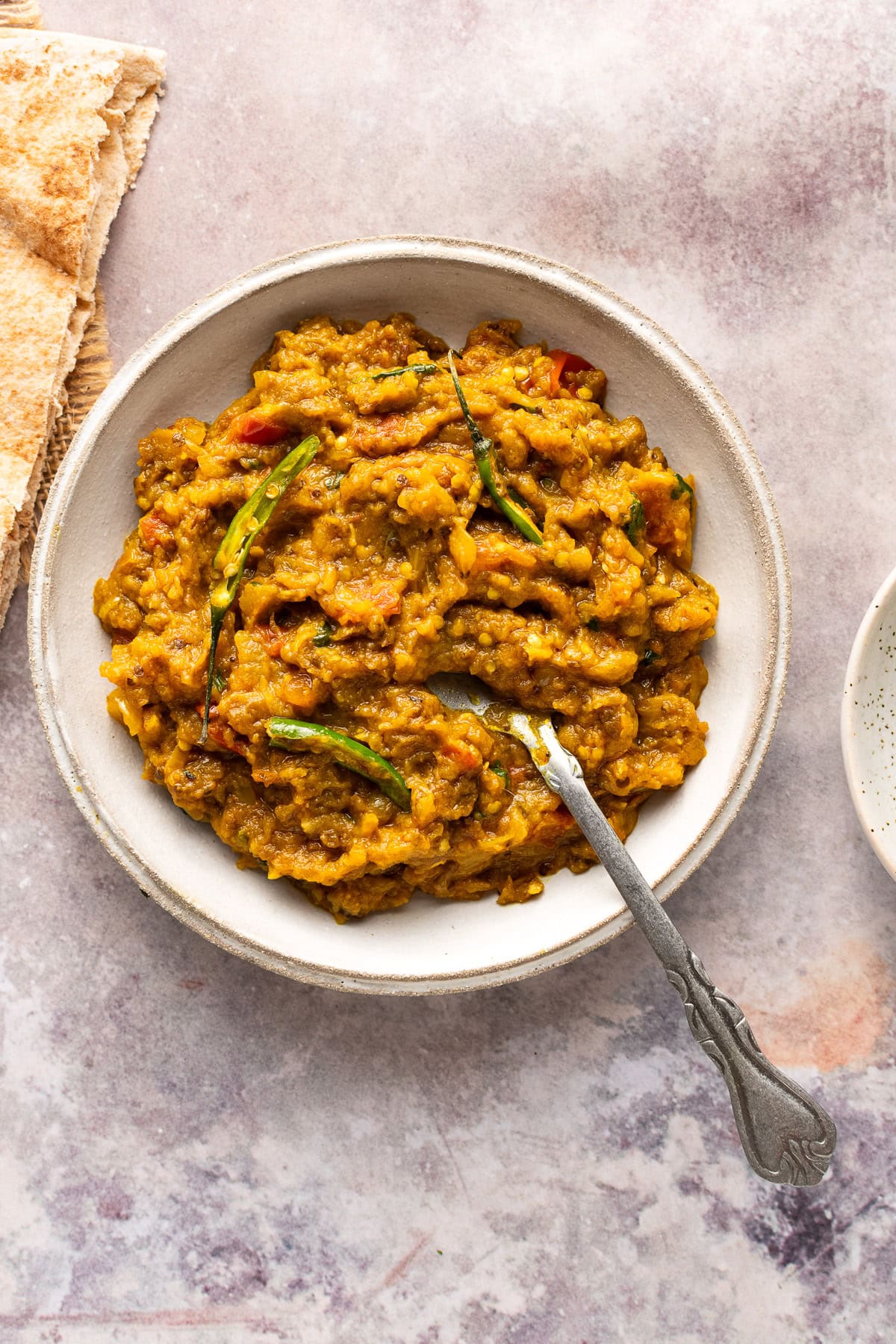 There's something to be said about fire-roasted eggplant (or brinjal or aubergine, whatever you choose to call it). I am an eggplant enthusiast, so give it to me in any form and I will at least try it without any bias. But for those of you who can't muster the same enthusiasm for this purple veggie, I frankly suggest trying this baingan bharta recipe of mine. It's made using very common ingredients, but what makes it intensely flavourful and far from meh is the roasting over an open fire. The smoky smell and taste is to die for!
If you have no reservations about eggplant, however, and want to try a completely different side dish featuring it, check out my dahi baingan recipe. Interestingly, it is the complete opposite of this recipe. While this one's bold and intense, the one made with dahi (yoghurt) has cool and soothing notes. Both taste fantastic with any gravy based chicken or meat dinner.
How to make baingan bharta
Step 1: Roast the eggplant
Roast a whole eggplant over one of the burners on your cooking range. Hold it over the flame with a pair of tongs and keep turning it to make sure it's roasted on all sides. This takes a few minutes. The skin will wrinkle and get charred, and the eggplant will lose its plumpness and sag a bit. This is an indication that it's cooked from inside. Place it on a wire rack and let it cool down a bit.
Note: You can smoke the eggplant in the way described above if you have a gas cooking range which gives off a flame. If you have an electric range, like I do, the process is a little slower but the result is almost the same. Since there is no flame, I had to improvise a bit. I kept a metal stand on one of the hobs and placed the eggplant on the stand.
Step 2: Peel and mash
Once the eggplant has cooled down somewhat, peel the skin and remove the burnt bits. The flesh is going to be soft and pulpy inside. Mash it with a potato masher or a fork and keep aside.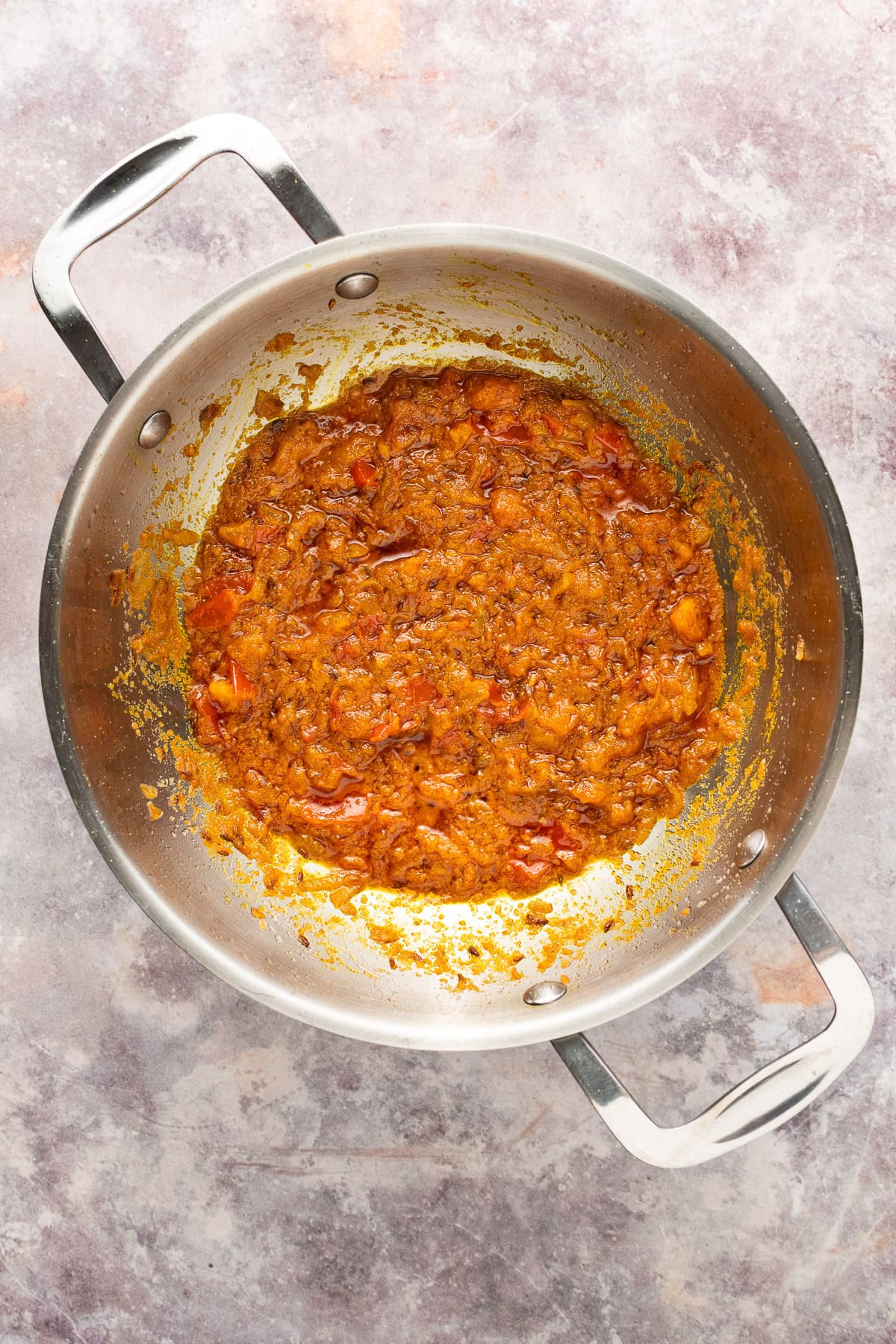 Step 3: Prepare the masala and add the mash
In a skillet or frypan, fry the onions until caramelized. Add chopped garlic and cumin seeds. Follow with diced tomato, turmeric, red chilli and salt. Saute until the tomatoes soften and add the eggplant mash and green chillies. Stir fry some more and garnish with cilantro. Done!
How to make baingan bharta without roasting the eggplant
If you don't want to go to the trouble of roasting the eggplant, don't. You can cook the whole eggplant in a stove top pressure cooker or instant pot, and then follow the rest of the steps. It won't pack the same punch as the smoked version, but it's still quite good. In fact, there are some people who don't like smoked eggplant, so this variation is perfect for them.
If you are going down this route, fill the cooker with enough water to cover the eggplant and add a whole head or bulb of garlic (unpeeled). Cook this for a couple of minutes after the pressure has formed. Open the cooker and take out the eggplant and garlic. The skins will come off both very easily. After mashing the eggplant pulp and garlic together, make the masala described in step 3 above, but don't add any more garlic. Follow the rest of the recipe with this one exception and your baingan bharta is ready.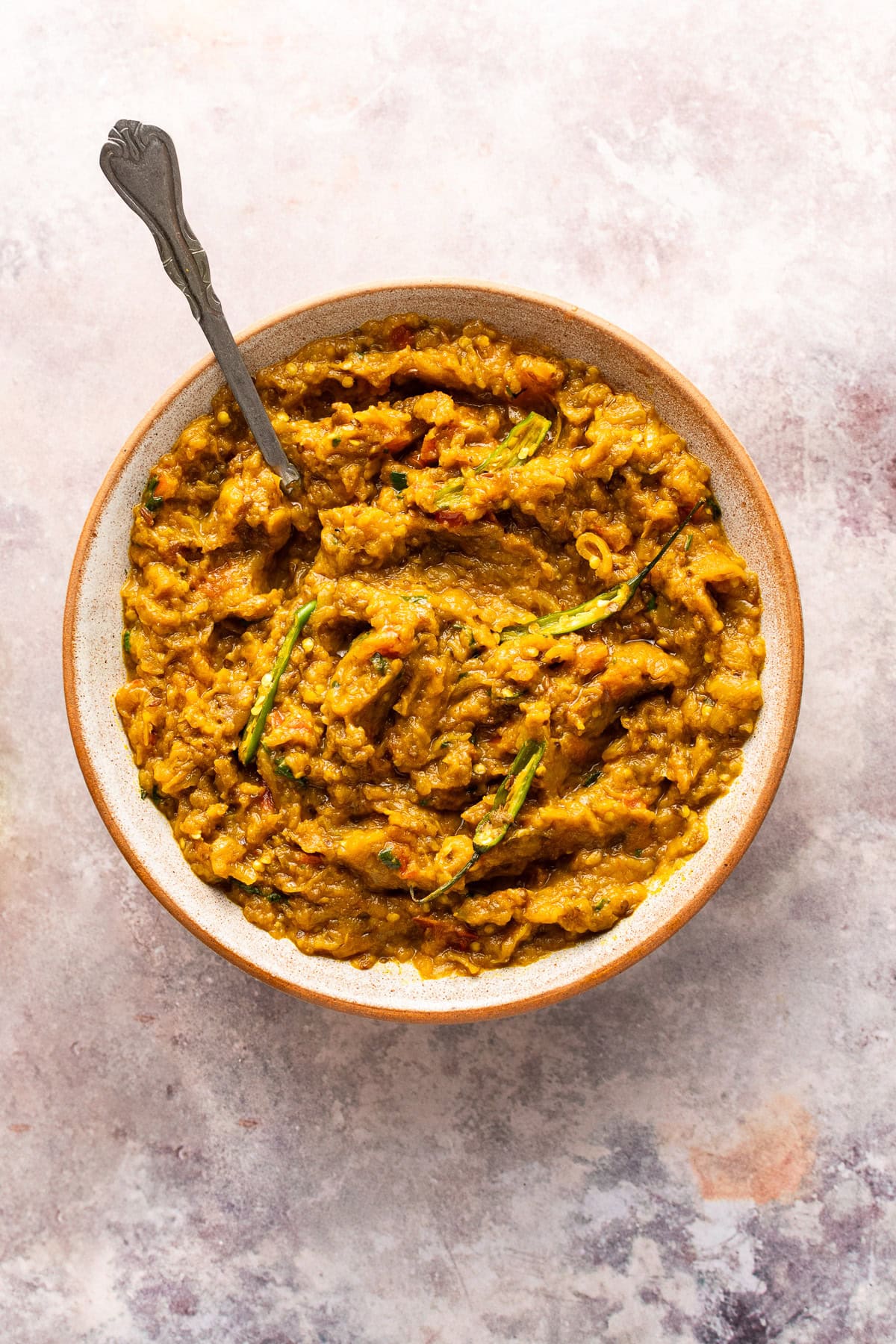 📖 Recipe
Baingan Bharta
Baingan Bharta or Eggplant Bharta is an easy vegan, keto and gluten-free Indian recipe. Fire-roasted and mashed eggplant is stir fried in onions, tomatoes, garlic and spices to make a very flavourful side dish.
Ingredients
2

medium sized eggplants

¼

cup

olive oil

1

medium onion

sliced

4

cloves

garlic

diced

½

teaspoon

cumin seeds

1

medium tomato

chopped

½

teaspoon

turmeric powder

½

teaspoon

chilli powder

1

green chilli

chopped

1

sprig fresh cilantro

chopped

salt

to taste
Instructions
Roast both the eggplants on an open flame. Turn when done on one side. The skins should become wrinkled and the eggplant should shrink in size and sag as it cooks from inside. Peel and mash when cool.

Heat oil in a skillet or fry pan and fry the onions until reddish brown. Add cumin and garlic.

Add tomatoes, turmeric and chilli powders and salt. Saute on medium until the tomatoes soften and the masala is cooked through.

Add the eggplant mash to the masala and stir fry for a few minutes.

Garnish with chopped green chilli and fresh cilantro.
Notes
Choose plump, unwrinkled eggplants.
Take care to remove all of the skin and the burnt bits after roasting the eggplant.
Nutrition
Calories:
222.2
kcal
Carbohydrates:
23.4
g
Protein:
3.9
g
Fat:
14.4
g
Saturated Fat:
2
g
Polyunsaturated Fat:
11.6
g
Sodium:
163.2
mg
Fiber:
8.2
g
Sugar:
10.9
g
Did you make this recipe? Don't forget to give it a star rating below!