Coriander chutney is a bright green dip that fried Indian snacks cannot do without. Also known as cilantro chutney or dhaniya chutney, it is thick, spicy and a little zingy thanks to green chillies and a generous sprinkling of lemon juice. Makes for an unbeatable combo with samosas, kebabs, pakoras (fritters) or even as a spread for sandwiches, Indian style!
Want to take your fried snacks and appetizers to the next level? Serve them with this fresh cilantro chutney and watch them disappear like hot cakes! Yes, that's how good it is. It's got the goodness of fresh coriander/cilantro or hara dhaniya (lots of it), tomatoes, garlic, green chillies and lemon juice. Five ingredients in the perfect proportions make for this magical dip.
This is a no-cook recipe (as most chutneys are) and it's ready in five minutes flat. Yes, you read that right. Five minutes is all it takes to put the chutney on the table. Plus it can be as hot and fiery as your tastebuds can tolerate, or nice and mild if that's how you like it. Make it the way you want it.
Ingredients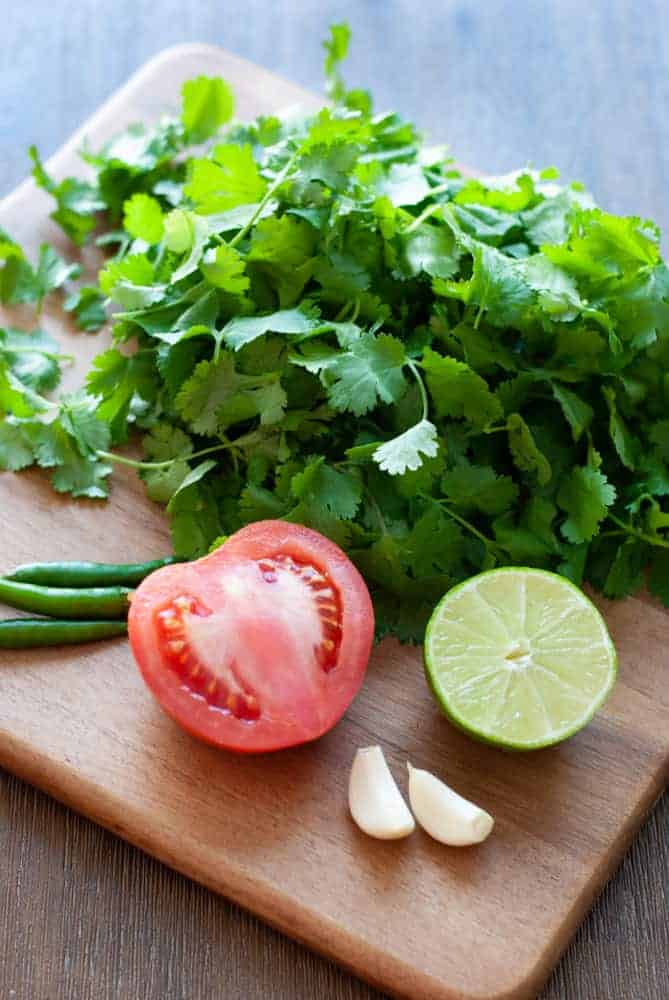 How to make coriander chutney
There are no multiple steps to write about here, folks. Just put all the ingredients (cilantro leaves, tomato, green chillies and garlic) along with a little lemon juice, salt and black pepper in a blender and whiz away until you get a thick and smooth puree. Add a few splashes of water along the way to help the process.
Or alternatively, add the lemon juice, salt and pepper after blending and mix well. And you're done! Easy, right?
Note: exact amounts are given in the recipe card below.
Some useful tips
Don't add too much water while blending the chutney or it might turn runny. Becomes difficult to scoop up with a piece of samosa or roll.
Adjust the number of green chillies according to your taste. I usually put three Thai green chillies in two bunches of cilantro and this makes the chutney moderately hot. If you like, you can add or subtract the chillies depending on how much heat you can take. Or you can use a milder variety of green chilli, Thai chillies being quite hot as you might know.
Do chop off the thick cilantro stems if you have a moment extra. This makes for a smoother chutney and unless you have a Vitamix type blender, pureeing it becomes easier sans stalks. Strictly speaking, the best chutney is made with just the leaves, but who has the time to separate every leaf from its stalk?
If you want to preserve the bright green color of the chutney, use the freshest coriander you can find on the supermarket shelf and don't add any spices to the ingredients while making it. After years of making this chutney, I have noticed that less is more and the best taste and color comes with just a dash of salt and pepper. If you throw in things like ground cumin or black salt (amchur), it robs the chutney of its vibrant green hue. Not worth it, in my opinion.
Customize it!
Having said the above, there are some things you could add. A spoonful or two of yogurt is one of them. Of course, yogurt will change the colour but it still looks pleasing. Besides, it gives the chutney an added body and tartness. If you're adding yogurt, do away with the lemon juice.
Mint leaves are another lovely addition to the chutney. In fact, mint coriander chutney is an entity in its own right and I sometimes make it instead of a straight coriander chutney. Do remember, however, that mint can turn the chutney considerably darker. Also, you absolutely must get rid of the stalks and put the leaves only if you're adding mint. Mint stalks are thicker than cilantro and will spoil the texture and taste if added.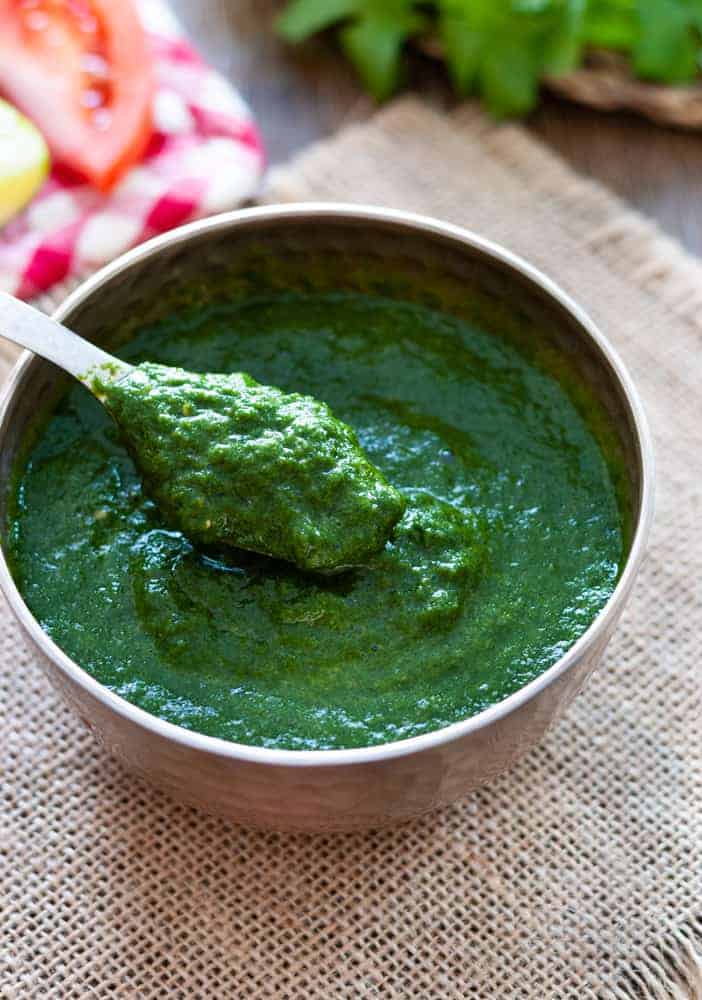 How to store the cilantro chutney
Store the chutney in an airtight glass jar, or if you want to keep the bowl in which you served it, cover it with some cling foil. Kept this way, it will keep in the refrigerator for up to a week. Any more though and it might start spoiling.
If you made a large batch, you can freeze the chutney too. I usually pour the leftovers in an ice cube tray and once frozen, I take out the cubes and place them in a ziploc bag. When you want to eat some, take out the number of cubes you need and thaw them in the refrigerator first. Then eat as desired.
Recipes that go with this green chutney
Chutney Sandwiches -
Sandwiches made with chutney. Slather some on bread slices and a couple of other ingredients for a tasty treat.
Chicken Malai Tikka -
A match made in heaven. Pop a chutney smothered chicken tikka into your mouth and your taste buds will do a happy dance!
Shami Kebabs -
Lamb kebabs go perfectly with cilantro chutney. Drizzle the chutney generously on a kebab and taste the magic!
Matar Pulao -
Rice with sweet garden peas taste so good with a dollop of chutney! This is a traditional combination that never fails to please.
📖 Recipe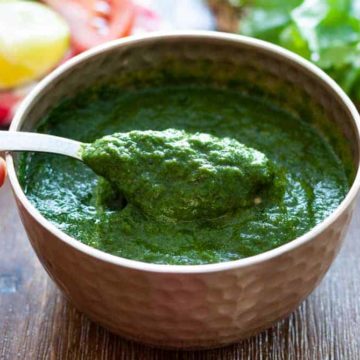 Coriander Chutney (Cilantro Chutney)
Coriander chutney is a bright green dip that fried Indian snacks cannot do without. Also known as cilantro chutney or dhaniya chutney, it is spicy and a little zingy thanks to green chillies and a generous sprinkling of lemon juice.
Ingredients
2

bunches coriander or cilantro leaves

washed and stems trimmed

1

small or ½ medium tomato

2

cloves

garlic

peeled

3

green chillies

Thai

1

tablespoon

lemon juice

¼

teaspoon

black pepper

salt

to taste
Instructions
Put the cilantro leaves, tomato, garlic and green chillies in a blender and blend until you get a smooth puree. Add a little water (3-5 tablespoons only) to make the blending easier.

Add the salt and pepper and squeeze in the lemon juice. Mix well. Serve with your favorite appetizer or snack.
Notes
If you want to make the blending even easier, chop all the ingredients first (no need for vey fine chopping) and then blend.
Don't be tempted to add too much water or the chutney will become watery.
Adjust the amount of green chillies to suit your taste.
Add some yogurt and/or mint leaves to the blender to make a variation of this chutney.
Nutrition
Serving:
1
tablespoon
Calories:
3
kcal
Carbohydrates:
0.7
g
Protein:
0.1
g
Sodium:
59.9
mg
Fiber:
0.1
g
Did you make this coriander chutney? Don't forget to give it a star rating below!