Dahi bhalla or dahi vada is a wildly popular snack/chaat made by frying soaked and ground lentils and then dipping them in sweetened yogurt. Topped with a variety of chutneys and spices, these balls are so soft, they will melt in your mouth!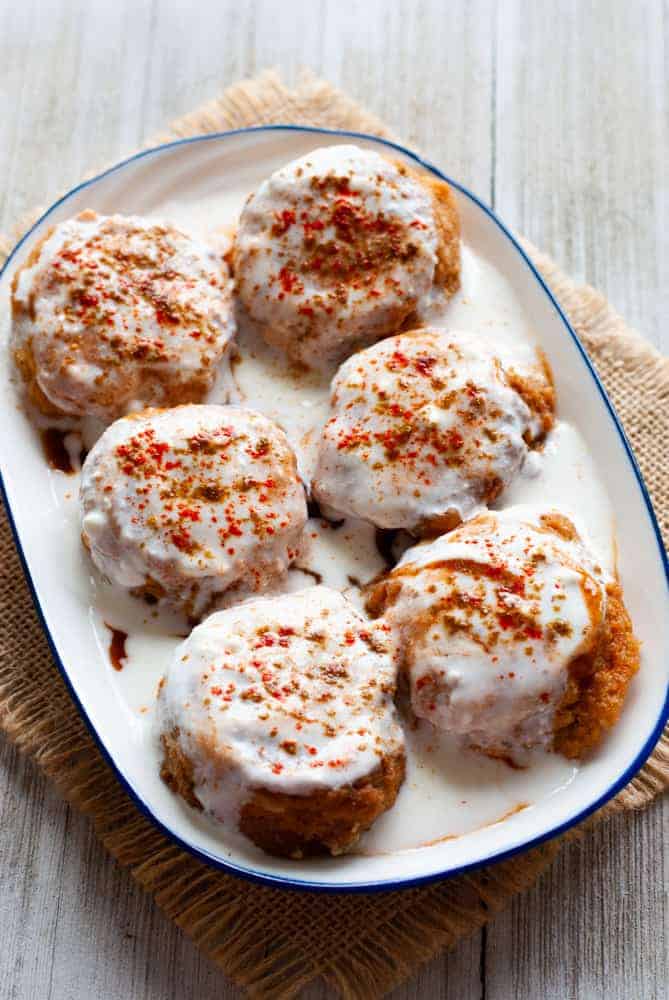 Call it dahi bhalla, dahi vada or dahi bara (all the same thing), this Indian street food is a real treat. It is served in every big and small restaurant in India and can be had solo like a snack or as a side along with other dishes in a formal dinner. It does take some prep but it is not a difficult recipe in my opinion. If you follow the steps, you won't go wrong.
And the taste? It's a foodie's dream come true. Savory, sweet, tangy, spicy... it's a happy dance of flavors that will have you smacking your lips in delight and reaching out for more. Don't even think of stopping at one:)
How to make soft dahi bhalla
Usually, when we dip the fried dumplings or bhallas in yogurt, they are soft on the outside but remain hard inside. There is a hard core that persists no matter how long you soak them in water. I'll share with you two neat tricks to prevent this from happening so that what you get are fail-proof vadas every time.
The first trick is to add a little onion paste to the batter before deep-frying it.
The second trick is to whisk the prepared batter before frying until it becomes light and airy.
These two hacks work like a charm every single time! Do this and you will get soft, melt-in-the-mouth vadas all the way through!
Ingredients
Note: Exact quantities of ingredients are given in the recipe card further down.
Urad or Maash Dal (affiliate link) - these are split and dehusked black gram lentils. They are a pale cream in color.
Mung Dal (affiliate link) - these are petite yellow lentils as you might know, also split and dehusked.
Baking soda
Onion paste - just two tablespoons
Oil for frying - any good vegetable oil like corn, canola or sunflower will work since these generally have a high smoke point.
Whisked yogurt - thinned slightly with water.
White sugar and salt - added to the yogurt while whisking it.
Tamarind chutney - for drizzling on the dahi bara. This is an absolute must, and though not difficult to make, it's a topic for a separate post. Do click on the link to see how to make it.
Coriander chutney (optional) - this enhances the taste but is not really necessary. If you want to go the extra step, have a look.
Ground spices - roasted cumin and red chilli powder are added to the lentil paste and sprinkled on the dahi bhallas. Chaat masala (affiliate link) can also be used to give it a little more zing.
How to make Dahi Bhalla
Step 1: Soak the lentils
Wash and soak the two dals (urad and mung) together in a large bowl. Add enough water to cover the lentils. Leave the bowl on the kitchen countertop overnight. In the morning, you'll see that the lentils have absorbed a lot of the water and swelled. Drain the remaining liquid through a sieve or colander.
Step 2: Grind the lentils
In a food processor, grind the soaked and drained lentils to get a smooth paste. You can add a couple of tablespoons of water to make the lentils easier to process, but be careful not to thin them out too much. The paste or batter should remain quite thick in consistency.
Step 3: Whisk the batter
You want to incorporate some air into the batter to make it light and puffy when fried. You can do this in two ways. Whisk the batter by hand using a fork or a spoon until you can feel the batter loosening up. Or use an electric hand beater to do the job. I prefer the latter as whisking by hand takes a LOT of time and energy. So, if you have an electric beater, use it! Batter whisked for eight to ten minutes will become light and airy and the vadas will be so much softer. I often find that I can skip the baking soda altogether if I take the trouble of going down this route.
If you are genuinely short of time, you can skip this step and just add baking soda and the other ingredients. You may still get soft vadas thanks to the onion paste but they will not be as light as the ones that were were whisked at the batter stage.
Step 4: Add the other ingredients and mix
Add ground cumin, red chilli powder, salt, baking powder, and onion paste to the batter and mix well.
Step 5: Deep-fry
Heat oil to medium-hot in a deep karahi or wok and slide in a tablespoon-sized ball of batter in the hot oil very gently. Do this until the wok is filled; however, don't overcrowd it with a lot of balls. Wait for a few seconds, then flip the balls and fry on the other side. When the balls turn a deep golden-brown, take them out with a slotted spoon onto a platter lined with kitchen paper to absorb the extra oil.
Since the batter is thick, you might want to use your hand to scoop it and slide it in, but be very careful while doing it. Please don't burn yourself! Another way is to do it wet a tablespoon, scoop out the batter from the bowl and drop it in the hot oil. The water helps the batter slide in easily. Rinse the tablespoon and repeat.
A few tips here are in order:
Fry the balls in several batches. Don't overcrowd the wok with too many balls as they will expand slightly while frying.
The oil should be medium-hot, so that the balls can get cooked through without burning. If the oil is not hot enough, the balls will soak a lot of it and fall flat. However, if it is too hot, they will burn on the outside while remaining undercooked inside. The trick is test a small amount of batter before doing the whole batch. The oil is the right temperature if the ball rises to the top immediately and acquires a golden brown color after a few seconds.
Step 6: Soak the balls in salt water
Take some hot water in a large bowl and dissolve a teaspoon salt in it. Dunk the fried balls in this water for 10 minutes. Then take a ball in your hand and gently squeeze out the excess water without breaking the ball itself. Now, the balls are ready to be assembled to make dahi bare.
Step 7: Assemble
Whisk the yogurt in a bowl and add the sugar and salt. Add half a cup water to make the consistency thinner. Place a few squeezed out balls in the yogurt and keep covered in the refrigerator until ready to eat. Keeping the bowl of dahi bare in the fridge will also give the balls a chance to soak in the yogurt.
When ready to eat, drizzle a little tamarind chutney and green coriander chutney if using on top of the yogurt soaked balls. Finally, sprinkle a little roasted and ground cumin, chilli powder and/or chaat masala on top of the chutneys. Serve chilled!
How to

store leftovers

The assembled dahi vada can be kept in the fridge for a couple of days though it may become runny after a day or two. Or you have the option to keep the soaked and squeezed balls in the fridge without immersing them in yogurt. They will keep for a few days without spoiling in either case.

However, if you don't want to use up all the balls at once, you can also freeze them. The way to do this is to freeze them before soaking them in water. After frying the balls, do not soak the balls you don't want to use; instead place them in a ziploc bag and place the bag in the freezer. When you want to use some, take the bag out and place it in a bowl of hot water. Once thawed, you can go on with the rest of the steps to make dahi vada.
Other vegetarian snacks you might like
Aloo Chaat - a serving of shallow fried baby potato halves in a medley of spices and a dash of tamarind chutney.
Vegetable Spring Rolls - rolls with a delicious filling of cabbage, carrot and spring onion greens. Crispy and golden on the outside and bursting with flavour at first bite!
Paneer Fingers - long slices of Indian cottage cheese marinated in a delicious batter and shallow-fried to perfection.
Print
Dahi Bhalla (Fried Lentil Balls in Yogurt)
Lentil balls smothered in sweetened yogurt and topped with a variety of chutneys and spices. So soft, they will melt in your mouth! 
Author: Saima
Prep Time:

40 minutes

Cook Time:

20 minutes

Total Time:

1 hour

Yield:

25

dumplings

1

x
Category:

Side

Method:

Deep frying

Cuisine:

Indian

Diet:

Vegetarian
Ingredients
1.5 cups

urad dal (split dehusked black gram lentils)

0.5 cups

mung lentils

0.5 tsp

baking soda

2 tbsp

onion paste

2

-

3

cups vegetable oil for frying

2 cups

yogurt

2 tsp

sugar

3 tsp

salt, divided in three 

0.5 cup

tamarind chutney

0.5 cup

coriander chutney (optional)

2 tsp

red chilli powder, divided

2 tsp

roasted and ground cumin, divided

1 tsp

chaat masala 
Instructions
1. Wash and soak the urad and mung lentils overnight in a large bowl with enough water to cover the lentils. In the morning, drain the excess liquid in a sieve or colander. 
2. Grind the lentils in a food processor to get a thick batter. You can add a few splashes of water while grinding but the consistency needs to be thick.
3. Transfer the batter to another bowl and whisk with an electric beater until the batter becomes light and airy (8-10 minutes).
4. Add the onion paste, 1 tsp salt, 1 tsp red chilli powder, 1 tsp cumin powder and 0.5 tsp baking powder. Mix well. 
5. Heat the oil in a wok or karahi to medium-hot and drop tablespoonfuls of the batter in it. Wait for a few seconds before flipping, let the balls turn golden brown and take them out with a slotted spoon onto a kitchen-paper lined platter.  
6. Take some hot water in a large bowl, dissolve 1 tsp salt in it, and drop the fried balls in it. Let the balls soak in the water for ten minutes. 
7. Take one ball in the palm of your hand and squeeze out all the water gently without breaking the ball. Repeat for all of the balls.
8. Take the yogurt in a bowl and add the 2 tsp sugar, 1 tsp salt and half a cup water to it. Whisk lightly with a fork. Drop the balls in the yogurt. Alternatively, arrange the balls in a bowl and pour the whisked yogurt on top of them. Keep this bowl in the refrigerator for a minimum of 30 minutes to allow the balls to soak in the yogurt. 
9. When ready to serve, drizzle the tamarind chutney and coriander chutney (if using) on top of the balls.
10. Finish by sprinkling the remaining red chilli powder, cumin and/or chaat masala. Dahi Bhalle are ready to be served. 
Notes
1. Make sure the oil is medium hot before dropping the batter in it. To test the temperature, drop a small amount in the oil. It should rise and turn golden brown in a few seconds. 
2. Don't overcrowd the wok as the balls tend to expand a bit. It will be difficult to flip them if there are too many in there. Rather, fry the balls in several batches.
3. The dahi bare can be kept in the fridge, assembled with the yogurt or unassembled for a couple of days only. If you want to keep them for longer, don't soak the balls in water after frying them. Instead, keep the balls you want to save in a ziploc bag in the freezer. When you want to use them, place the bag in hot water and thaw. Then proceed with the rest of the steps for fresh dahi bare. 
4. In the prep time below, I have not included the time it takes to soak the lentils overnight. 
5. To get roasted and powdered cumin, take a few tablespoons of dry cumin seeds in a small frypan and roast on medium heat for a few minutes. Take of the hob when the seeds turn dark and fragrant. Grind in a spice or clean coffee grinder and use as required. 
Nutrition
Serving Size:

1 dumpling

Calories:

189.9

Sugar:

2.0

Sodium:

294.9

Fat:

17.6

Saturated Fat:

1.3

Unsaturated Fat:

15.5

Trans Fat:

0

Carbohydrates:

3.1

Fiber:

0.9

Protein:

2.2

Cholesterol:

0.4
Keywords: dahi bhalla, dahi vada, Indian snack, Indian street food
Did you make this dahi vada recipe? Don't forget to give it a star rating below!