Dal makhani is curried Indian black lentils and kidney beans cooked in tomatoes, spices, butter and cream. Smooth, creamy and intensely flavorful!
Dal: lentils. Makhani: buttery. Buttery Lentils is what this dish is, translated.
If you like North Indian food and you haven't tried dal makhani (unlikely!), you are seriously missing out on a gem of Punjabi cuisine. I mean, seriously.
I can't remember where or when I had it first, but I do have lots of memories of tucking into it, not at home, but at restaurants and weddings. However, ever since I learnt how to make it myself, I rarely have it outside. The reason? I don't like overly spicy dal! In the restaurant version, they add a ready-made dal makhani masala which I find too overpowering. Plus, it gives me heartburn. I make a milder version at home, and you can have bowlfuls of it without feeling the heat.
The buttery, creamy taste of dal lingers in your mouth long after you've eaten it. At one time I was so addicted, I used to refuse dessert just because I didn't want that wonderful taste in my mouth to disappear. How weird is that?
In this post, I'm going to share with you two different methods of making an authentic Punjabi dal makhani recipe. Choose the one you like!
Dal Makhani Ingredients
Note: Exact amounts are given in the recipe card further down in the post.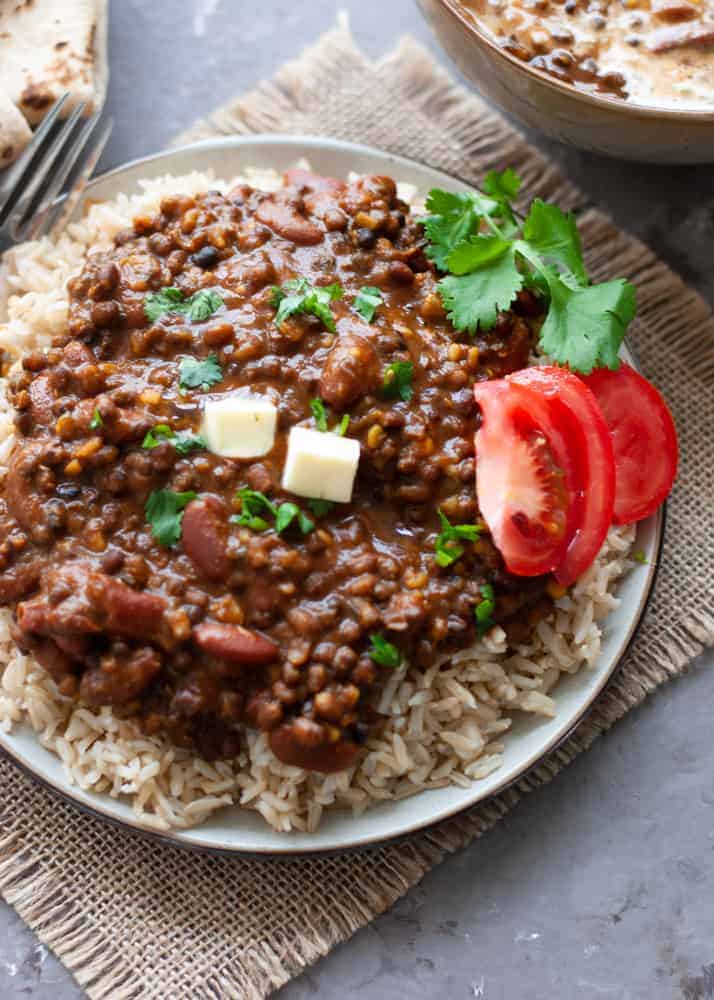 INSTANT POT DAL MAKHANI (Easy dal makhani recipe)
Traditionally, dal makhni is made on a slow wood fire and simmered for hours to get that rich taste. However, since I don't have hours to spare in the kitchen or the means to get a wood fire started (and neither do you I suspect), I pressure cook it. It still tastes fantastic, I promise.
Making the lentils is ridiculously easy in the instant pot. It is ready in just four simple steps:
Soak the lentils
Wash and soak black lentils and red kidney beans in water and leave overnight or at the very least 4-5 hours.
Make the masala
On sauté mode, add the oil to the inner steel insert and let the whole spices sizzle in the oil until fragrant. Add the sliced onions until reddish brown. Add the minced ginger and garlic along with the tomato puree, powdered spices and salt. Stir for 5 minutes, adding splashes of water as required. Drain the lentils and kidney beans and add these to the pot. Add 2 cups water and cancel sauté. Close the lid and make sure the pressure release handle is sealed.
Pressure cook
Set the instant pot to the bean/chili mode (30 minutes). When the timer beeps, wait for the pressure to release naturally and open the pot. If the dal is still liquidy, switch to saute again and simmer for 5-10 minutes.
Add butter and cream
This step is what makes this humble dal so interesting. Add butter, followed by the cream and cook again for 5 minutes. Add some chopped cilantro and mix.
It's that straightforward. Delicious dal makhani is ready to be served with Indian bread or rice. Yay for instant pot lentils!
Dal Makhani Dhaba Style (Slow Cooker Dal Makhani)
Dhaba style dal makhani is slow cooked all night over a wood fire and tempered with ghee. This gives it a very earthy taste with wonderful, smoky overtones. If you want this restaurant style dal makhani, there are a few simple hacks that work beautifully. Here's what to do -
Cook the lentils in a slow cooker - Add the soaked lentils and beans to the slow cooker along with all the other ingredients except the oil - whole spices, sliced onions, ginger and garlic pastes, tomato puree, ground spices and salt. Add 4 cups water and cook for 12 hours on low.
Temper the dal with pure ghee - open the cooker and pour hot ghee on the dal.
Cut back on the cream - dal makhani cooked in a slow cooker is already very creamy. There is no need to add a lot of cream. If you absolutely must add some, swirl a tablespoon on top when the dal is ready to be served.
Smoke it with a piece of charcoal - Heat a piece of charcoal until it is smoking hot and glowing. Keep it in a small bowl and place this bowl over the dal. Drizzle a teaspoonful of butter or ghee on the charcoal and immediately place a lid over the dal. Let the dal absorb the smoke for minutes. Remove the lid and serve hot.
Vegan Dal Makhani
If you are not into butter or cream, it is very easy to make your dal makhani vegan. Open a can of coconut milk and scoop out the cream at the top. Add this to the dal when it is cooked and you have a creamy, luscious dal ready. No compromise on the taste either.
Other choices - vegan butter or cashew paste work well too.
Pot in Pot Dal Makhani with brown rice
If you want to make dal and rice together, choose brown Basmati rice to go with the dal. Brown rice has approximately the same cooking time as the lentils so they can be cooked together (white rice would turn to mush).
Just before you close the pot for pressure cooking it, place a trivet in the dal and position a steel container with washed and soaked brown rice (1 cup rice to 1.5 cups water) on it. Then close the lid and proceed as indicated in the recipe. When you open the pot, remove the rice container with a pair of gloves, remove the trivet and you have both rice and dal ready in one shot!
Why this recipe works
1. It is a hands-off, one-pot meal (if cooked with brown rice pot-in-pot). The instant pot or slow cooker does most of the work.
2. It is so customizable. Swap the ingredients depending on your taste and dietary habits. Swap the butter and cream for ghee or if you're vegan, leave out all of these and use coconut cream, vegan butter or cashew paste.
3. The black lentils and kidney beans when combined with the tomato puree creates a creamy and luscious texture that is just wonderful.
Serving ideas
Serve it with warm naan or rice, with salad on the side. It tastes great with both.
If you want to have a more elaborate meal, pair it with any of these dishes -
Your taste buds will do a happy dance!
Print
Dal Makhani (Buttery, Curried Lentils)
Dal makhani is curried Indian black lentils and kidney beans cooked in tomatoes, spices, butter and cream. Smooth, rich and intensely flavorful!
Author: Saima Zaidi
Prep Time:

5 minutes

Cook Time:

45 minutes

Total Time:

50 minutes

Yield:

6 cups

1

x
Category:

Brunch/Dinner

Method:

Instant Pot

Cuisine:

Indian
Ingredients
1 ½cups

black lentils

½ cup

red kidney beans

2 tbsp

cooking oil

1

medium onion, sliced

1

inch piece ginger, minced

8

cloves garlic, minced

2

bay leaves

1

cinnamon stick

4

-

5

cloves

3

-

4

cardamom

½ cup

tomato puree

1 tsp

coriander powder

1 tsp

turmeric powder

1 tsp

red chilli powder

½ tsp

garam masala powder

3 tablespoons

butter

¼ cup

heavy cream

2

-

3

sprigs cilantro leaves, chopped
sea salt, to taste
Instructions
Wash and soak the black lentils and kidney beans together in enough water to cover the lentils completely. Keep overnight. Drain the excess water when ready to cook.
Switch on your instant pot to sauté, and when the display shows HOT, add the oil followed by the whole spices. Let the spices sizzle for a few seconds.
Add the onions. Fry them until caramelized, then tip in the ginger and garlic followed by the tomato puree, powdered spices and salt. Sauté for 5 minutes, adding splashes of water to keep the masala from sticking to the bottom.
Add the drained lentils and kidney beans and 2 cups of water. Cancel sauté, make sure the steam release handle is sealed and close the lid. Press the bean/chili mode.
When the timer beeps, wait for the pressure to release naturally, open the pot and mash the dal slightly with the back of a large spoon. If the dal is still liquidy, press sauté again and cook the dal for 5-10 minutes.
Add the butter and cream. Cook for 5 minutes and add cilantro leaves right at the end. Serve hot with warm naan or rice and a salad.
Notes
Whole black lentils are also called black gram, sabut urad or sabut kaali maash. Easily available online or in Indian stores.
Instead of tomato puree, you can also use 2 big tomatoes, chopped fine. Choose ripe and red tomatoes if you can find them.
It is best to soak the lentils and beans before cooking (6 hours minimum or overnight). I have not included the soaking time in the recipe. However, if you forgot to soak them, you can still make dal makhani. Choose the pressure cooking mode, set the timer to 45 minutes and do a natural release.
Nutrition
Serving Size:

1 cup

Calories:

254.2

Sugar:

1.5

Sodium:

525.3 mg

Fat:

10.3 g

Saturated Fat:

6 g

Unsaturated Fat:

3 g

Trans Fat:

0

Carbohydrates:

30.1 g

Fiber:

2.3 g

Protein:

11.1 g

Cholesterol:

29.1 mg
Keywords: dal makhani, Indian lentils recipe, lentils, instant pot dal makhani
Did you make this recipe? Don't forget to give it a star rating below!