Instant Pot paneer or Indian cottage cheese is an easy recipe that anyone can make. All you need is whole milk and lemon juice or vinegar to get a block of soft and creamy paneer cheese. A simple, 2-ingredient recipe!
If you love paneer but you can't find it or have despaired of the frozen, tasteless blocks available in the market, you NEED to read this post! Paneer or Indian cottage cheese is so easy to make in the instant pot that you'll wonder why you didn't try it earlier.
Once I learnt how to make paneer in the instant pot, I never went back to using the store-bought stuff. And since everyone's a huge fan of paneer in my home, I end up making it almost every week for recipes like paneer butter masala, paneer jalfrezi and paneer kabab among others.
What is paneer?
Paneer is a very popular cottage cheese used extensively in Indian cooking. Unlike other varieties of cheese, it holds its shape when heated and doesn't melt. Since it is made from whole, full-fat milk, it has a rich, milky taste that still manages to be quite mild and pleasing. It absorbs the flavors of the sauce in which you add it, making it very versatile and adaptable.
Oh, and did I mention that it is an excellent source of vegetarian protein? 100 grams of paneer give 14 grams protein and 254 mg calcium. Not bad, eh?
Why should I make paneer in an instant pot at home?
Paneer can be made very easily by heating milk and then curdling it in a saucepan on the stovetop. The only problem is that it's inconvenient. The first few times I made paneer on the stovetop, something or the other other insisted on going wrong. Once, we had to eat paneer with flecks of brown in it because the milk stuck to the bottom, and you know what happens when that happens, right? Another time, the milk boiled right over and created a sticky mess on the stovetop. Not fun.
There will be no such accidents if you make paneer in the instant pot. If you do it right, the milk will not burn, and it will not spill over. Guaranteed!
Besides, as I said before, homemade paneer is so much better in taste than those frozen blocks available at the Indian store. Frozen paneer usually remains hard even after thawing and lacks the milky texture and taste of fresh paneer.
How to make instant pot paneer
Pour 2 litres (67.6 fl. oz) milk in the steel insert of your instant pot. Cut a medium-sized lemon into half, remove the seeds and squeeze both halves into the milk.
2. Secure the lid on the instant pot, set it to pressure cook on high for 2 minutes. Make sure the steam release handle is sealed. Wait 5 minutes before releasing pressure. When you open the pot, the milk will have curdled completely.
3. Take a big bowl and place a strainer or colander over it. Line it with a square piece of clean cheesecloth or muslin. Pour the curdled milk from the steel insert directly into the cheesecloth. The whey will collect in the bowl and the milk solids will be left behind in the cloth. These milk solids are what you want for the cheese. You can discard the liquid in the bowl or use it while making dough for roti (Indian bread) or in dal (lentils).
4. Once all the liquid has drained from the cheese, gather the cheesecloth from all four corners and tie it up. Make sure to squeeze all the liquid from it. You can do this in the kitchen sink after you've tied it up. The cheesecloth with the cheese in it is going to be fairly hot, so turn the faucet to cold and let the water run over the outside of the cheesecloth. Then squeeze out all the excess water. The cheese should come together in a tight ball in the cloth. Place the ball of cheese on a plate.
5. Place a heavy weight over the ball of cheese to compress it further and make sure it doesn't crumble later. I used a medium-sized jar full of lentils to do this, but you can use anything handy. Keep the cheese under the weight for 30 minutes at least.
6. Remove the weight after half an hour and keep the ball of cheese in the refrigerator for another 30 minutes. Then, take it out and untie the cheesecloth. You have a beautiful block of cheese ready to be cut into cubes! If you want a smoother looking cheese, use a thin muslin cloth. It won't leave any marks on the cheese.
7. Cut the block of cheese into cubes with a sharp knife. Now, you can use the paneer in any recipe of your choice.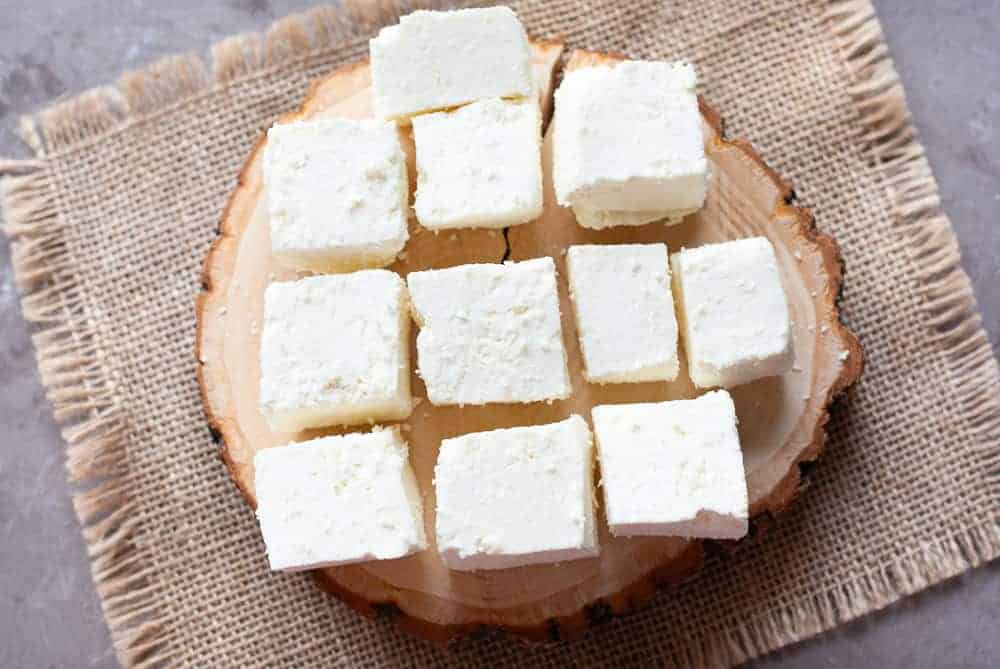 Top tips for making the best homemade paneer
1. Use full-fat whole milk for making paneer. Skimmed milk will not give enough milk solids for the cheese.
2. 2 litres or 67.6 fl.oz milk will yield 400 grams or 14.1 ounces of cheese. This is usually enough for making a paneer dish for 4 people. You can use half this amount of milk if you want less paneer, but don't increase it because it might overload the instant pot.
3. Clean the lid of your instant pot as soon as you can. The cheese will stick to the lid when you release pressure, and if you don't clean it soon enough, it will dry out and be difficult to remove.
4. Instead of lemon juice, you can also use 2 tablespoons of white vinegar to curdle the milk.
How to store paneer
Cheese can be stored in the refrigerator for 2-3 days in a covered bowl. After that, it isn't advisable to keep it even under refrigeration as it will turn stale. It can even form a layer of fungus if forgotten in the fridge for too long. It is best to use up the paneer as quickly as possible for the freshest taste.
📖 Recipe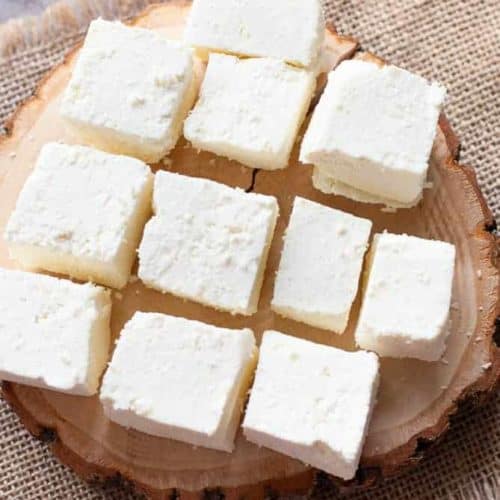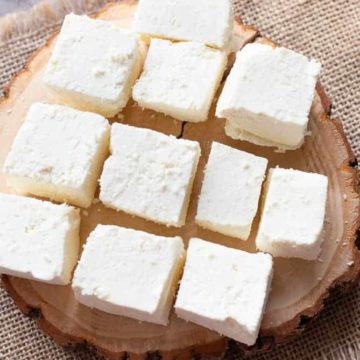 Instant Pot Paneer (Indian Cottage Cheese)
Instant Pot paneer or Indian cottage cheese is an easy recipe that anyone can make. All you need is whole milk and lemon juice or vinegar to get a block of soft and creamy paneer cheese. A simple, 2-ingredient recipe!
Equipment
6-quart Instant Pot Duo

Cheesecloth

Colander

Large bowl
Ingredients
70

fl oz

whole milk

full-fat

1

lemon

medium-sized
Instructions
Pour the milk in the steel insert of your instant pot and squeeze the lemon into it, taking care to remove the seeds first.

Secure the lid, set the pressure cook button on high for 2 minutes and check that the steam release handle is sealed. Once the timer beeps,release pressure after 5 minutes.

Keep a colander or strainer over a big bowl that can catch liquid and line it with a square piece of cheesecloth. Pour the contents of the steel insert slowly into the cheesecloth. Wait for all the liquid (whey) to drain into the bowl.

Gather up the ends of the cheesecloth and tie them together. Hold this bag under running water for a few seconds, then squeeze all the excess liquid with your hands.

Keep the cheesecloth with the cheese in it on a plate and place a heavy weight on it for 30 minutes.

Remove the weight and keep the cheese, still wrapped in the cheesecloth, in the fridge for 30 minutes.

Take the cheese out, unwrap and cut into small cubes. Use as required and store the rest in a covered bowl in the fridge.
Notes
Use full-fat, whole milk only, not skimmed milk.
Instead of a lemon, you can use 2 tablespoon white vinegar to curdle the milk.
Halve the quantity of milk and lemon if you want to make less cheese.
Store the cheese in a covered bowl in the fridge and use it within 3 days.
The lid of the instant pot is going to have cheese splatters all over it, so wash it thoroughly as soon as you can.
Nutrition
Calories:
317.3
kcal
Carbohydrates:
1.8
g
Protein:
21.2
g
Fat:
28.2
g
Saturated Fat:
17.6
g
Polyunsaturated Fat:
10.6
g
Cholesterol:
88.1
mg
Sodium:
105.8
mg
Did you make this recipe? Don't forget to give it a star rating below!