Instant Pot vegetable korma is an easy and healthy everyday recipe made in 25 minutes. Ground cashews and coconut milk add a wonderful creaminess to it. Mop up this vegan curry with fresh Indian bread or go the gluten-free route by pairing it with steamed jeera rice. Stovetop version also included!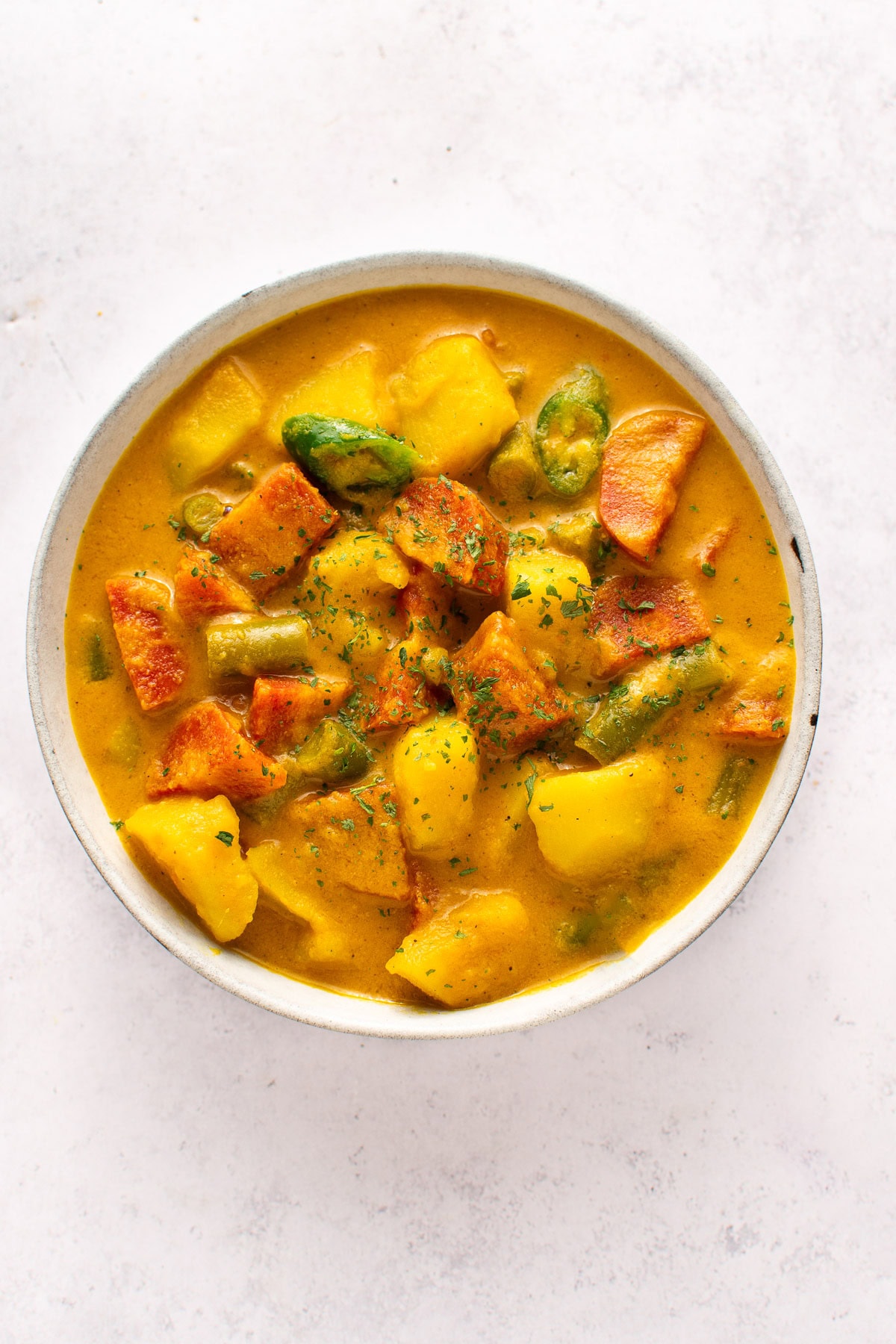 Ever had a curry that feels like a hug? Instant Pot vegetable korma is just that kind of a dish ... the kind that makes you feel all warm and fuzzy inside. Vegetables like potatoes, carrots, beans and tomatoes are pressure cooked in a sunshine yellow sauce made creamy with cashews and coconut milk.  I love to snuggle on the couch with a big bowl of this soupy korma and rice in my lap!
If Indian comfort food is your thing, you must try my aloo curry (potato curry) and pav bhaji (mashed and spiced vegetables served with dinner rolls) as well. These are easy, no-fuss vegetarian recipes big on nutrition and taste.
Ingredients in Vegetable Korma 
vegetables - onions, carrots, potatoes, green beans, tomatoes
ginger and garlic
green chilli
spices - ground coriander, turmeric and garam masala
a handful of raw cashews
coconut milk
coconut oil
fresh cilantro
salt
Why this vegetable korma recipe works
1. It's the best comfort food ever - it's quite mild and you can make it even milder by adding less green chilli. Plus the coconut flavored sauce made even creamier with ground cashews is just awesome!
2. It's a quick, no-fuss recipe - vegetable korma in your instant pot is ready in 25 minutes flat.
3. It's made with ingredients you will have in your fridge or pantry already - a few vegetables + some common spices + coconut milk or cream + a handful of cashews. That's all it takes to make this dish.
4. It's full of goodness - no artificial ingredients or colors, no processed foods, no junk.  And did I mention it's vegan and gluten-free when had with rice?
How to make instant pot vegetable korma
A few easy steps is all it takes to put this korma curry on the table. The exact quantities are mentioned in the recipe card below.
Step 1 - Dice the vegetables
Here's a picture to get an idea about how to do this.
Step 2 - Make the korma masala
Throw together onions, ginger, garlic, green chilli and cashews in a blender along with some water and whizz to get a smooth puree.
Step 3 - Bring the veggies and korma masala together
turn your instant pot to saute mode (normal) and add coconut oil.
add the korma masala prepared above.
add the ground spices and salt along with half a cup water. Cover and cook for 5 minutes.
Add the veggies and mix well. Add half a cup of water if the sauce is too thick. Cancel the saute mode and switch on the pressure cooking mode.
Secure the lid, close the vent and set the timer to 1 minute.
When the timer goes, wait for 5 minutes, then release pressure.
Open the cooker and add coconut milk. Mix well.
Garnish with chopped cilantro and cashews.
A beautiful, flavorful veg korma curry is ready to be served with roti (Indian bread) or rice!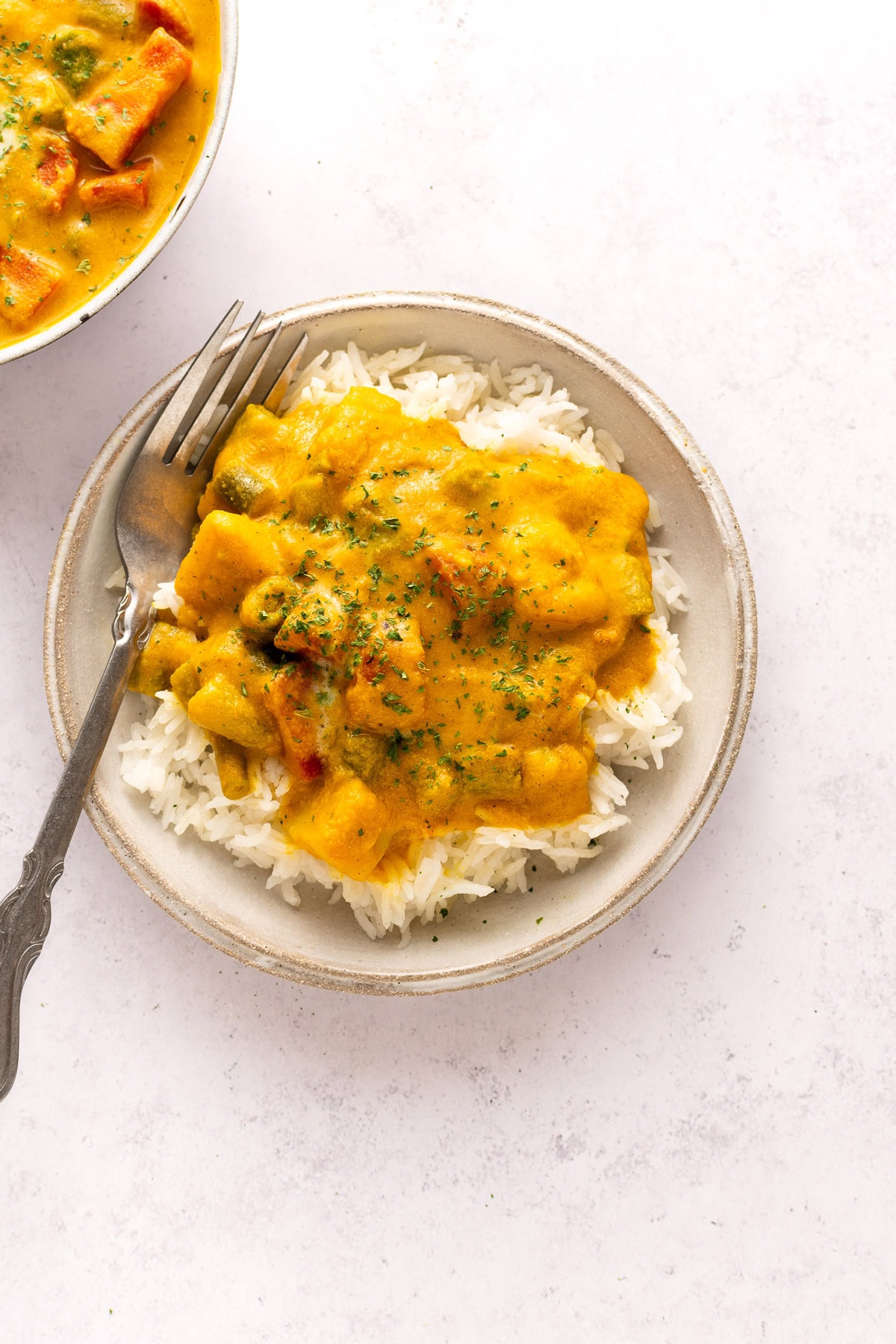 Vegetable Korma on the stovetop
1. Steps 1 and 2 are exactly the same as the instant pot version. Follow these prep steps.
2. Heat the coconut oil in a deep wok or karahi and add the korma masala.
3. Add the ground spices, salt and half a cup water. Cover the wok with a lid. Let the masala cook for 5 minutes.
4. Add the veggies and half a cup water. Mix everything well and cook on low heat for 10-12 minutes.
5. Add the coconut milk and cook for 2 minutes.
6. Garnish with some chopped cilantro and chopped cashews.
Some useful tips 
1. The korma sauce is going to splatter like crazy, so cover the pot after adding the ground spices, salt and water to the masala. For the same reason, do wait a few seconds before uncovering it to add the vegetables.
2. Use full-fat coconut milk. Canned coconut cream works as well, but do not use light coconut milk as it will not impart the same creaminess or taste.
3. Add or subtract veggies according to your preference. You can add cauliflower, corn, peas or even peppers. Firm tofu is also a great choice to make your korma curry even more interesting. You could add paneer or Indian cottage cheese as well instead of tofu, but paneer is not vegan. If you don't mind that, go ahead and add some cubed paneer right along with the vegetables.
4. Instead of the green chilli, you can also use half a jalapeño or even less for a milder flavor.
5. Ground coriander, turmeric and garam masala (a spice blend) are all available in any Indian store or even big chain supermarkets like Walmart or Superstore in Canada.
Hacks to make this vegetable korma curry even easier
1. Use a packet of pre-cut frozen vegetables to save time OR use baby potatoes and baby carrots. There is no need to peel these.
2. Make a large batch of korma masala in one go and freeze individual portions in ziploc bags. The next time you want to make vegetable korma, it's so easy!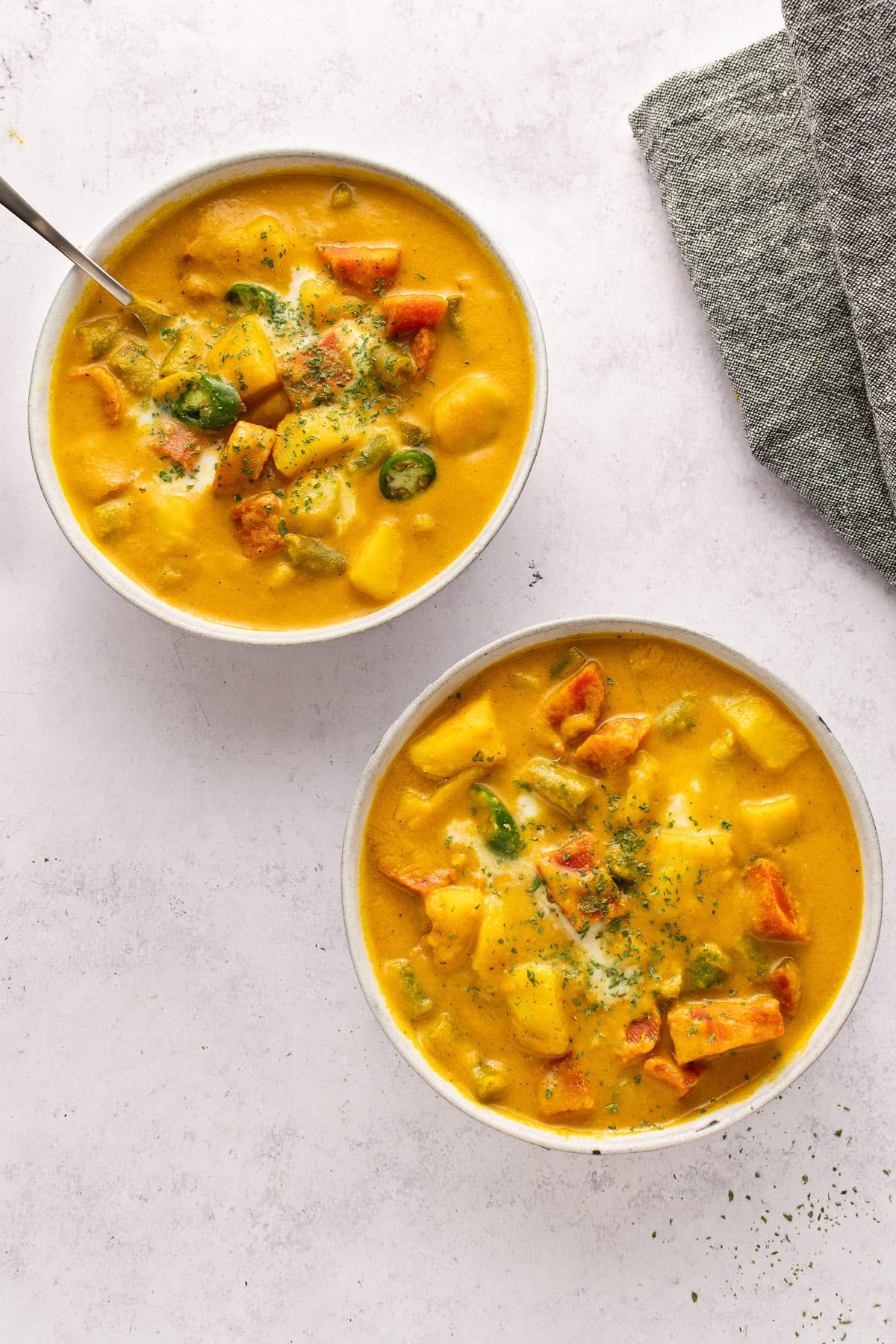 More instant pot vegan recipes you might like