This malai kofta recipe is a vegetarian delight made of paneer and potato balls in a rich tomato gravy. Smooth, creamy, and oh so delicious!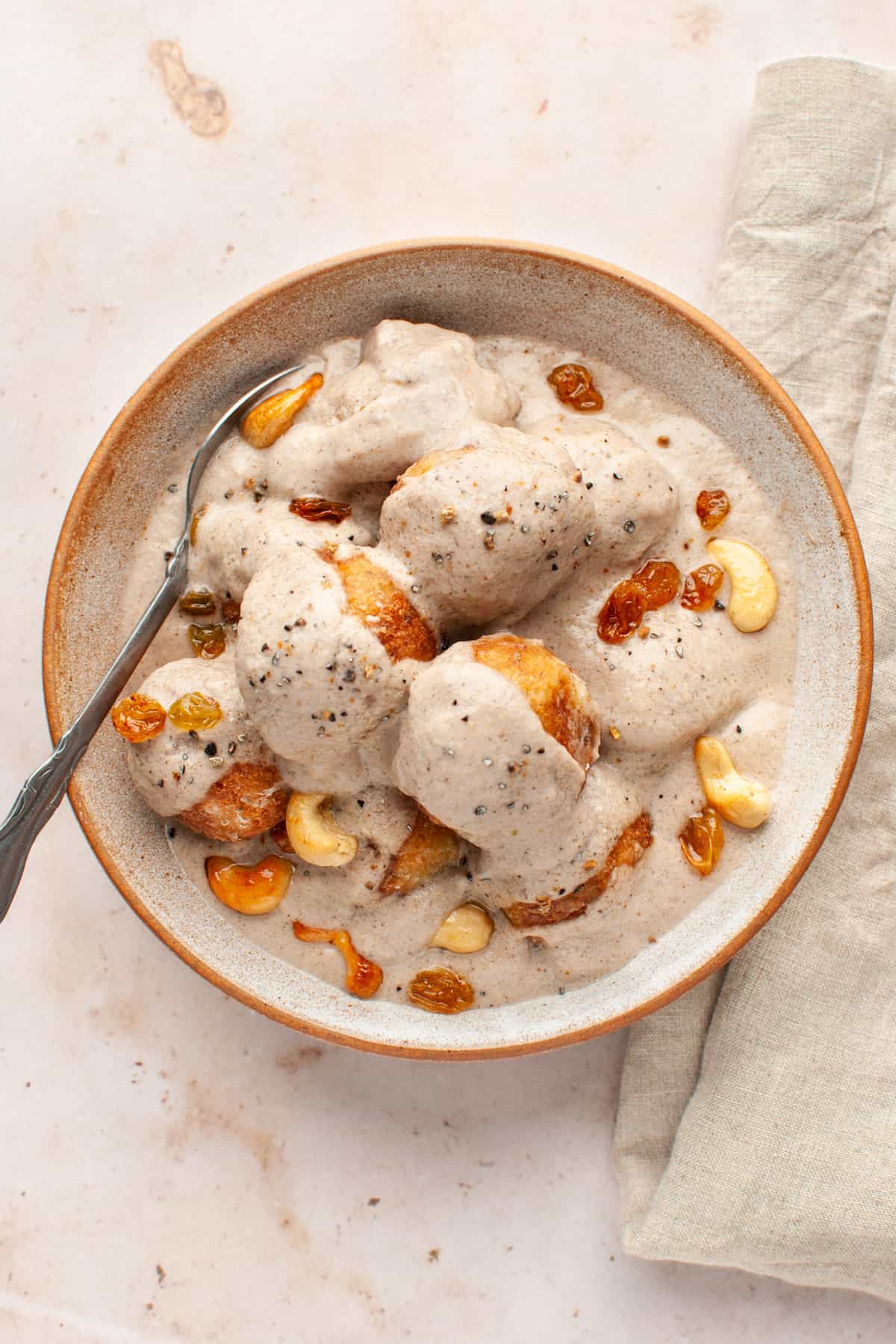 Mmmm...Malai Kofta! If you've been to an Indian restaurant lately, chances are you've ordered this vegetarian delight. Also called Punjabi malai kofta, it's one of those Indian paneer recipes that everybody's heard of. If you're wondering why, take a bite out of a kofta drenched in that heavenly sauce and you'll know. Love at first bite:)
How do you make malai kofta?
Making paneer malai kofta a four-step process: make the cottage cheese and potato balls, shallow fry them in some oil, make the curry and put it all together.
Step 1 - make the koftas
Mix grated paneer, boiled and mashed potatoes, finely cut green chillies, white pepper, cardamom and salt. Shape into balls.
Step 2 - shallow fry (or deep fry) the balls
Deep frying is certainly an option if you so prefer. If you're shallow frying, heat some oil in a pan and fry the balls on medium heat until golden-brown. Turn them around a bit for even browning on all sides.
Step 3 - Make the curry
Slice two onions.
Fry half the onions in oil and grind when cool.
Blend the remaining onions, ginger, garlic and cashews to a paste.
Fry some whole spices in oil, add the masala (onion-ginger-garlic-cashew puree) and saute on medium heat (bhunao).
Add the fried and ground onions and saute again.
Add tomato puree, Kashmiri chilli and salt. Cover and cook.
When cool, add cream and kasuri methi (fenugreek leaves).
Note: Bhunao is a special technique that is responsible for the deep, rich flavour of Indian curries and gravies. If you want a detailed explanation of the process, see this post -
Step 4 - Assemble the koftas and curry
There are two ways you can do this -
Pour the gravy in a wide and shallow dish and place the koftas in the gravy when ready to serve.
Place the koftas in the dish first and then pour the gravy on top of them.
As you might have guessed by now, paneer kofta curry is not really a weekday dish which can be whipped out in a jiffy. It does require some work upfront. So, I find myself making it when I'm expecting company or on a particularly leisurely weekend.
Useful tips and tricks
Do not put the koftas in the gravy beforehand. If there is time between making the dish and serving it, keep the two separate. Assemble them only when ready to serve, or the koftas can break.
It's a good idea to do the grating and grinding in advance. Trying to do everything in one marathon session can be overwhelming even for people familiar with the recipe. Get the grunt work out of the way before you start cooking!
Don't waste time grating the paneer by hand. Cut the slab into medium sized pieces and grate in a food processor.
Make a large batch of koftas in one go. Since you can freeze them, you're just left with frying them and making the gravy when you want to have malai kofta for dinner.
Frequently asked questions about malai kofta curry
What does malai kofta taste like?
Think luscious paneer (Indian cottage cheese) and potato balls in a rich but mildly spiced tomato gravy and you start getting the picture. The paneer koftas are quite a treat on their own but when coated with a rich sauce of tomatoes, cashews and cream, they become totally irresistible. (malai = cream and kofta = balls)
Is malai kofta healthy?
I think so! There's nothing unhealthy in the ingredients or the method if you're shallow frying the dumplings. I mean, there's paneer (Indian cottage cheese), potatoes, tomatoes, onions, ginger, garlic, cashews and a few spices that go into making them. Nothing unnatural or processed there.
The cream? Well, it's just two spoonfuls. But if you can't stand the thought, go ahead and sub with some coconut milk. The gravy will taste just as nice, I promise.
What do I eat with malai kofta?
It's a personal preference, actually. I like to have it with Indian bread like naan, but it pairs well with rice too since there's a gravy. It tastes great both ways.
You can even have it solo as a snack if you don't want to go whole hog, gravy and all. I recommend deep frying the balls in this case since you'll want them crispy on the outside while still soft and creamy inside.
Is it possible to make vegan malai kofta?
Of course. Instead of paneer, go for semi-firm tofu and swap the cream for some coconut milk as mentioned earlier. Your vegan version of the dish is ready and it's just as delicious.
Can I freeze malai kofta?
Yes, absolutely. Once your koftas are fried, cool them completely and lay them out on a platter lined with clingwrap. Place the koftas on the platter making sure they don't touch each other. If you have a lot of koftas, layer them on the same platter with every layer separated by clingwrap. Keep the platter in the freezer. Once the koftas are frozen, take them out and transfer to a ziploc bag. Return the bag to the freezer. Now, when you want to make this paneer kofta recipe, you just have to worry about making the gravy.
Malai Kofta (Indian Dumplings in Sauce)
Malai kofta is a vegetarian delight made of paneer and potato balls in a rich tomato gravy. Smooth, creamy, and oh so delicous!
Ingredients
For the koftas:
400

grams

or 14 oz. Paneer

Indian Cottage Cheese, grated

2

medium potatoes

boiled and mashed

2

green chillies

cut finely

¼

teaspoon

white pepper powder

½

teaspoon

green cardamom powder

2

big tablespoon cornflour or cornstarch

4

tablespoon

cooking oil

for shallow frying

salt

to taste
For the gravy:
¼

cup

cooking oil

2

medium onions

sliced

1

inch

piece ginger

half a bulb garlic

peeled

24

cashews

soaked in water for 10 minutes

1

cup

tomato puree

1

black cardamom

3

green cardamom

4

cloves

1

bay leaf

1

small piece cinnamon

½

teaspoon

Kashmiri chilli powder

2

tablespoon

cream

1

tablespoon

kasuri methi

dried fenugreek leaves

salt

to taste
Instructions
For the koftas:
Mix all the ingredients (except the oil) well and shape into balls.

Heat the oil in a shallow pan and fry the koftas until golden brown on all sides. Keep aside.
For the gravy:
Take half of the sliced onions and fry in hot oil until caramelized. Remove with a slotted spoon and grind in a small grinder.

Put the remaining onions, ginger, garlic and cashews in a blender and blend to a fine paste.

Heat the oil in a deep pan and add the whole garam masala: black and green cardamom, cloves, bay leaf and cinnamon.

When the spices change colour (1 minute), add the onion-ginger-garlic-cashew paste. Saute for 5 minutes on high heat.

Add the fried and ground onions and saute for 5 minutes.

Tip in the tomato puree, Kashmiri red chilli and salt. Add a glass water and cook covered on medium heat for 20 minutes.

When the gravy cools down a bit, add the cream and kasuri methi.
Assembling the dish:
Pour the gravy in a wide and shallow dish. Drop the koftas in the gravy one by one, taking care not to pile them on top of each other. Add a small drizzle of cream on top. Serve hot with naan or rice.
Notes
All the ingredients in the recipe are available easily. Kasoori methi, Kashmiri red chilli (a mild form of red chilli) and paneer (Indian cottage cheese) can be bought from any Indian store, but even these are now available in big chain supermarkets like Walmart.
Tomato puree and ginger garlic pastes can be made at home or store bought to save time.
Nutrition
Serving:
1
/2 cup
Calories:
507
kcal
Carbohydrates:
26.8
g
Protein:
15.5
g
Fat:
38.7
g
Saturated Fat:
2.2
g
Polyunsaturated Fat:
21
g
Cholesterol:
2
mg
Sodium:
805.6
mg
Fiber:
3.5
g
Sugar:
4.4
g
Did you make this malai kofta recipe? Don't forget to give it a star rating below!