This paneer kabab recipe is a vegetarian appetizer that shouts the coming of spring from the rooftops! Soft cubes of Indian cottage cheese and vegetables are marinated, skewered and grilled to perfection in the oven or on the grill. Mmm!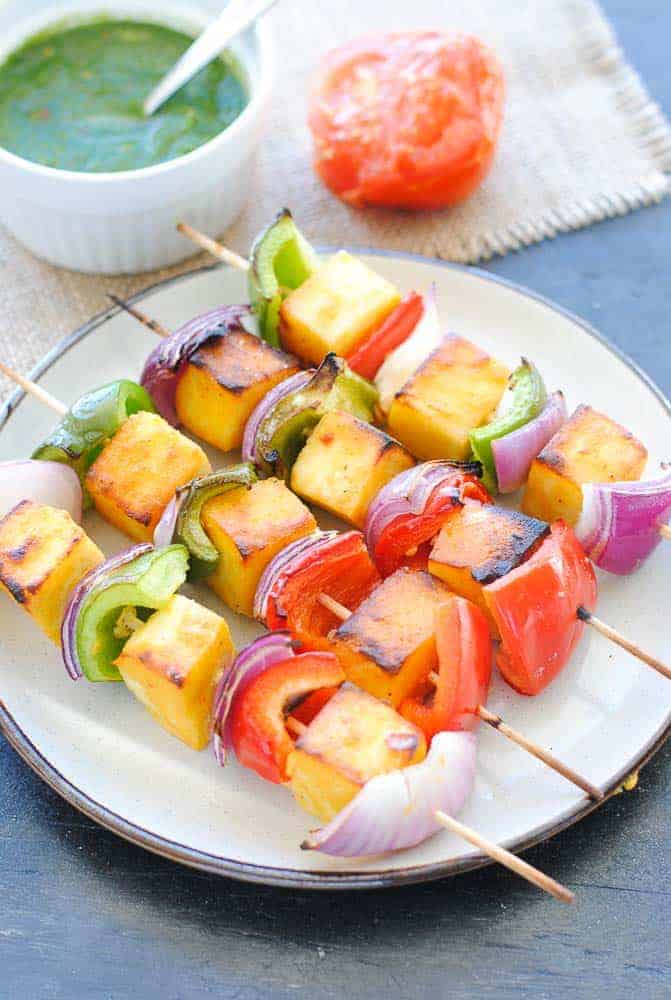 Out of all the paneer recipes on my blog, this one's my favourite. It's colourful, it's fun, and bursting with the deep, rich flavours of the special sauce that it's marinated in. Peppers and onions complement the cheese perfectly. Oh, and the coriander and mint chutney! It adds an extra zing to the kababs and is totally addictive.
Dip a paneer kabab into the green chutney, pop it into your mouth and follow with a bite of the veggies. You will be in foodie heaven, I promise!
Also known as dry paneer tikka, grilled paneer tikka, or simply tandoori paneer, these kababs are traditionally made in a tandoor or clay oven found in Indian/Pakistani or even Middle-Eastern restaurants. However, it is very easy to execute a restaurant-style paneer tikka recipe at home. I make it by broiling the cottage cheese in the oven which gives it the same charred edges minus the smokiness.
Note: If you want your kababs smoked, there is a very easy way to do it. Just place a red-hot piece of charcoal on the paneer, drizzle some ghee on it and cover it for a couple of minutes. Follow the dhuanaar technique described in this post for a more detailed explanation -
what is paneer?
Paneer is a very popular cottage cheese used extensively in Indian cooking. Unlike other varieties of cheese, it holds its shape when heated and doesn't melt. Since it is made from whole, full-fat milk, it has a rich, milky taste that still manages to be quite mild and pleasing. It absorbs the flavors of the sauce in which you add it, making it very versatile and adaptable.
I like to make my own paneer at home. It is a very simple recipe made with just two ingredients - milk and lemon juice. Here's the post for making paneer if you're interested.
paneer kabab preparation
step 1 - cut the paneer and veggies
Take the block of paneer and cut it into even squares.
Cut the green and red peppers into cubes. Peel the layers of the onions and cut them into cubes as well.
step 2 - make the marinade
You will need the following ingredients for making the marinade:
Greek yogurt or any thick yogurt - if you can't get your hands on Greek yogurt, put the yogurt that you have in a muslin cloth and tie the open ends. Hang it in the kitchen sink for the time it takes for the whey to drip out of the cloth. The yogurt left in the cloth will be thick.
ginger-garlic paste - can be purchased at any Indian store or even big supermarkets like Walmart. If you want to make your own, put equal quantities of peeled ginger and garlic in a blender along with some water and whizz to a smooth paste. Store in a tightly sealed glass jar in the refrigerator. It will keep for several weeks.
jalapeno pepper, minced.
ground spices - paprika, turmeric, chat masala and garam masala.
lemon juice - this is optional. Just makes for a tangier paneer kabab!
sea salt, to taste.
Whisk all the ingredients in a big bowl and dunk the paneer pieces in it. Keep it aside in a cool place for half an hour.
step 3 - thread the paneer and veggies on bamboo skewers
Alternate the paneer with the peppers and onion. Position the skewers on a slightly deep bowl so that they don't touch the bottom. Also helps in catching the drip from the marinade and making a mess in your oven.
If you noticed, I did not marinate the veggies along with the paneer because I like the fresh taste of plain, grilled peppers immensely. However, if you so wish, add the veggies to the marinade right along with the paneer. It's totally your choice.
Last, spray the skewers with cooking spray. The skewers are now ready to go in the oven.
Note: while you are skewering the kababs, switch on your oven and activate the broil setting. This mode starts at 525 degrees Fahrenheit and heats only the upper element of the oven. Since the temperature is so high, food gets browned very quickly. If you want, you can bake the kababs first and then broil them, but I don't see the need to bake them. Paneer doesn't really need to be cooked from inside like meat so broiling it directly is okay.
step 4 - broil the kababs
Place the dish with kababs in the middle rack of the oven and set the timer anywhere between 5-8 minutes, more if you want a more charred texture. Turn once on the other side. After the timer goes off, take out the dish and serve the beautiful, steaming kababs with green chutney.
Note: You can make these kababs in an outdoor grill as well if you are outside for a barbecue. Just follow steps 1 and 2 above, make the green chutney before going out and you're set.
green chutney preparation
It is ridiculously easy to make green chutney. Take a bunch each cilantro and mint leaves in a small blender. Add a small tomato, 4 cloves of peeled garlic, 1 green chilli (more if you want it spicier), and salt. Add a few tablespoons of water and blend to get a smooth puree. Take it out in a bowl and serve with the paneer kababs.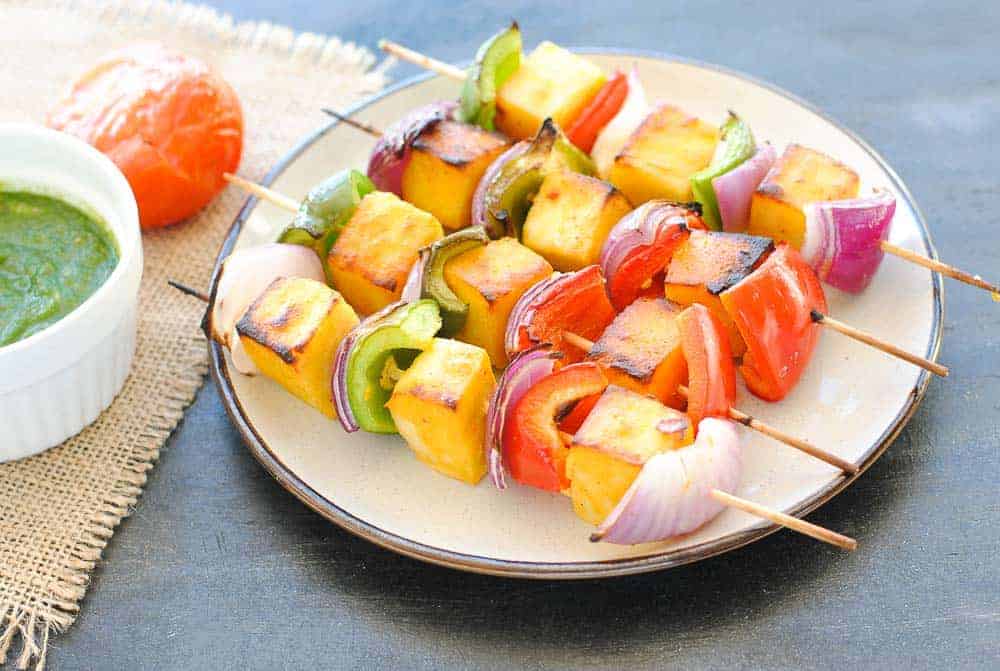 More paneer recipes for you
Paneer Fingers -
Crispy from the outside and soft inside, this is the perfect evening snack or party finger food.
Malai Kofta -
 Paneer and potato balls in a rich tomato gravy. Smooth, creamy, and oh so delicious!
Mutter Paneer -
Soft paneer and sweet garden peas in a tomato gravy topped with lots of cilantro.
Palak Paneer -
 Paneer in a smooth spinach curry. This is a popular and much-loved North Indian recipe.
Print
Paneer Kabab
This paneer kabab recipe is a vegetarian appetizer that will make your taste buds go in a tizzy with delight! Soft cubes of Indian cottage cheese and vegetables are marinated, skewered and grilled to perfection in the oven. Mmm!
Author: Saima
Prep Time:

45 minutes

Cook Time:

8 minutes

Total Time:

53 minutes

Yield:

8

skewers

1

x
Category:

Appetizer/Snack

Method:

Grilling

Cuisine:

Indian
Ingredients
350 grams

or

12.3 oz

paneer

1

onion

1

red bell pepper

1

green bell pepper
cooking spray
Marinade Ingredients
3 tablespoons

Greek yogurt

1 tablespoon

ginger-garlic paste

1

jalapeno, minced

1 tsp

paprika powder

½ tsp

turmeric powder

1 tsp

chat masala

½ tsp

garam masala
juice of

half a

lemon (optional)
salt, to taste
Green Chutney Ingredients
1

bunch cilantro leaves

1

bunch mint leaves

1

small tomato, chopped

4

cloves garlic, peeled

1

-

2

green chillies
salt, to taste
Instructions
Cut the paneer into cubes.
Remove the layers of the onion and cut into squares.
Cut the green and red bell peppers into squares.
Take all the marinade ingredients in a bowl and whisk to form a smooth paste.
Put the paneer pieces in the marinade, cover with plastic wrap and leave the bowl in a cool place for 30 minutes.
Put all the chutney ingredients in a small blender and blend to get a smooth puree.
Turn on the oven and preheat to 525 degrees Fahrenheit on the broil mode.
Skewer the paneer and veggies on wooden skewers alternating between the paneer and veggies. Shake off excess marinade.
Spray the kababs generously with cooking spray and arrange the skewers in a deep bowl so that the kebabs do not touch the bottom.
Place this bowl in the pre-heated oven and set the timer anywhere between 5-8 minutes.
After the timer has gone off, remove the bowl with the skewers and arrange them on a plate. Serve hot with green chutney.
Notes
Paprika can be substituted with red chilli powder if you want a spicier kababs. It's a personal choice.
If you want, you can marinate the veggies too before grilling them. Again, a personal choice.
Nutrition
Calories:

136.6

Sugar:

1.8

Sodium:

219.3

Fat:

10

Saturated Fat:

0.3

Unsaturated Fat:

0

Trans Fat:

0

Carbohydrates:

3.8

Fiber:

0.6

Protein:

8.7

Cholesterol:

1.6
Keywords: paneer kabab, paneer tikka, tandoori paneer
Did you make this recipe? Don't forget to give it a star rating below!