Instant pot rajma masala is red kidney beans cooked in a thick onion-tomato gravy. Ladled over white or brown rice, it makes for a complete meal and a very popular North Indian dish called rajma chawal. Vegan, gluten-free and yum!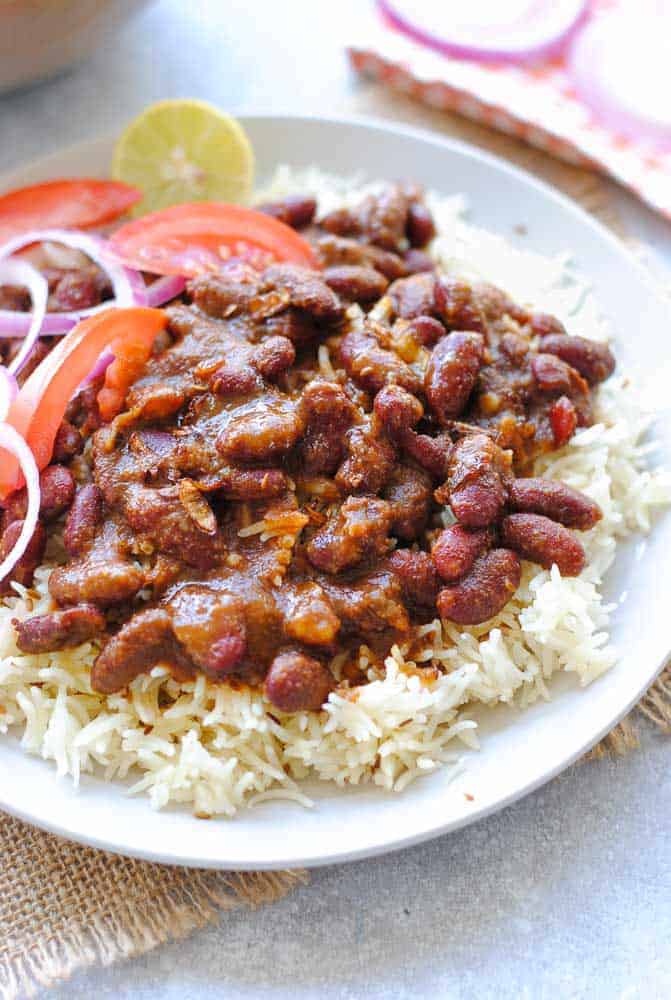 Rajma Chawal is Punjabi comfort food that really comforts!
Red kidney beans have a nutty-buttery taste which is enhanced by the sauce you cook them in. In north India, kidney beans are cooked in an onion-tomato gravy until very soft and usually served with rice. I have very fond memories of eating rajma chawal (kidney beans with rice) while growing up in Delhi, and today, I'm sharing with you the very same authentic Punjabi rajma recipe from my childhood. No points for guessing that  this is a tried-and-tested, made-more than-a-gazillion-times recipe!
But that comes later. With beans, the big question is always 'to soak or not to soak?'
Why you should soak beans
Most people soak beans (nuts and seeds too) to improve their digestibility and prevent gas. Soaking also significantly reduces cooking time since the beans swell and soften with all that water in them. While people who don't agree with this view do admit that soaking reduces the cooking time, they say that it does absolutely nothing to reduce the gas-producing properties of beans.
If you decide not to soak your beans, the matter ends here. Go ahead and cook your unsoaked beans and if you're happy with the results, that's it!
However, if you decide to soak them, there is a further consideration.
Soaking beans brings us to the dilemma of keeping or discarding the water in which they have been soaked. Again, opinions differ on this one. The reason why some people throw away the soak water is because it is supposed to contain anti-nutrients (substances which cause flatulence). So, they say that if you don't throw away this water, it is kind of pointless to soak beans in the first place.
Me? In the midst of all this fuzziness, I prefer to stick with traditional wisdom. My mother always soaks her beans overnight and won't hear of any new-fangled theories about cooking them as is. And she cooks the beans after rinsing them in running water. So, I follow suit. And really, I have found personally that this method works for me. I have not experienced any digestive discomfort thereafter.
If you want to really get into a spirited discussion of this issue and make up your own mind, check out this post by Vegan Coach.
Soak or no soak, kidney beans are a terrific source of protein, cholesterol lowering fibre, minerals and anti-oxidants. Include them in your diet if you want to pack a nutritional punch.

Why this rajma recipe works
1. It is very easy to make in the instant pot.
2. It has a few, very commonly available ingredients.
3. It has the goodness of beans and is very nutritious.
4. It is a filling, delicious meal when eaten with rice.
Ingredients in rajma masala
Exact quantities are given in the recipe card below.
How to make instant pot rajma
Preparation
1. Soak the beans - Wash and soak kidney beans in water, cover and keep aside overnight or at least 4-5 hours at minimum.
2. Make the masala - Grind together onions, tomatoes, ginger and garlic to a smooth puree.
Cooking
1. Cook the masala - Turn on the saute mode on your instant pot and add the cooking oil, followed by the masala prepared above. Add all the ground spices - red chilli, turmeric, coriander and garam masala. Cook this for about 4-5 minutes, adding splashes of water if required.
2. Add the beans, salt and 2 cups water - Pressure cook for 30 minutes on high pressure and let the steam escape naturally (12-15 minutes).
3. Open the cooker - Switch to the saute mode again (normal) and mash a few beans with the back of a spoon. Add a quarter cup water if you feel the gravy is too thick and cook for 4-5 minutes or until the beans are well-mixed with the gravy.
4. Prepare the tempering (optional) - Heat a tablespoon of oil in a small frypan and add some finely sliced onions and cumin seeds. When the onions caramelize, add a dry red chilli and pour immediately over the rajma curry.
Note: Step 4 is completely optional and you can easily skip it if you don't want to add more oil to the rajma curry. Tempering does enhance the taste of most curries, so if you're looking for that extra yum factor, go right ahead and do it.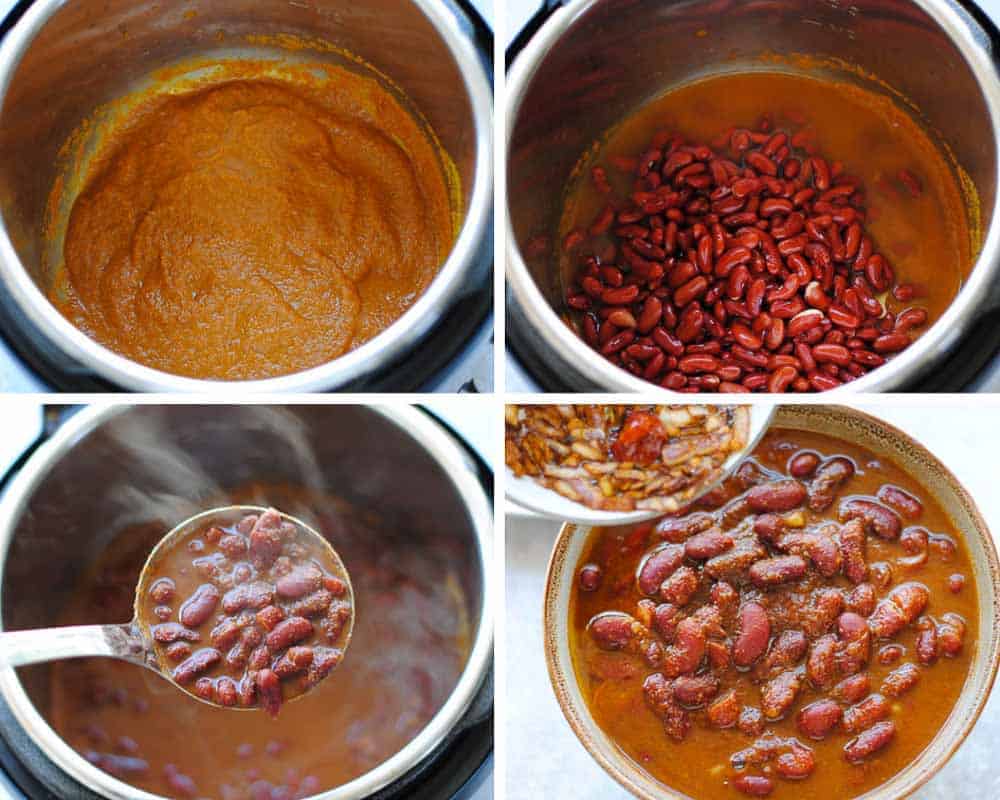 Stovetop rajma masala
If you don't have an instant pot, follow the exact same steps in your stovetop pressure cooker. Let the pressure build on high heat after you have added the kidney beans along with the water. After one whistle, lower the heat, cook for 30 minutes, then switch off. Wait for the steam to escape and open the cooker. Temper the rajma with fried onions, cumin and a dry red chilli.
Serve with steamed white rice and a salad.
If you want to get a little fancy, make this cumin rice to go with the rajma curry instead of plain rice. It is very flavorful and comes together in 20 minutes in the instant pot. Or serve it with brown rice made in the instant pot.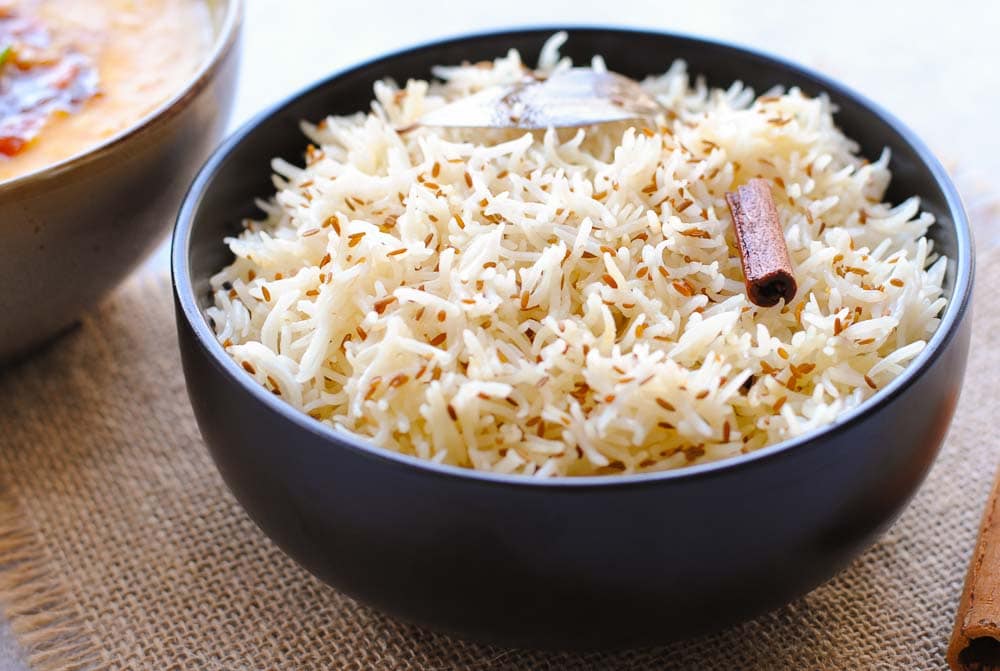 Other instant pot vegetarian recipes you might like

📖 Recipe
Did you make this instant pot rajma masala? Don't forget to give it a star rating below!