Looking for side dishes for paratha? Here are some perfect recipes to serve with your paratha breakfast or brunch. There are options for both plain and stuffed parathas. All the way from spicy chutneys, pickles and cooling yogurt dips (raita), to vegetables, lentils, chicken and lamb recipes, and even some drinks, we've got you covered!
Parathas for breakfast or brunch
Who doesn't love parathas? They are a staple in north Indian homes everywhere, and if you are ever at a loss for what to make for a weekend breakfast or brunch, try parathas! These days, you don't even have to make them from scratch. So many brands sell ready-to-eat frozen parathas these days, and after having tried many of them, I can vouch for their taste and quality.
However, delicious as they are, parathas on their own are not enough. You definitely need some sides to go with them, even if it is a simple raita. Whether the parathas are plain or stuffed with potatoes, paneer, or mixed vegetables, you do need an accompaniment or two to go with them.
That is why, I bring to you in this post 25+ side dishes, so that you never have to wonder about what to eat with parathas. Take your pick!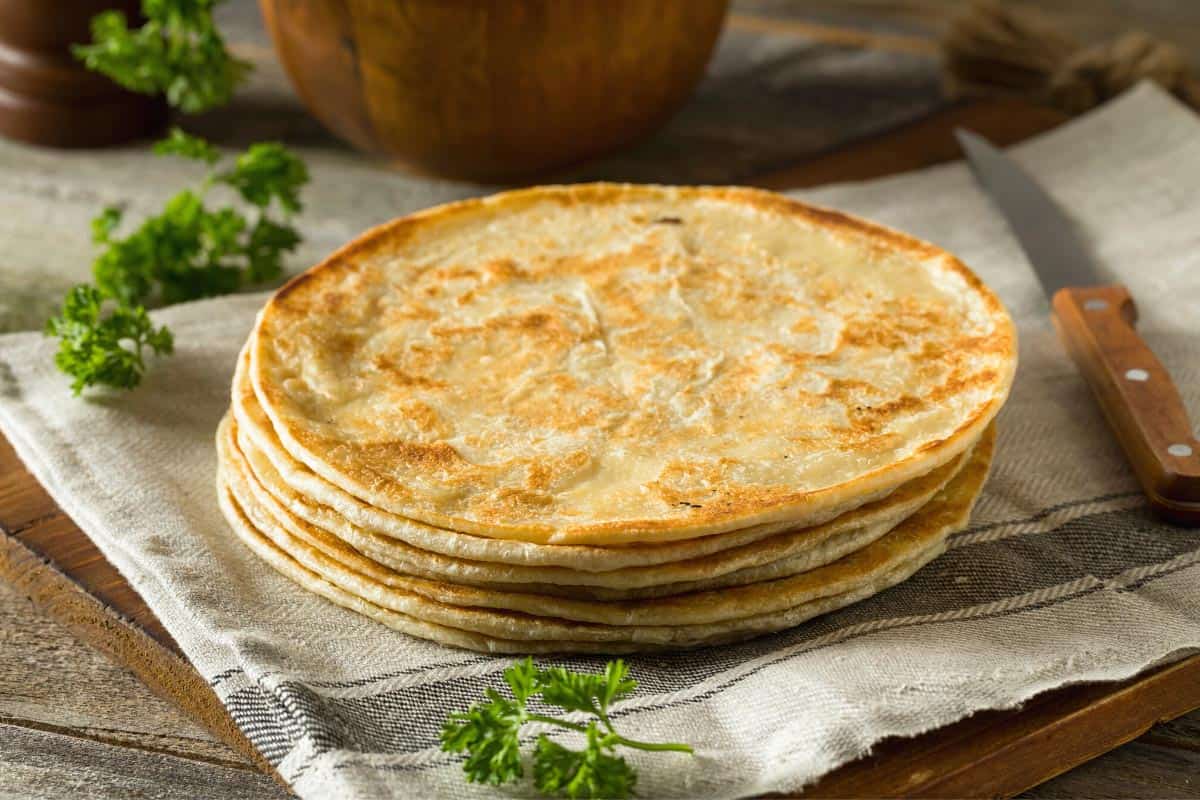 Jump to:
If you are having stuffed parathas, the obvious choices are a spicy pickle or achar, a cooling raita, or maybe a chutney or two to go with them.
These are classic combinations that have stood the test of time and delighted paratha lovers all over the world.
Achar (Pickles)
There are so many possibilities with achar! The king of all achars is, of course, aam ka achar (mango pickle), but there are so many other choices - carrot achar, garlic achar, mixed vegetable achar .... they all taste so good with parathas. And the best part is that they are easily available in every Indian or Pakistani grocery store and even in the international aisles of most supermarkets. You don't have to make achar from scratch!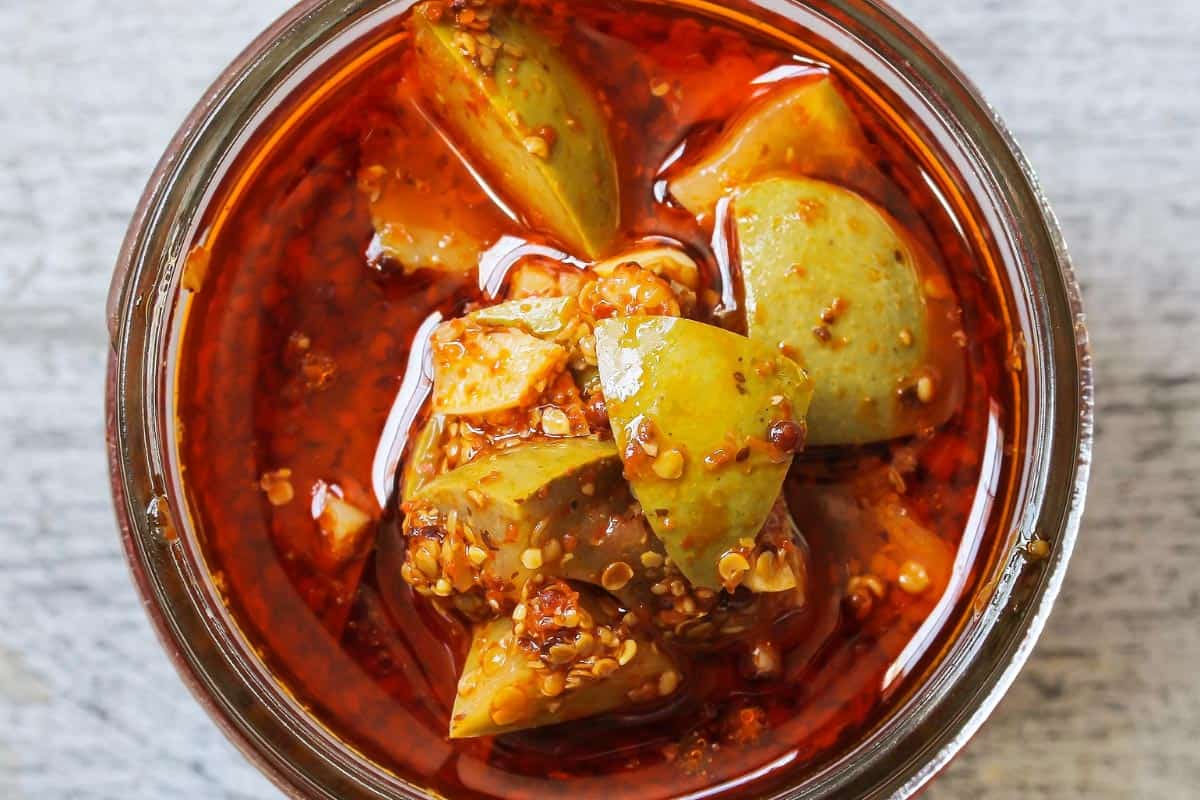 Chutneys
A simple dhaniya or coriander chutney has so much fresh flavor and is so simple to make. Just dump fresh cilantro, green chillies, garlic and a tomato in a blender and your chutney is ready. Add mint leaves for a slightly different flavor, and even some yogurt if you want.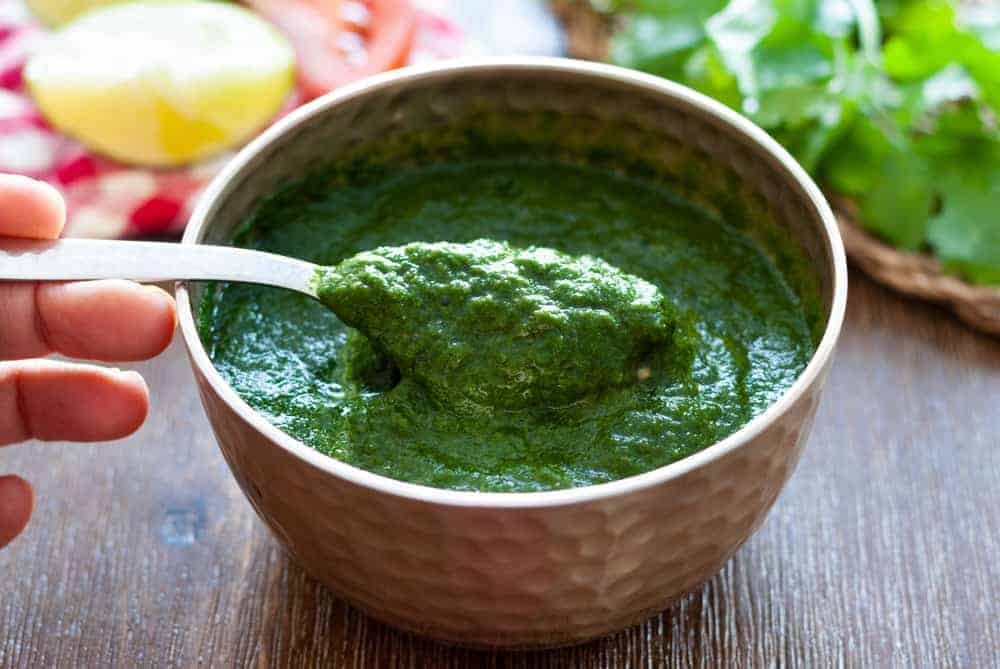 More chutneys that go very well with parathas are:
Tomato Chutney - An easy, mildly spiced chutney made with basic pantry ingredients.
Date Chutney - A chunky chutney with the natural sweetness of dates. The sweet flavor contrasts beautifully with the savory parathas!
Raw Mango Chutney - Another sweet and spicy chutney made with raw green mangoes. It's the perfect accompaniment to Indian meals and tastes amazing with paratha!
Raita
A raita is literally made for parathas! It is a refreshing side to serve with parathas and there are so many varieties of this cooling yogurt dip, you'll be amazed. Our favorite is this pyaaz raita with the crunch of diced red onions.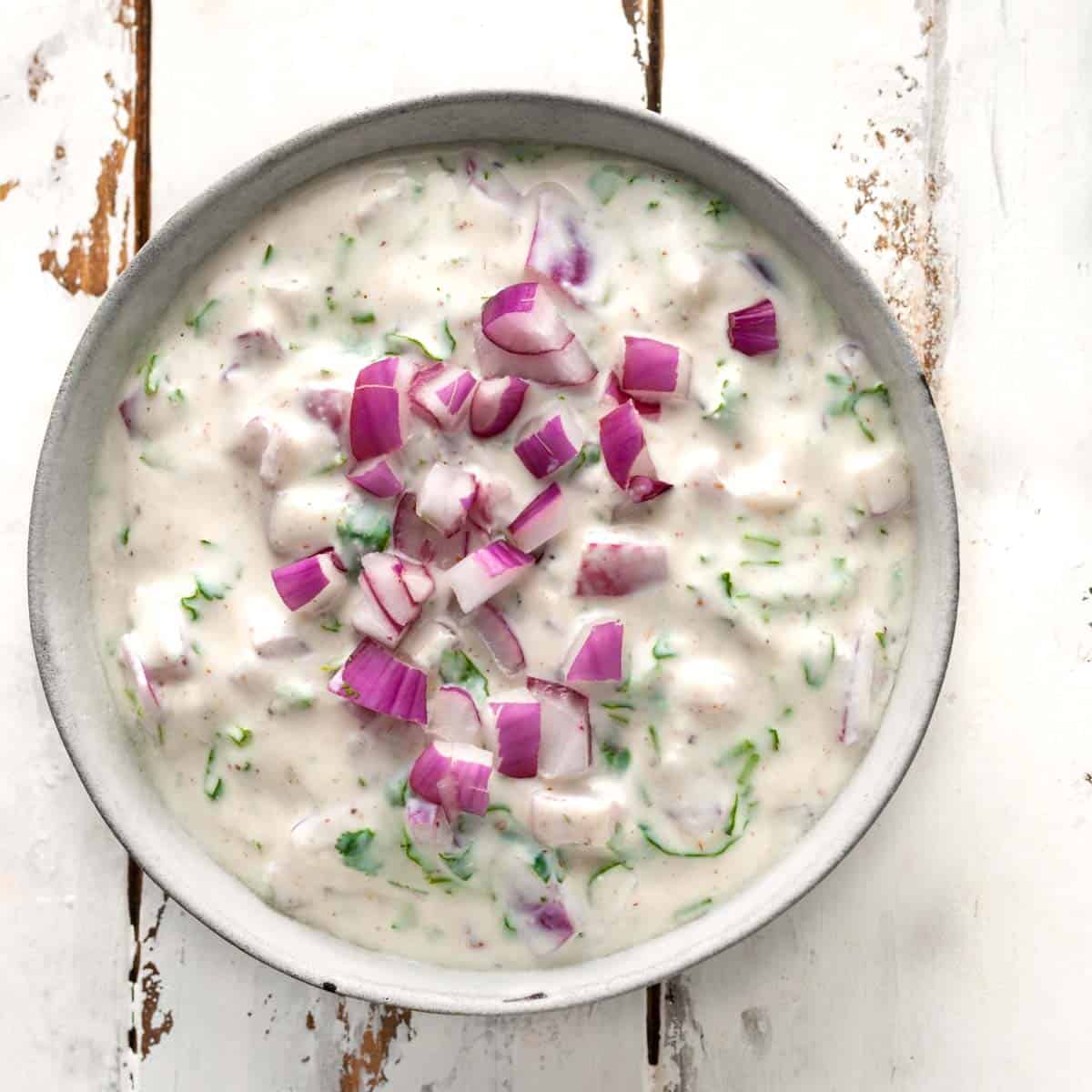 Other favorites are:
Beetroot raita - Beetroot raita is a healthy, very creamy yogurt dip that goes perfectly with Indian entrees and breads like paratha. This raita is a 20-minute, 5-ingredient recipe in the instant pot. Fresh and fun!
Cucumber raita - Cucumber strips along with just a wee bit of garlic, cumin, paprika, and cilantro whisked lightly in yogurt makes for a super-refreshing side with paratha.
Boondi raita - Crispy boondi (tiny fried balls made of chickpea flour) with spices in what else but yogurt? The balls soften in the yogurt after a while and the textures going on in this raita make it one of the most popular raita recipes ever!
Vegetable Curries and Sabzi
Vegetable curries and dry sabzis both make for a great combination with parathas, especially plain parathas. You can never go wrong if you serve one of these dishes:
Bombay Potatoes - Bombay potatoes are simple, quick and big on taste. Baby potatoes are steamed in the instant pot or stovetop , tossed in a few spices and dressed with lemon juice, green chillies and cilantro. They are crispy and slightly spicy with soft insides. This vegan Bombay aloo recipe is a delicious side dish that tastes so good with paratha.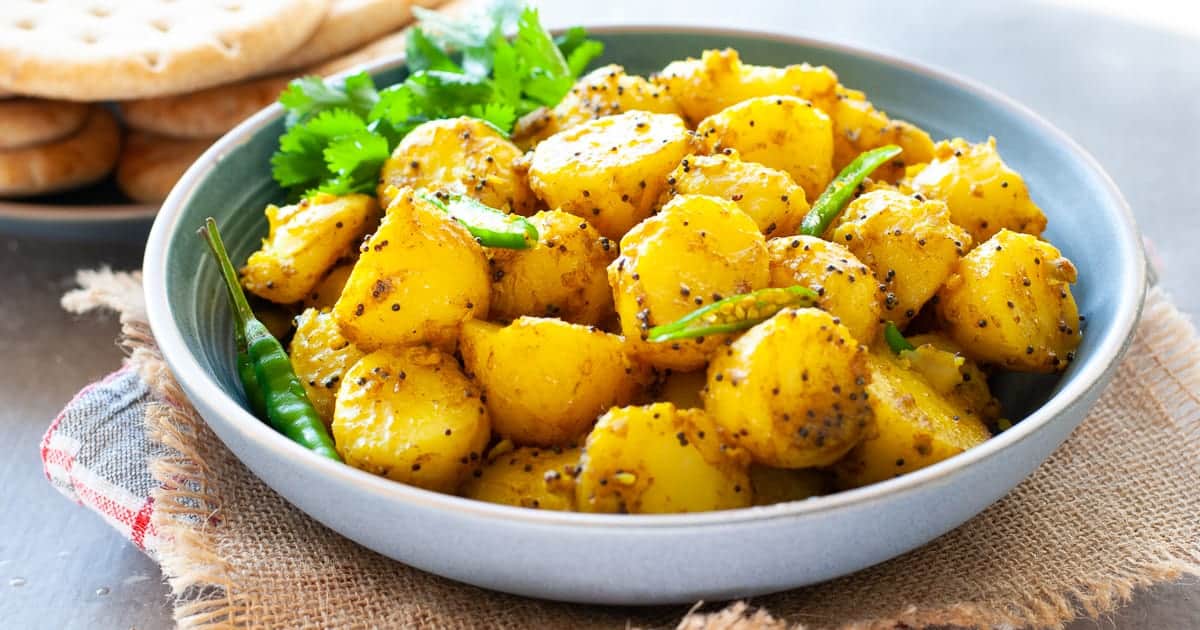 Bharwa Shimla Mirch (Stuffed green peppers) - Small green bell peppers or capsicum are stuffed with a spicy potato filling and baked in the oven. These mini stuffed peppers make for a delicious meal with paratha.
Mixed Vegetable Sabzi - Have leftover vegetables in your fridge? Make this dry vegetable curry that comes together with minimal effort and tastes delicious with paratha.
Paneer Jalfrezi - A colorful vegetarian stir fry made with cottage cheese, vegetables like onions, tomatoes, green peppers, and powdered spices. Ready and on the table in 20 minutes!
Chole Masala (Chickpea Curry) - A hearty vegan curry made with boiled chickpeas, onions, tomatoes and a medley of spices. Easy as 1,2,3 in the instant pot!
Aloo Curry (Potato Curry) - Another simple vegan potato curry that's made quickly on the stovetop. It tastes terrific with freshly made paratha as well as puri (a puffy Indian bread).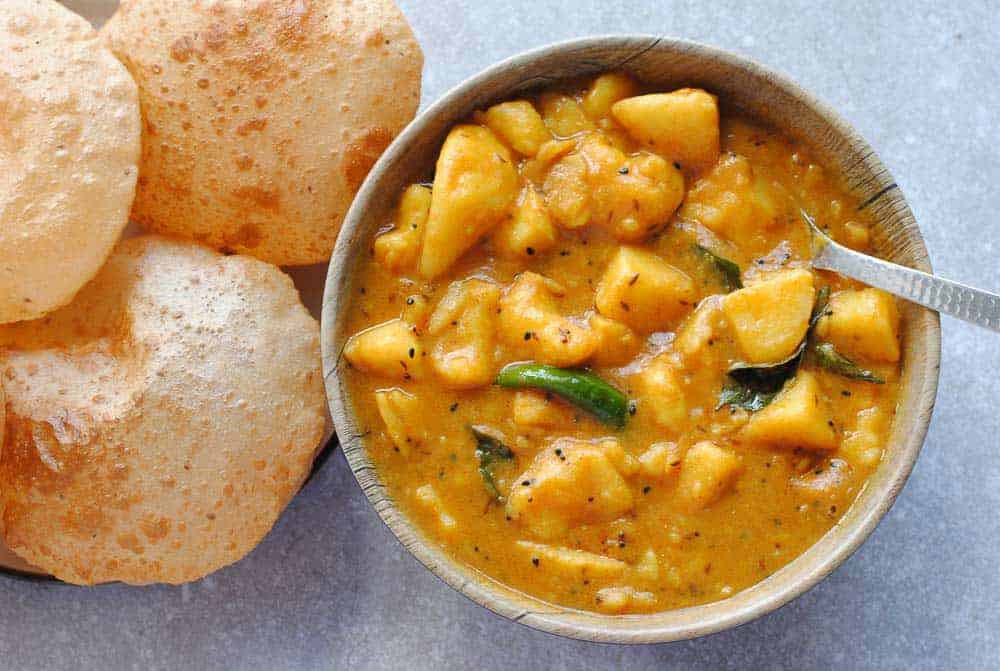 Baingan Bharta (Spiced and Mashed Eggplant) - Fire-roasted and mashed eggplants are stir fried in onions, tomatoes, garlic, and spices to make a very flavourful side dish for parathas. The smoky flavor is to die for!
Aloo Shimla Mirch Sabzi (Potato and Capsicum Dry Curry) - This simple aloo shimla mirch sabzi or curried potatoes and capsicum is Indian vegan food at its best. Green peppers and potatoes are cut into strips and cooked with lots of onions and tomatoes in a wok or karahi. Plus spices like coriander, turmeric, red chilli, and a dash of garam masala lend it some awesome flavor. Dig into it with your parathas for a meal.
Dals (Lentils)
Break off a piece of paratha, dip it into a bowlful of piping hot dal and scoop it up. Then put it into your mouth. The taste of the paratha with the dal is so good, you won't want to stop!
These lentil curries go very well with paratha. Try them and see what I mean.
Dal Fry - Sunshine in a bowl. That's what I call this dal fry made with pigeon pea lentils (toor dal). The lentils are first tempered with onions, tomatoes and spices in the instant pot, then pressure-cooked to perfection. The ultimate comfort food with hot off-the-griddle parathas.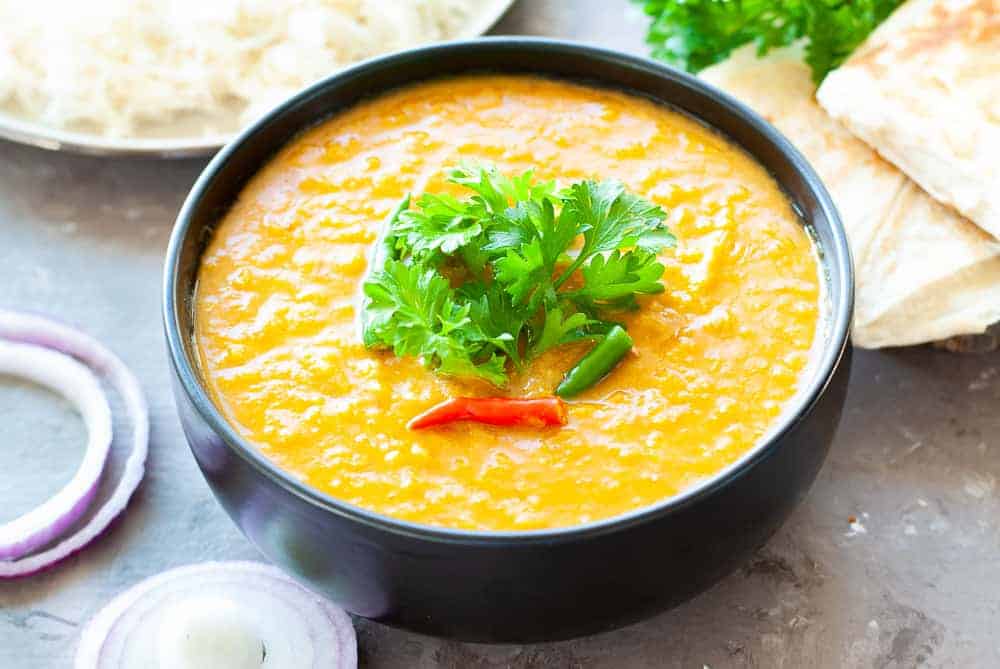 Dry Moong Dal - Soaked and drained moong lentils are stir-fried in onions, tomatoes, garlic and spices (mmm...) until soft. The dal is topped with green chillies and cilantro for a fresh sabzi style dish.
Serve this pot of deliciousness with some parathas and dollops of raita, and you'll be in foodie heaven, I promise! It's nothing fancy, for sure, but the best things in life are often simple and easy:)
Dal Makhani - If you like North Indian food and you haven't tried dal makhani, you are seriously missing out on a gem of Punjabi cuisine. I mean, seriously.
Dal makhani has Indian black lentils and kidney beans cooked in tomatoes, spices, butter and cream. It is smooth, creamy and intensely flavorful, and I can bet you will fall short of parathas, it is so addictive with them!
Whole Masoor Dal - This dal is made of brown lentils and has a savory, earthy taste you won't forget in a hurry!
Lamb and Chicken Recipes
Kebabs and curries made with chicken or ground lamb along with parathas are a match made in heaven! If you are not vegetarian, try these recipes for an unmatched culinary experience.
Tandoori Chicken - Fat, juicy chicken drumsticks with the rich fragrance and color of Indian spices. Fall-off-the-bone, tender meat. And a deep smoky flavor to die for. Tandoori chicken is the Indian answer to the best barbecued chicken, and this instant pot recipe makes it all SO easy, it's literally insane!
Chicken Malai Tikka - Soft, juicy kababs on skewers that will simply melt in your mouth. Tender pieces of boneless chicken are marinated in a unique blend of yogurt, cream, cheese, papaya and spices and cooked on a grill or oven. Perfect for an outdoor barbecue or luncheon.
Shami Kebabs (Lamb Kebabs) - Shami kebabs are shallow fried cutlets made out of ground lamb, split chickpea lentils and whole spices. They have flaky brown crusts and soft insides. Spread some coriander chutney on a paratha, place a kebab or two on it and roll it up for a tasty meal on the go.
Keema Aloo - Keema aloo is a happy coming together of ground lamb, cubed potatoes and of course onions and tomatoes. You can do the same trick with keema aloo as described above with shami kebabs. Spread it on a paratha, roll it up and voila! You have an appetizing keema wrap ready.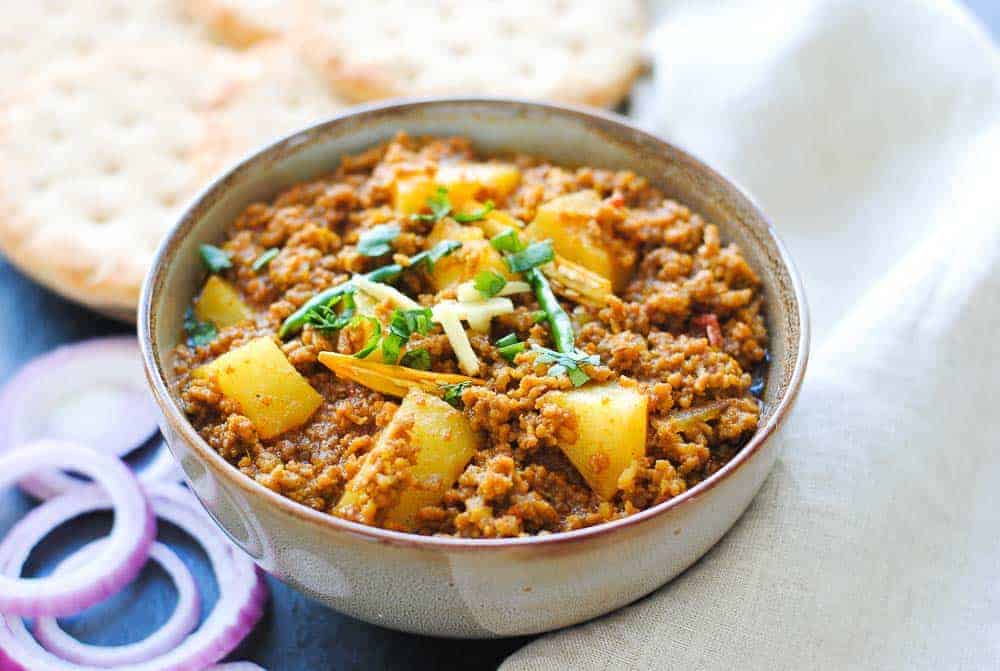 Beverages
Finally, even though these are not strictly sides, you've got to have some kind of drink to wash your meal down. The best, most refreshing Indian beverage to go with parathas is lassi, a cooling yogurt drink which can be made both sweet or salty.
How to make lassi
It is very easy to make lassi. Put together yogurt and sugar (to your taste) in a blender and blend until the mixture is frothy. You can add a little cold water or milk if it too thick. Serve in tall glasses with some crushed ice for a refreshing drink to go with parathas.
Don't want a sweet lassi? Instead of sugar, add a little kala namak (Himalayan pink salt), mint leaves, and powdered cumin. Your lassi without sugar is ready.
If you want to get fancy, there are so many popular variations to this drink. One of them is a mango lassi. Just add sweet mango pulp to the yogurt to make mango lassi. If the mango is very sweet, you can skip the sugar.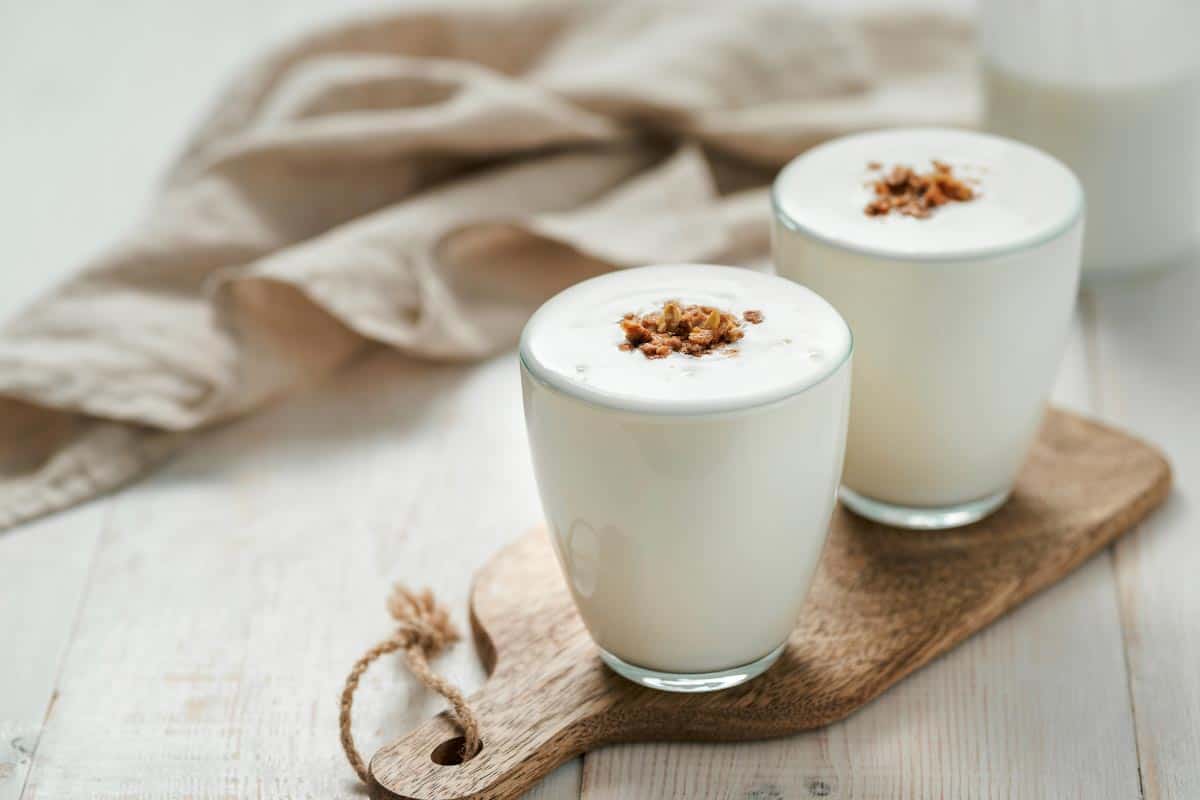 More beverages you can serve with parathas are tea and coffee, fruit juices, and smoothies.
Try this masala chai (spiced tea) with your parathas. It is an excellent combo!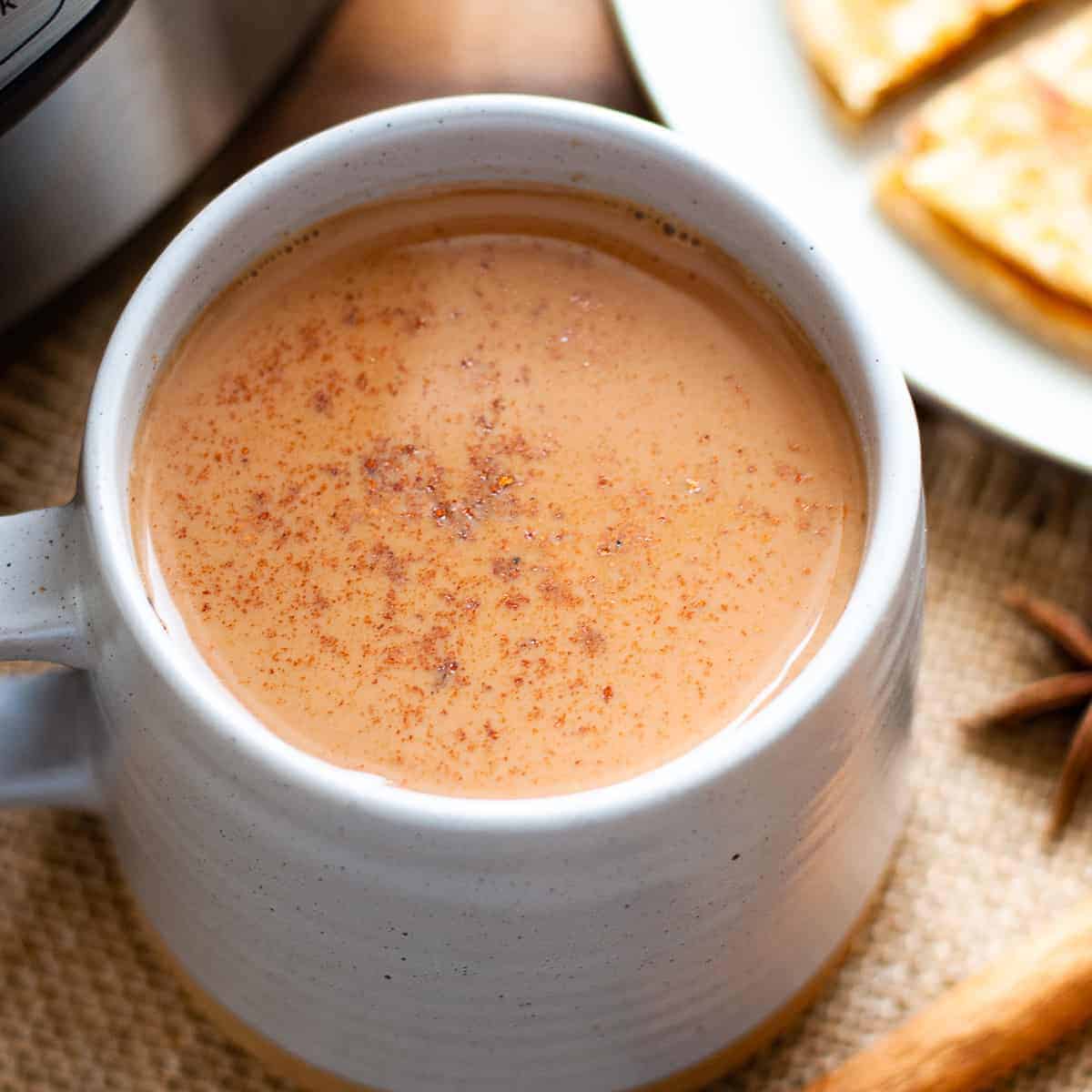 Did you make any of these sides to go with paratha? Do share your experiences in the comments below!