Learn how to make tamarind chutney or imli ki chatni: a sweet and sour sauce that makes Indian snacks sing! Seedless tamarind, jaggery and spices come together in an easy recipe that's made in minutes. Drizzle it over samosas, aloo chaat, and pakoras to take them to the next level!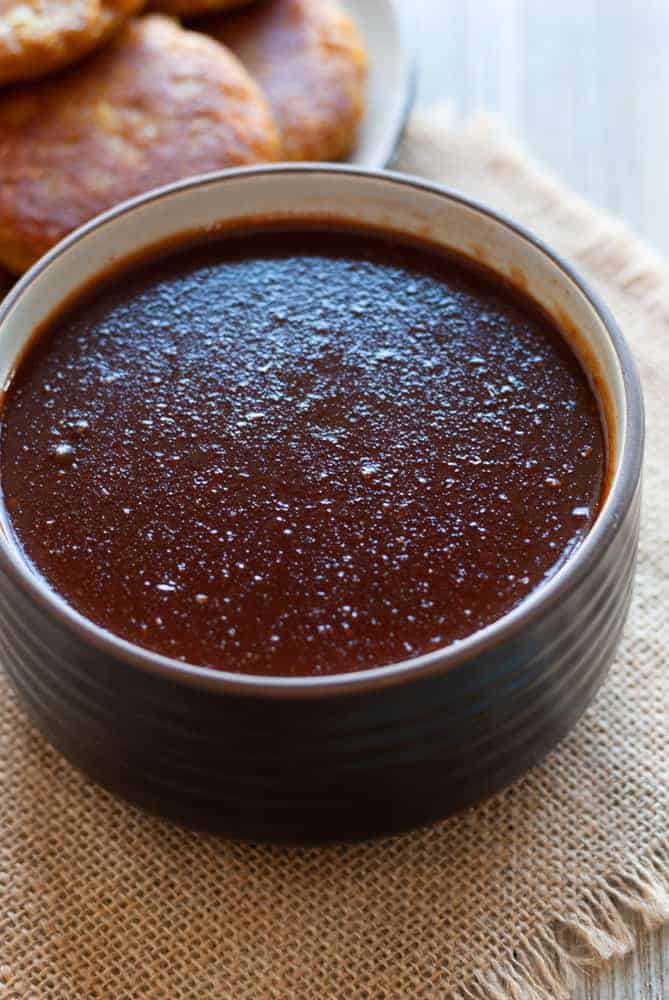 All sorts of chutneys and pickles are the life and soul of Indian snacks, and what self-respecting cook would make those fingerlickin' samosas and bhajiyas without drizzling a little tamarind or green coriander chutney on top? If you're thinking of making do with some boring ketchup (gasp!), forget it!
The next time you indulge, do try making this chutney to go with your favorite Indian street food. It is tangy and spicy and sweet all at once, and if you've never had it before, you'll be surprised at the explosion of flavors that happens as it hits your tongue. Once you've tasted it, I'm willing to bet that the samosa or pakora you're having will actually taste bland without it. Yes, the chutney is that addictive!
What's more, imli chutney is easily made, has a few simple ingredients, and lasts for a couple of weeks at least in the fridge. If you want to make it last longer, freeze it in mason jars. It freezes beautifully too.
Ingredients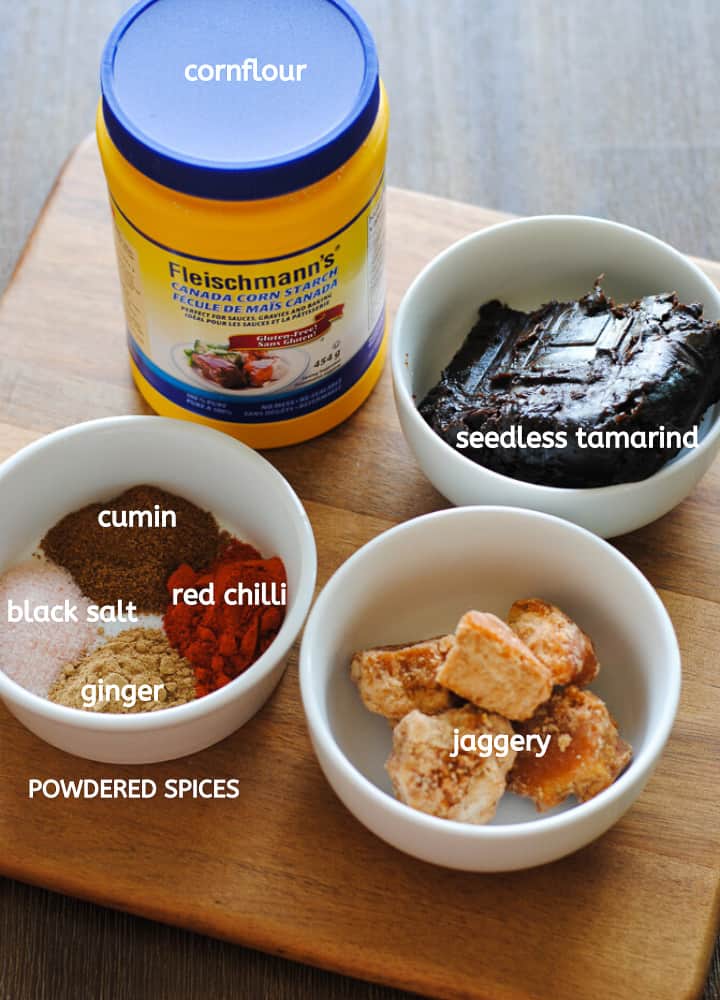 Notes:
Exact quantities of ingredients are given in the recipe card further down.
Both seedless tamarind and jaggery (sugar cane blocks) (affiliate links) are available in Indian grocery stores. They can also be found in the international aisle of most big-chain supermarkets. The powdered spices are also similarly available quite easily.
Black salt (affiliate link) is a kind of rock salt also known as kala namak. It happens to be pink in color.
Cumin powder can be purchased but it is also easy to make at home. In fact, if you roast the cumin and then grind it, the flavor gets enhanced so much. Just take a few tablespoons of cumin seeds in a small frypan, turn on the heat to medium and dry roast them with a spoon until they turns dark and aromatic. Let the seeds cool down completely, then grind to a fine powder in a spice or coffee grinder.
How to make imli chutney
The chutney is pretty straightforward to make with no complicated culinary hoops to jump through.
Put a saucepan with four cups of water to boil and add the tamarind. Mix well and let the mixture simmer for ten minutes. Take it off the heat and allow it to cool down a bit.
Though seedless, it's a good idea to strain this mixture as the solids are quite dense. You can do this easily by passing the mixture through a sieve and collecting the liquid in a bowl placed under the sieve. Like so: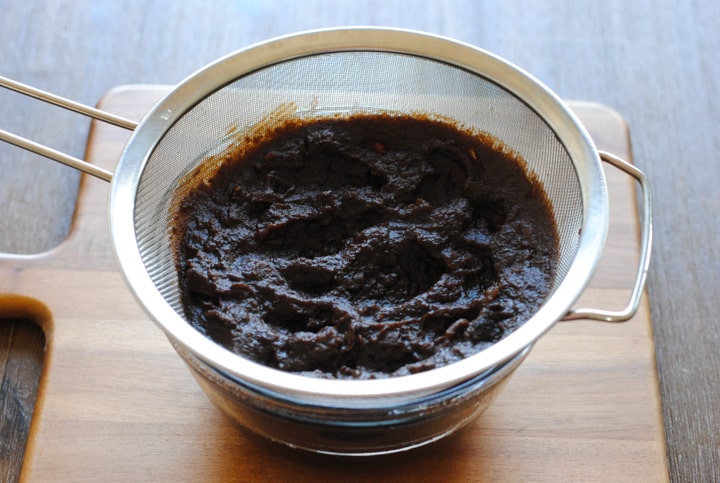 The tamarind water collected in the bowl is what you want. Return it to the saucepan and add all the other ingredients except the cornflour: the powdered spices and jaggery. Stir the liquid until the jaggery melts.
Add the cornflour dissolved a few tablespoons cold water and stir. The liquid will thicken pretty quickly. At this point, the chutney is ready. Let it cool down, pour into a mason jar and refrigerate.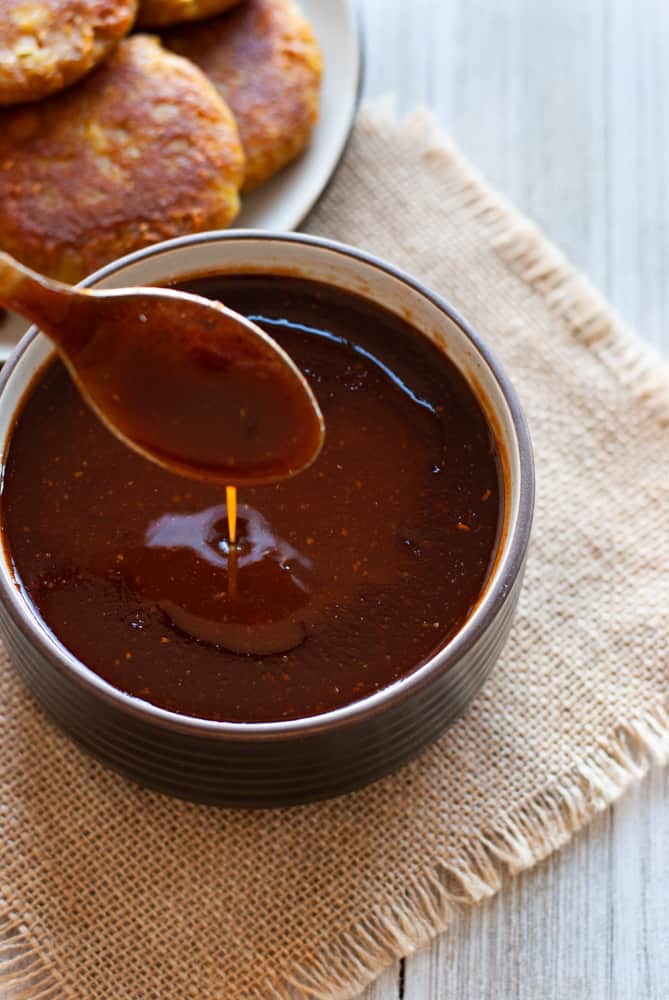 A few useful tips
Break the tamarind as well as jaggery into smaller pieces before putting them in the water.
While straining the tamarind, press down on the tamarind with the back of a spoon to get the maximum juice out of it.
The chutney should be neither very thick nor thin, but a good pouring consistency. Generally, two tablespoonfuls of cornflour is enough to thicken it satisfactorily, but do check as you go. Add a tablespoon of cornflour (always dissolved in cold water) and let it simmer for a minute, then add more. You don't want a too thick and lumpy mass at the end.
What to serve with tamarind chutney
Ooh, this is the interesting part! There are so many snacks that taste out-of-this-world good with this chutney. Samosas, fritters or pakoras, bread rolls, chaat, potato fries, dahi vada... the possibilities are endless. Here are three from the blog:
Dahi Bhalla - Fried lentil balls smothered in a sweet yogurt sauce and topped with spices and chutney.
Aloo Tikki - Crispy, spiced potato patties that is every chaat lover's delight.
Aloo Chaat - Shallow-fried baby potato halve with a drizzle of this chutney.
Samosas - Samosas with a twist. This one's by The Odehlicious and it's filled with cheese instead of potatoes.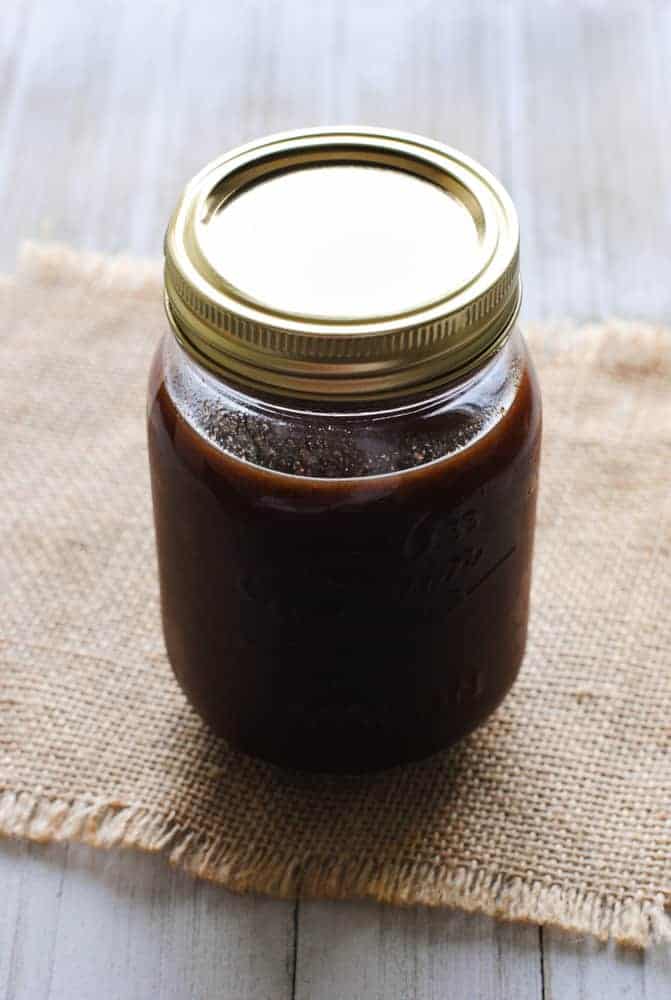 📖 Recipe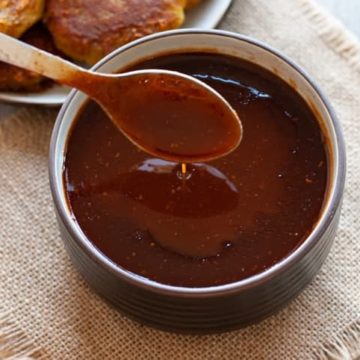 Tamarind Chutney
A sweet and sour dip that goes perfectly with Indian snacks. Seedless tamarind, jaggery, and spices come together in an easy recipe made in minutes. 
Ingredients
200

grams

or 7 oz. seedless tamarind

4

cups

water

125

grams

or 4.4 oz. jaggery

1.5

teaspoon

red chilli powder

1

teaspoon

ginger powder

1

teaspoon

black salt

kala namak

1.5

teaspoon

cumin seeds

2

tablespoon

cornflour
Instructions
Preparation
1. Put a small frypan on medium heat and add the cumin seeds. Dry roast them until fragrant. As they become slightly darker, take off the heat. Let them cool down, then grind in a spice or coffee grinder. 

2. Break the tamarind and jaggery into manageable chunks.
Cooking
1. Take the 4 cups water in a saucepan and bring to a boil. Add the tamarind and lower the heat. Let the mixture simmer for ten minutes. Remove the saucepan from the hob and allow it to cook down a bit. 

2. Strain this mixture by passing it through a sieve and collecting the liquid in a bowl placed under the sieve. You might have to press on the mixture with the back of a spoon to get all the water. The tamarind water collected in the bowl is what you want. You can discard the solids left behind in the sieve. 

3. Pour the water collected in the bowl back into the saucepan and add chilli powder, ginger powder, black salt, roasted and ground cumin, and jaggery. Stir with a spoon until the jaggery dissolves.   

4. Add the cornflour dissolved in some cold water, one tablespoon at a time. As soon as the mixture thickens, it is ready. Take off the heat and let it cool down. The chutney is ready to be served. 
Notes
1. All the ingredients are available easily in Indian grocery stores or the international aisles of big chains like Walmart. Or you can follow the affiliate links in the post to buy them from Amazon. 
2. The chutney should be neither too thick nor thin but of pouring consistency. 
Nutrition
Serving:
1
tablespoon
Calories:
29.8
kcal
Carbohydrates:
4.1
g
Protein:
0.2
g
Fat:
0.1
g
Sodium:
10
mg
Fiber:
0.3
g
Sugar:
2.2
g