Vegetable pulao in the instant pot is a fragrant, fluffy and very satisfying rice dish that is made for busy weeknights. Basmati rice, mixed vegetables of your choice plus a few whole spices come together in a one-pot recipe that will be a sure hit at the dinner table! Vegan, gluten-free and ready in 30 minutes.
Fancy a quick and easy weeknight side or dinner? Make this vegetable rice pilaf along with some yogurt raita and sit down to a delicious meal. I love this veg pulao recipe for its simplicity and taste. Everything (rice, vegetables, spices and aromatics like onions and ginger) is cooked together in one pot with minimal effort.
If you ask me, it is as good as its fussier sister, vegetable biryani, that involves par-cooking the rice and vegetables separately, then layering them in another pot set on very low heat until cooked completely. And an instant pot vegetable biryani? Such a thing doesn't exist in my book simply because of the process described above. The recipes that you find online for instant pot vegetable biryani are actually all vegetable pulao recipes! If you check out the method in each one of those recipes, you'll discover they follow the exact steps of making a pulao! Nothing wrong there except for the name: don't call it a biryani when it's not one. Just my take on it:)
Anyhow, back to our vegetable pulao recipe. Let's have a look at the list of ingredients and method of cooking in detail.
INGREDIENTS IN VEGETABLE PULAO
1. Long-grain Basmati rice (1 cup) - for pulaos and biryani, this is the rice that works best. It is a non-clumpy and fragrant variety of rice, most commonly used in Indian cooking.
2. A medley of vegetables - I used quartered baby potatoes, mushrooms, cauliflower florets, green beans and carrot in this recipe. However, there is no hard and fast rule here. Use the vegetables you like or have at hand. Corn, sweet peas, edamame, broccoli and peppers also work.
3. Aromatics - sliced onions and fresh, finely chopped or grated ginger-root.
4. Thai chillies - you can omit these if you like non-spicy rice or substitute with Serrano peppers for a milder taste.
5. Whole spices - I used bay leaves, cinnamon sticks, cumin, cloves and cardamom. Don't omit the spices altogether as veg pulao without spices can taste a little sad and lack in flavor. However, don't stress if you don't have all of them. Just use the ones you do have.
6. Cilantro leaves - again, this one's a big flavor booster. Although it is used as a garnish, no pulao is ever complete without it. If you don't like cilantro, go ahead and garnish your pulao with some other herbs like parsley or mint.
7. Cooking oil and sea salt.
HOW TO MAKE VEGETABLE PULAO IN THE INSTANT POT
Preparation (10 minutes)
1. Slice the onions and grate the ginger or chop it finely.
2. Dice the vegetables. You can omit this step if using a frozen packet.
3. Rinse the rice 3 0r 4 times or until the water runs clear, and drain it. There is no need to keep it soaked in water.
Cooking (20 minutes)
1. Press the saute button (normal) on your instant pot and when it displays HOT, add the oil and whole spices. Let the spices sizzle in the oil (30 seconds).
2. Add the onion and ginger, and saute until the onion softens (2 minutes).
3. Add the 1 cup washed rice and mix with a spoon to make sure it is well coated with the oil. Stir it for 2 minutes before adding the vegetables.
4. Add all the vegetables, salt and 1 ¼ cup water. Cancel the saute mode and secure the lid. Make sure the steam release handle is sealed.
5. Press the pressure cooking button (high) and set the timer to 4 minutes. After the timer beeps, wait for 5 minutes and then release the pressure by turning the steam release handle to venting.
6. Open the pot and fluff up the pulao with a fork. Garnish with cilantro and serve hot.
TOP TIPS FOR THE FLUFFIEST, MOST FRAGRANT VEGETABLE PULAO
1. Do roast the rice a bit (2 minutes) after adding it to the oil and aromatics. Stir the rice until it is well-coated in the oil and looks somewhat translucent and toasted. This is how the grains become fluffy and separated after they're cooked.
3. Keep to the rice and water ratio used in the recipe. 1 cup of uncooked rice needs 1 ¼ cups water only. If you exceed the quantity of water, the rice will become mushy.
4. Don't release pressure before 5 minutes. For soft rice, you need to let it rest in its own steam for some time. Five to ten minutes are usually enough.
5. Don't skimp on the ginger root. It gives a LOT of flavor to the rice pulao. Use the amount specified in the recipe.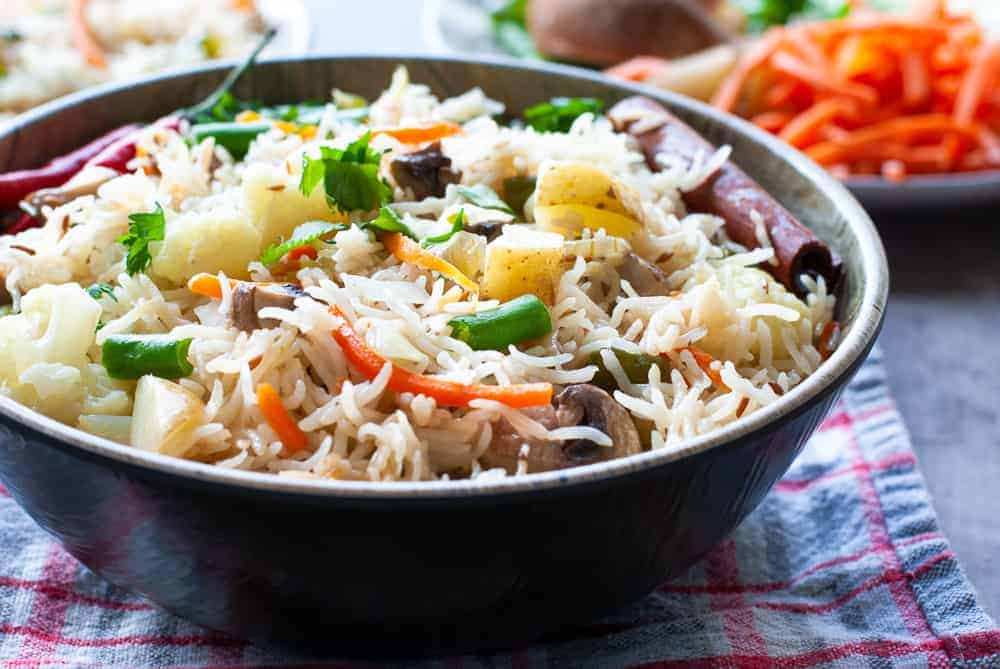 VARIATIONS
- MAKE IT YOUR OWN
Add cottage cheese - You can be quite adventurous with this vegetable rice recipe. If you're fond of paneer or Indian cottage cheese, go ahead and add some cubes right along with the vegetables. It makes the pulao even tastier. This doesn't apply if you're vegan, however, as paneer does not fall in line with a strict vegan diet.
Garnish with cashews and/or raisins - Sprinkle the pulao with toasted cashews for some crunch. And if you don't mind your rice a little sweet, add raisins or currants! They add a wonderful, mild sweetness to the rice and make it fit for a feast.
WHY THIS RECIPE WORKS
1. Adaptable - As you probably must have guessed by now, this is one of those recipes that you can customize to your taste and availability of ingredients. Play around with the combination of vegetables and herbs, add or omit some spices or nuts...the possibilities are many.
2. Easy and one-pot - Yeah, this is my favorite kind too. Who wants to spend hours in the kitchen after a hard day at work?
3. Quick - Unlike biryani, pulao is a quickie and this veggie pulao is no exception. 10 minutes max for chopping the vegetables and 20 minutes for cooking (including the time the pot takes to come to pressure and NPR).
Hot tip - If you want to make it even faster, use a packet of pre-cut frozen mixed vegetables! It's going to save you those 10 minutes of chopping and slicing. Do make sure they are not par-boiled though. Sometimes, frozen vegetable are partially cooked. You don't want this because the veggies will turn to mush with 4 minutes of pressure cooking with the rice.
4. Healthy and delicious - All those colourful vegetables are good for you, duh! And who said vegetarian food is boring? This Indian pulao is packed with nutrition and taste.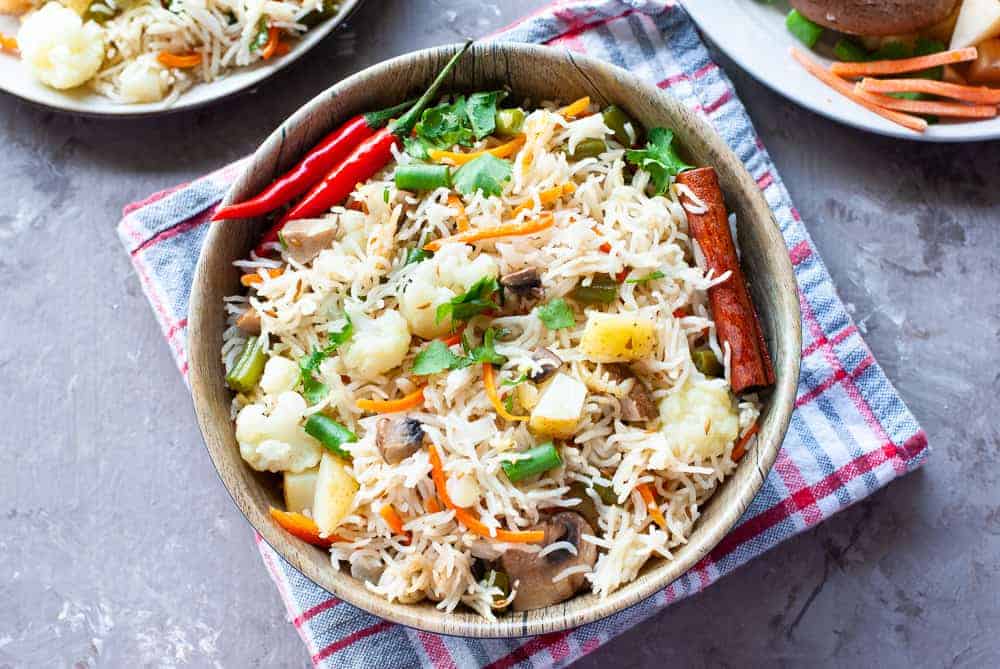 MORE VEGAN RICE RECIPES YOU MIGHT LIKE