An easy vegetable spring rolls recipe with a delicious filling of cabbage, carrot and spring onion greens. Crispy and golden on the outside and bursting with flavour at first bite!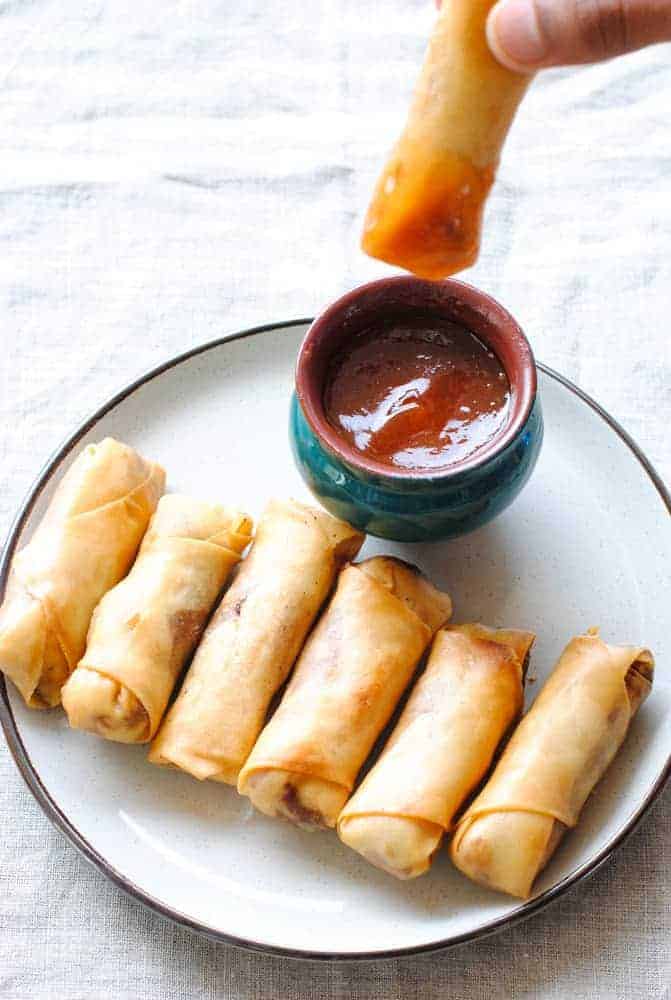 Mmmm, vegetable spring rolls! Until I tried it, I always used to think that this oh-so-tasty snack must be very difficult to make at home. How mistaken I was. Spring rolls are nowhere near as difficult to make as they look (some recipes just look complicated). If you get the technique of wrapping them right, you can make these any time.
The beauty of spring rolls is that they can be made and frozen ahead of time. When the urge for a fried snack strikes, just whip them out of the freezer and fry them. You have fresh, hot spring rolls ready in a jiffy!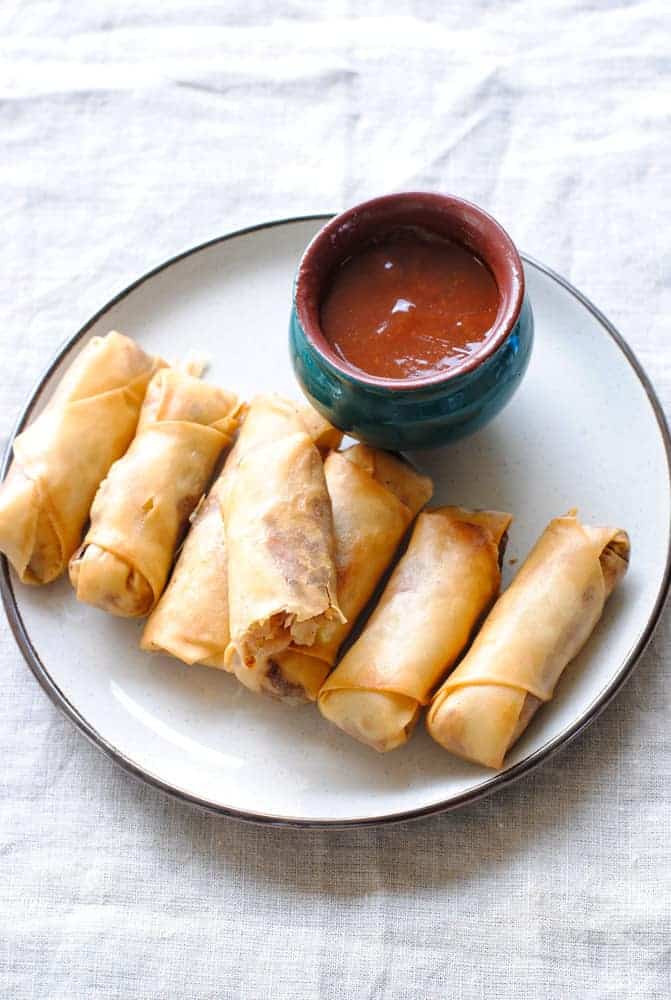 These spring rolls can be fried or baked. Although I'll be the first to admit that baked spring rolls are healthier, it is also true that frying makes them crispier and just more delicious. I've fried them in this recipe, but if you want a guilt free experience, bake these beauties!
If you're baking them, spray a baking tray with canola oil and place the rolls on it, taking care not to let them touch each other. Stick the tray in a pre-heated oven at 400 Fahrenheit for 25 minutes. Turn once in between to make sure the outside is evenly baked and you're done.
how to fold spring rolls
tips for making the perfect vegetable spring rolls recipe
1. Instead of shredding the vegetables by hand, you can buy small bags of pre-shredded cabbbage and carrot available in the produce section of the supermarket. Chopping the spring onions is not a problem; it takes a couple of minutes. But buying those bags of veggies saves a heck of a lot of time!
2. The oil has to be at the correct temperature for making perfectly golden brown and crisp rolls. If the heat is too low, the rolls will absorb a lot of oil and turn soggy. If it is too high, on the other hand, the rolls will not be evenly golden, but pockmarked! (Tip: I always test fry one roll before dumping a large batch in the oil at once).
3. Fry the rolls in batches if you're frying them all. Overcrowding in the wok will also lead to uneven frying.
 what to serve with spring rolls
If you want to go the easy route with the minimum of fuss, serve spring rolls with ketchup. I had a too-sweet plum sauce languishing in the fridge, so I mixed some with regular ketchup and made my own dip of sorts! You can do the same if you have any left-over sauces from other recipes, maybe.
But if plain ol' ketchup is boring or you don't have anything else at hand, here's a good post from A Beautiful Mess all about dips for spring rolls. You'll find not one, but three different dipping sauces. Choose the one you fancy to make your spring rolls eating experience really interesting. A good sauce is what gives a fried snack that extra kick, after all. Just my opinion.
how to keep spring rolls fresh
The best way to keep recently made, unfried spring rolls fresh is to wrap them in a damp towel and keep them in an airtight container in the refrigerator. Assuming, of course, that you are going to fry them in a couple of hours. They will be none the worse for frying later.
If you have fried left-over spring rolls (never happens in my home), wrap them first in some paper towels, then plastic wrap and store them in an airtight container. When you want to reheat them, it is best to pop them in a preheated oven for a few minutes for crispy rolls again. Microwaving them will make them soggy. Also, never store fried spring rolls in the freezer as you'll get a soggy mess when you defreeze them.
What I like to do is to make a large batch at a time and then freeze them. Since unfried spring rolls freeze beautifully, it just takes a little effort upfront but it's very convenient subsequently. All I need to do when I want to eat some is to take them out of the freezer and fry them. They taste fresh and crispy when fried, as they should.
If you want clear instructions on how to store spring rolls in the freezer, check out this lamb kebabs recipe of mine. I use the exact same method to store spring rolls too.
Print
vegetable spring rolls recipe
An easy vegetable spring rolls recipe with a delicious filling of cabbage, carrot and spring onion greens. Crispy and golden on the outside and bursting with flavour at first bite!
Author: Saima Zaidi
Prep Time:

40 minutes

Cook Time:

10 minutes

Total Time:

50 minutes

Yield:

25

spring rolls

1

x
Category:

Snacks

Method:

Deep frying

Cuisine:

Indo-Chinese
Scale
Ingredients
25

spring roll wrappers, defrosted and covered with a damp tea towel

1 cup

shredded cabbage

1 cup

carrot, cut into long strips

2

bunches spring onions, whites and greens separated and chopped

2 tbsp

sesame oil

3

–

4

garlic cloves, finely diced

1/2 tsp

white pepper powder

1 tbsp

white vinegar

1 tbsp

soy sauce

1 tsp

cornflour

2 tsp

cornflour, dissolved in 2 tbsp water (for sealing the rolls)
canola oil for deep frying
sea salt to taste
Instructions
Heat 2 tbsp sesame oil in a wok and add garlic followed by the veggies (except the spring onion greens).
Tip in white pepper, vinegar, soy sauce, salt and the single teaspoonful of cornflour. Toss the vegetables on high heat for 3-4 minutes. The mixture should be crunchy and dry (it's okay if it is a little sticky, but it should not be over-cooked or soggy). Once the veggie mixture is ready, let it cool down completely. Mix in the spring onion greens set aside earlier.
Now, assemble the spring rolls. Carefully peel off one wrapper and place a spoonful of filling on a sheet. Roll up halfway, then fold the sides and continue rolling. Seal the roll with the cornflour dissolved in water: take some of the sludge on your finger, apply on the edges of the open side and close the flap tightly. Once all the rolls are assembled, they are ready for frying.
Heat oil in a wok (there should be enough to cover the rolls completely) to medium high. Drop the rolls one by one in the hot oil and fry until they turn golden brown. Turn them once or twice while they are frying.
Take the rolls out on absorbent kitchen paper and serve hot with any sauce of your choice or ketchup.
Notes
Adjust the salt according to your preference. I use a little less than I normally do because the soy sauce used in the recipe is quite salty.
Did you make this vegetable spring rolls recipe? Don't forget to give it a star rating below!