At a loss for what to serve with tandoori chicken? Here are 24 side dishes that go so well with it. They allow your star dish to remain centre-stage and do not steal the show. Choose from a wide variety of easy recipes featuring rice, vegetables, cottage cheese, potatoes and savory dips.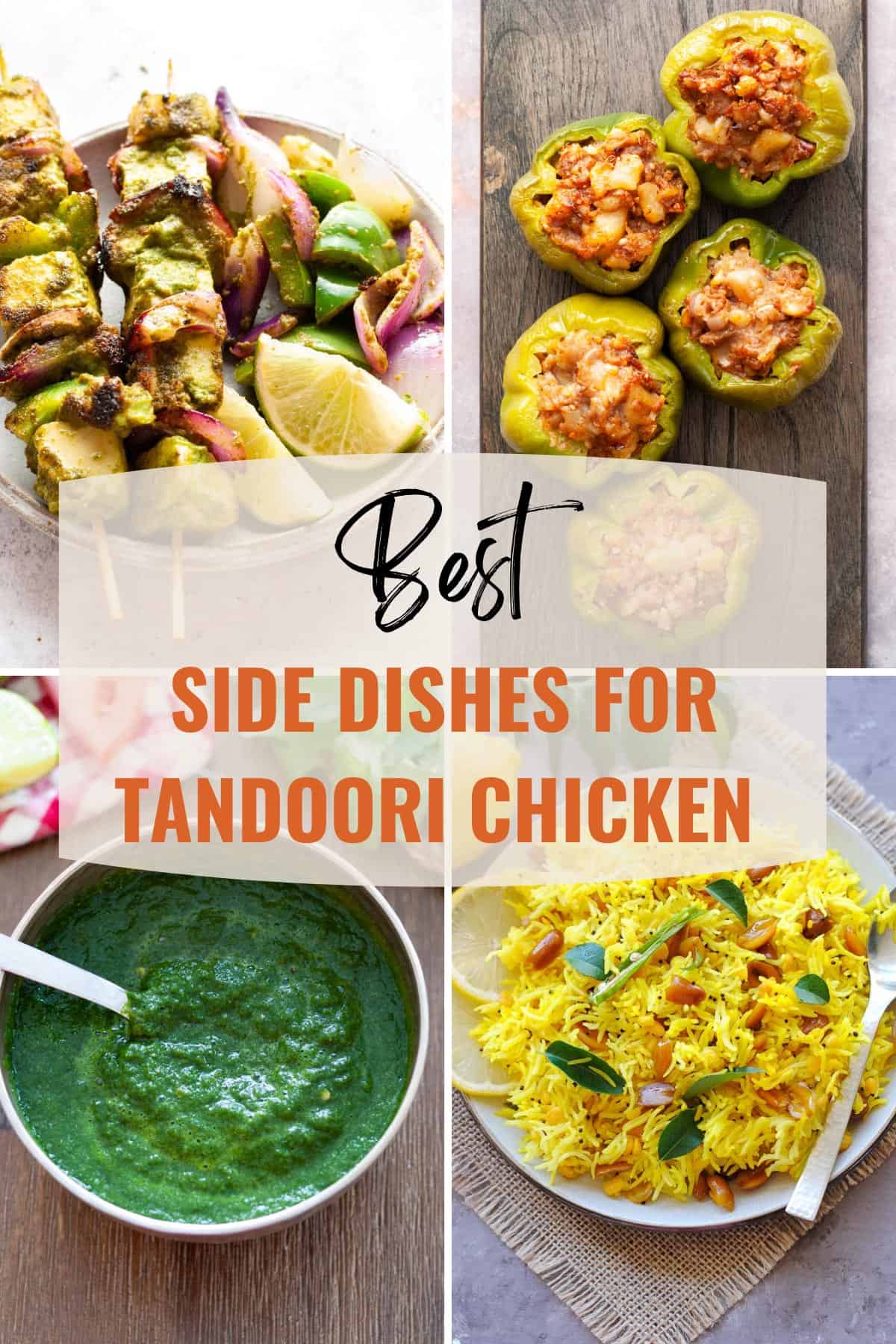 Tandoori Chicken
Ah, tandoori chicken! Fat, juicy chicken drumsticks with the rich fragrance and color of Indian spices. Fall-off-the-bone, tender meat. And a deep smoky flavor to die for. Tandoori chicken is the Indian answer to the best barbecued chicken, and while it is impressive enough on its own, sometimes you need a few sides to round off your meal.
All the sides mentioned below have been carefully selected so that they won't overpower your main dish. Most but one are vegetarian to balance out your menu. And they all taste scrumptious with tandoori chicken!
Jump to:
Rice dishes
Let's start with rice. There's just something about pairing chicken with rice that's so appealing. They go so well together and make for a complete and filling meal. Think forkfuls of a light but flavorful vegetarian pulao, for instance.
I've got LOTS of pulao recipes that look so good with tandoori chicken. Browse through them to find the one that catches your eye. They will all rock your game with tandoori chicken!
Vegetables
There's no limit when it comes to vegetable side dishes for tandoori chicken. Here are a few tried and tested favorites that you can serve alongside your hero.
Potatoes
Potatoes are the safest side when it comes to a pairing with most mains, especially a dish like tandoori chicken. You just can't go wrong with them. And if you are a potato lover like me, watch out! These might just disappear before you are ready to serve them!
Indian Cottage Cheese (Paneer)
Just like potatoes, paneer is a safe bet as a side. This firm cheese is made for frying and grilling. I chose these dry paneer recipes specifically for their unique flavors that go so well with tandoori chicken.
They will take your tandoori chicken to another level of deliciousness!
Salads and Dips
The lightest of all sides, salads and dips are almost essential with tandoori chicken. Choose from a fresh salad, a green chutney, and a couple of yogurt raita recipes that will add interest and variety to your star.
On second thoughts, why choose? Make all of them and put them in small bowls around your platter of tandoori chicken for a colorful and unique spread!
Bread
It's true that you can serve bread with almost anything, and these naan recipes below will be right at home with tandoori chicken. Savory and wholesome, they will definitely add interest and round off your meal.
So, which of these sides are you going to choose for your tandoori chicken? Do let us know in the comments below!