Puri or poori is a very popular puffy Indian bread made of wheat flour dough, oil, salt and water. The dough is rolled into discs and deep fried for golden, slightly crispy puri bread that tastes amazing with potato curry, chana masala, and even halwa!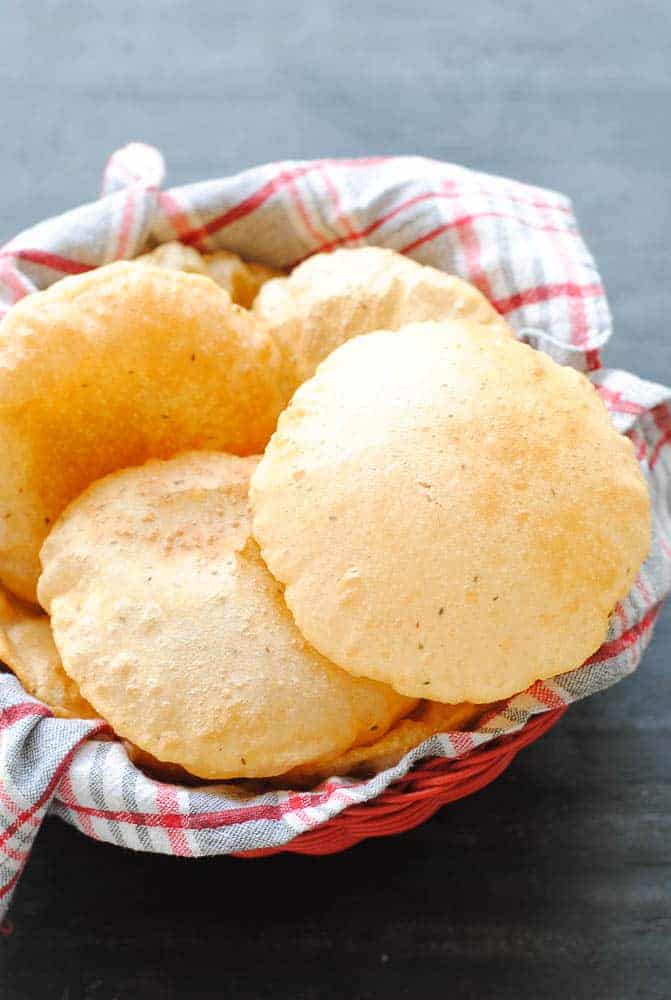 In the mood for a lavish Indian breakfast or brunch this weekend? Make some crispy and puffy poori bread and pair it with a curry of your choice. My idea of heaven:)
Yes, you do have to knead the dough, shape it into discs and deep fry the discs. But when they puff up in the hot oil, it's a feeling like no other. Even after so many years of making pooris, I feel like doing a jig every time I see those perfectly round golden pooris, waiting to be dipped into a bowl of spicy potato or chickpea curry!
And what's more, these poori soften when they cool down especially when you keep them wrapped in a tea towel. Soft poori taste even nicer with a curry.
Another very popular fried bread to go with curries is bhature. This tastes fantastic with chickpea curry and, in fact, makes for a well-known street food called chole bhature. I'm willing to bet my last penny that anyone familiar with North-Indian cuisine would know about chole bhature and how addictive it is!
Ingredients
A barebones puri recipe would have just wheat flour kneaded with a little oil, salt and water. However, I like to add a few more ingredients to make them even tastier. Here's what goes into my recipe -
wheat flour - Choose a good quality brand of Indian wheat flour like Pilsbury. Two cups would be enough to make 16 pooris.
salt - 1 teaspoon
Ghee - two tablespoons for mixing in the dough. Can be replaced with cooking oil.
Cooking oil - 3 cups for deep frying.
Water - approximately ¾ cup to make a stiff dough.
Semolina flour - two tablespoons of semolina give that crispy texture to the pooris.
Yogurt - two tablespoons of any kind will do. Low-fat, full-fat, Greek...your choice.
Carom seeds or ajwain - just a pinch or two for flavour and digestibility. They resemble cumin seeds but have a more intense flavour.
Substitutions
If you don't have the other ingredients, try this recipe with just the first four ingredients. You won't be disappointed, I promise.
If you're vegan, simply replace the ghee with cooking oil and skip the yogurt. You will still get awesome puris!
How to make this poori recipe
Briefly, make the dough, flatten it into discs, and deep-fry in hot oil. Here's a step-by-step breakdown -
Step 1 - Make the poori dough
Take the wheat flour, semolina, salt, carom seeds, ghee and yogurt in a deep bowl and mix with a spoon. Add a few tablespoons of water and mix with your hands. Keep adding water, little by little, and knead until you get a stiff dough.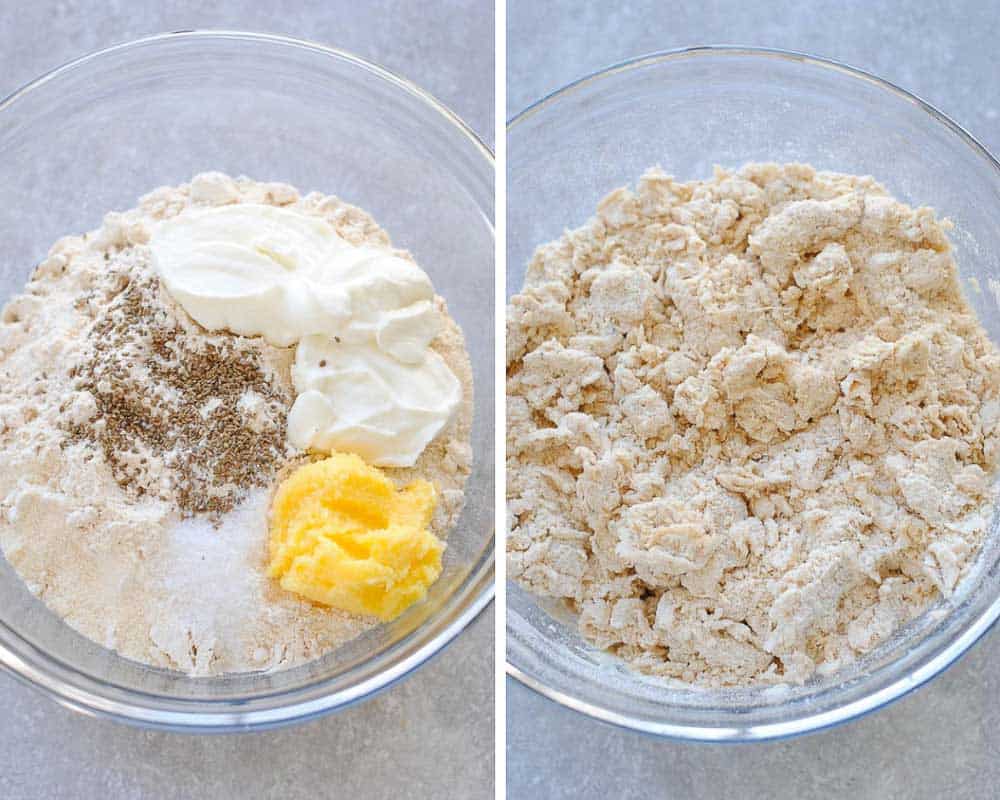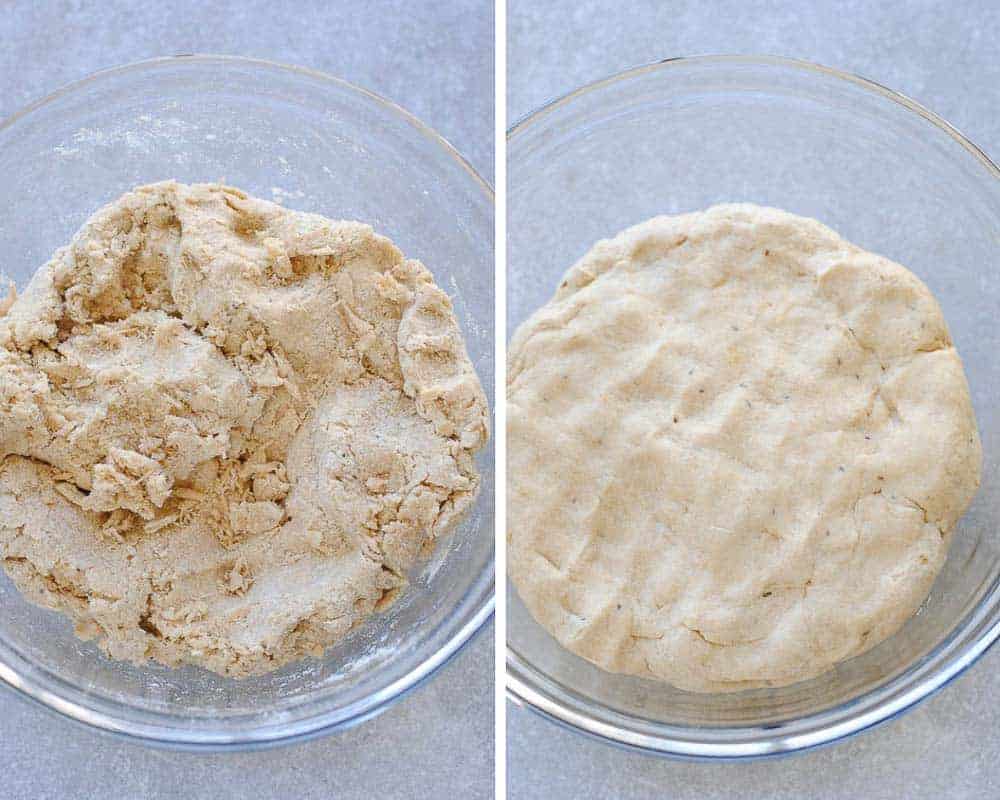 Step 2 - Make balls and flatten into discs
Break off small portions from the dough and shape into lemon-sized balls. With the help of a rolling pin, shape the dough balls into flat discs. Like so -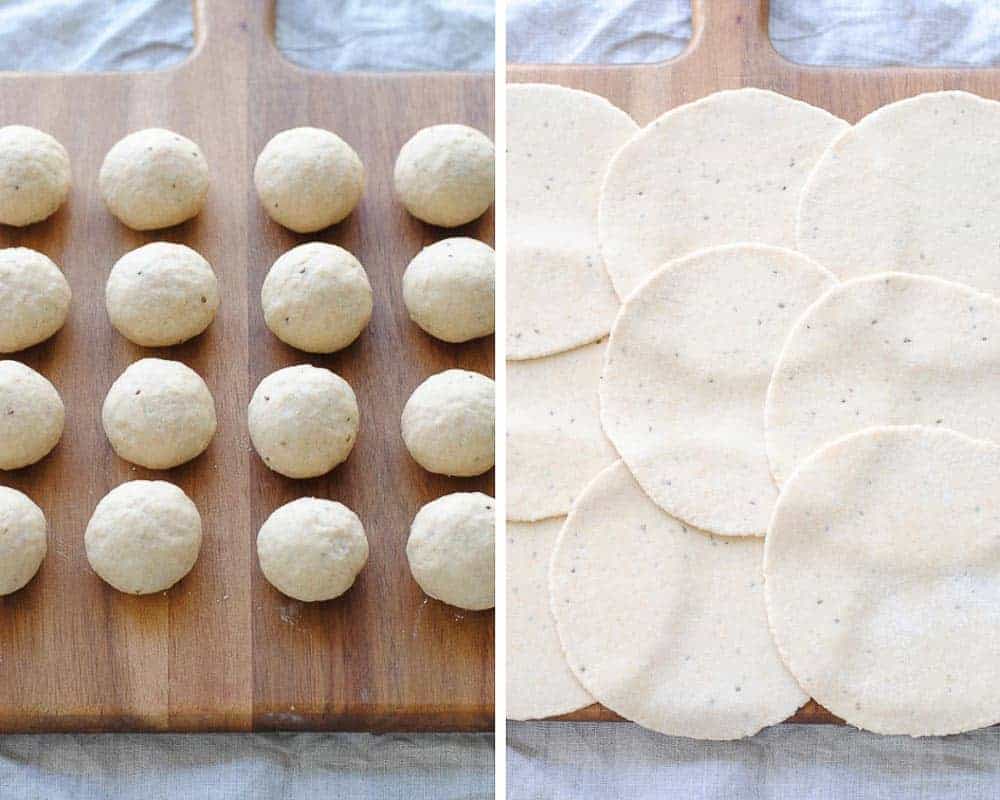 Step 3 - Deep fry the discs in oil
Take around 2-3 cups cooking oil in a wok or karahi and heat it to a medium-hot temperature. Slide in the discs one by one and let them rise to the top. As they rise, press with the back of a wide slotted spoon and they will puff up. Flip them over once with the spoon and let them turn golden brown (a few seconds). Remove the pooris from the oil onto a sheet of absorbent kitchen paper.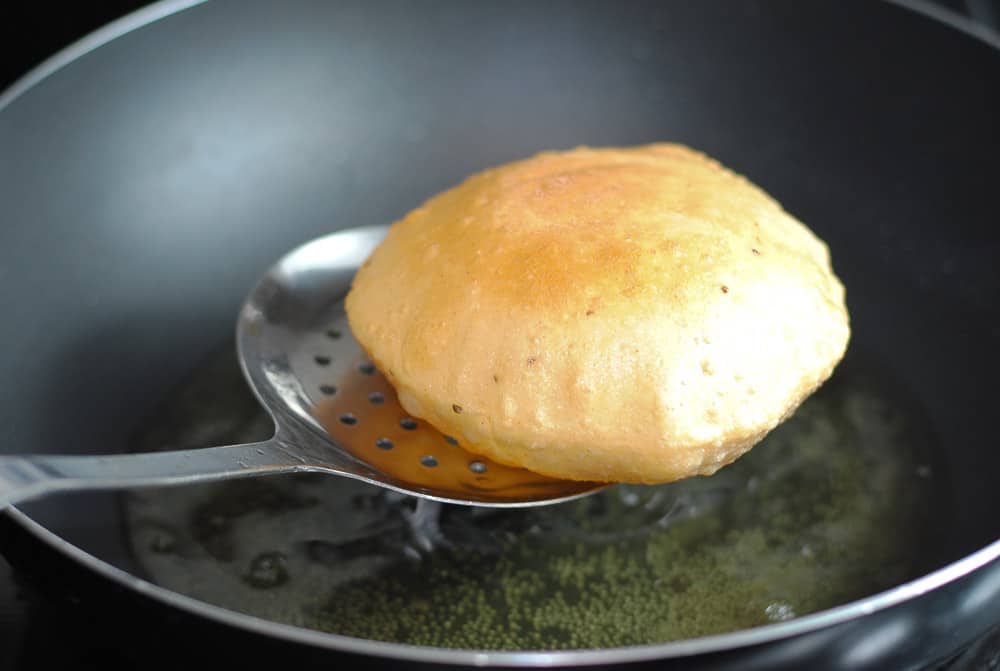 Top tips for making the perfect puffy pooris
Add water sparingly while making the dough. The dough should be stiff but not so much that you find it difficult to roll it out.
The discs should be neither too thick nor thin. If they're either, they won't puff up.
Don't knead the dough too much or rest it for too long before frying. The pooris will absorb more oil if the dough is kneaded beyond a point. Look at the pictures in steps 1 and 2 for a fair idea.
Apply a little oil to the dough balls with your fingers if you find that they are sticking to the surface while you roll them out. Don't use too much flour to make this task easier as the flour will burn when the discs are fried.
Cover the discs with a damp cloth until ready to fry.
Check the temperature of the oil before sliding in the discs. It should be hot but NOT super burning hot (should be slightly below smoking point or the point when it starts giving off fumes). If the oil is not hot enough, the pooris won't puff up. If it's too hot, they will burn!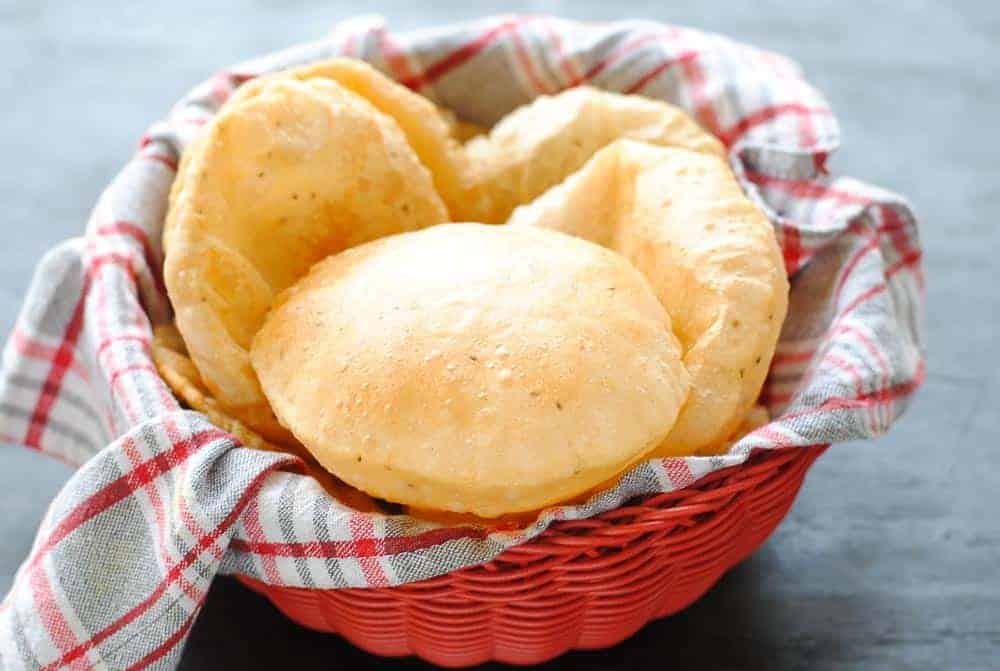 Serving Ideas for puri bread
Just like any other kind of Indian bread, pooris can be had with practically any dish of your choice. In my personal experience, Shami kababs and keema aloo taste terrific with pooris. And here are some universally-loved, vegetarian combinations you can try -
Aloo puri - a special potato curry made especially for pooris.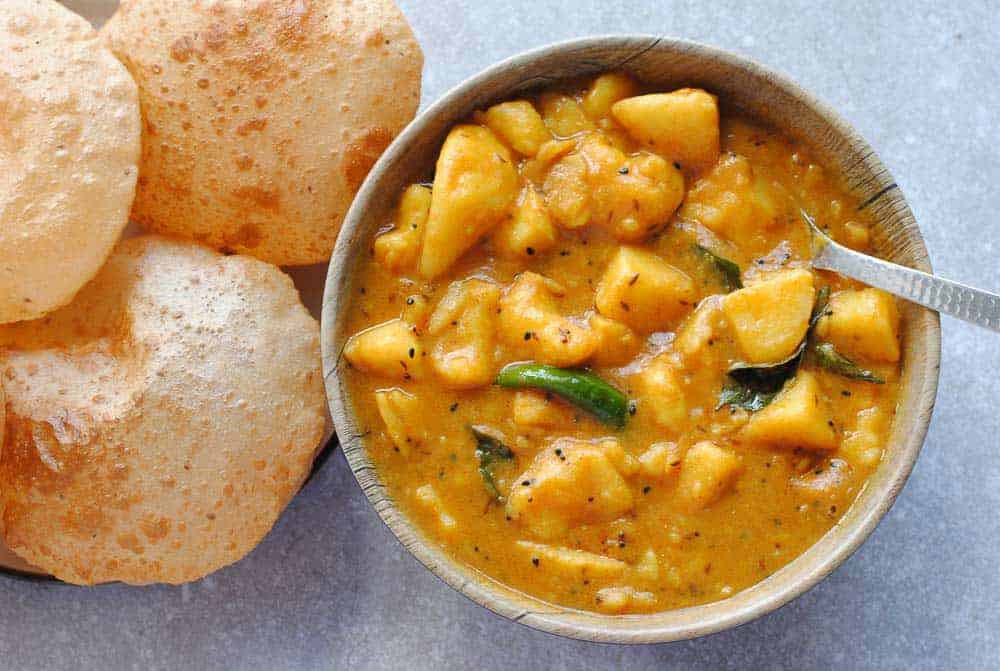 Chole puri - pooris with a spicy chickpea curry.
Halwa puri - usually semolina halwa or sheera, a sweet confection that's very popular when paired with pooris.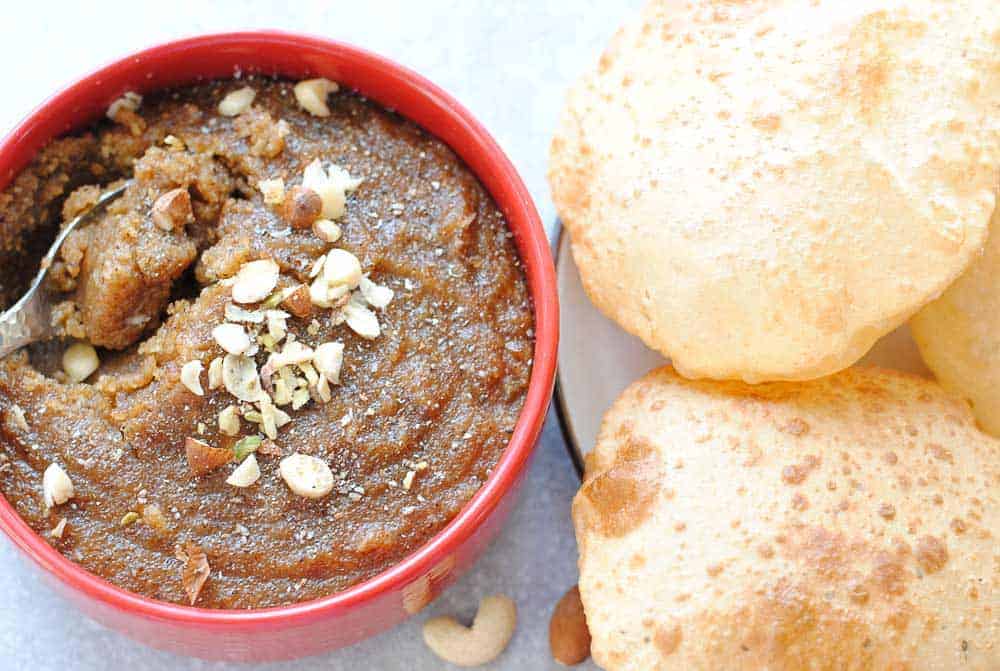 If you're feeling adventurous, you can even make more than one of these dishes to go with this poori recipe for a really sumptuous breakfast or brunch! I often do, especially when I'm expecting company.
📖 Recipe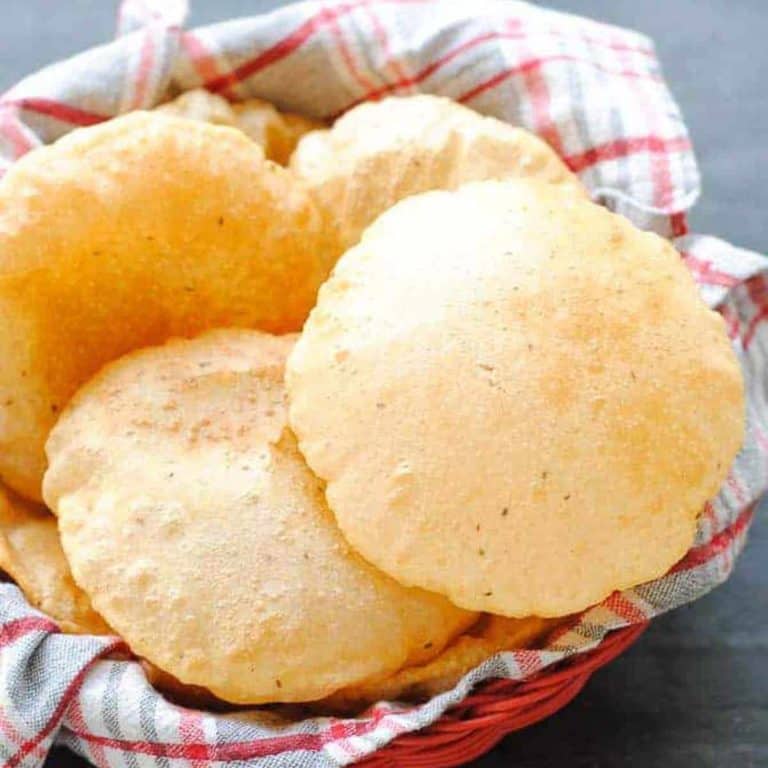 Puri Recipe
Puri or poori is a puffy Indian bread made of wheat flour dough, oil, salt and water. The dough is rolled into discs and deep fried for golden, slightly crispy puri bread that tastes amazing with curry, chana masala, and even halwa!
Equipment
Pyrex bowl

Rolling Pin

Wok or karahi

Wide slotted spoon
Ingredients
2

cups

Indian wheat flour

1

teaspoon

salt

2

tablespoon

ghee or cooking oil

2

tablespoon

semolina flour

optional

2

tablespoon

yogurt

optional

¼

teaspoon

carom seeds

optional

¾

cup

water

3

cups

cooking oil

for deep-frying
Instructions
Take the wheatflour in a deep glass bowl and add the salt, semolina and carom seeds. Mix well.

Add the two tablespoons of ghee and yogurt and mix again with a big spoon or your hands.

Knead the wheatflour mix by adding water little by little until a stiff dough forms.

Break off lemon-sized balls and shape into discs with the help of a rolling pin on a clean surface. Use a few drops of oil to grease the balls as you're rolling them out.

Cover the discs with a damp cloth.

Heat the 3 cups of oil in a deep karahi or wok until it is very hot, but not so hot that it gives off fumes.

Slide a single disc into the oil. It will rise up in a couple of seconds. Press down on it until it puffs up, then turn it over. Fry for a few seconds more and remove onto absorbent paper. Repeat with all the other discs. The pooris are now ready to be served with your favorite curry or halwa.
Notes
The dough should be stiff and not loose. Also, there's no need to over knead it.
If you want to make vegan pooris, replace the ghee with cooking oil and skip the yogurt.
If you don't have semolina flour and carom seeds, don't worry. Make the pooris with wheatflour, salt, oil and water only. You will still get very good-tasting pooris.
Don't stack the pooris on top of each other if you want them to remain puffy!
Wrap the poori in a clean tea towel if you want them to be soft. 
Nutrition
Calories:
419.1
kcal
Carbohydrates:
12.2
g
Protein:
2.4
g
Fat:
41.2
g
Saturated Fat:
3
g
Polyunsaturated Fat:
36.2
g
Cholesterol:
0.2
mg
Sodium:
76.7
mg
Fiber:
1.9
g
Sugar:
0.3
g
If you liked this recipe, don't forget to give it a star rating below!