Lamb karahi gosht recipe! Succulent and juicy cubes of bone-in lamb slow cooked in a karahi or wok along with onions, tomatoes, ginger-garlic and spices. This lamb curry is made using very common ingredients but tastes uncommonly good!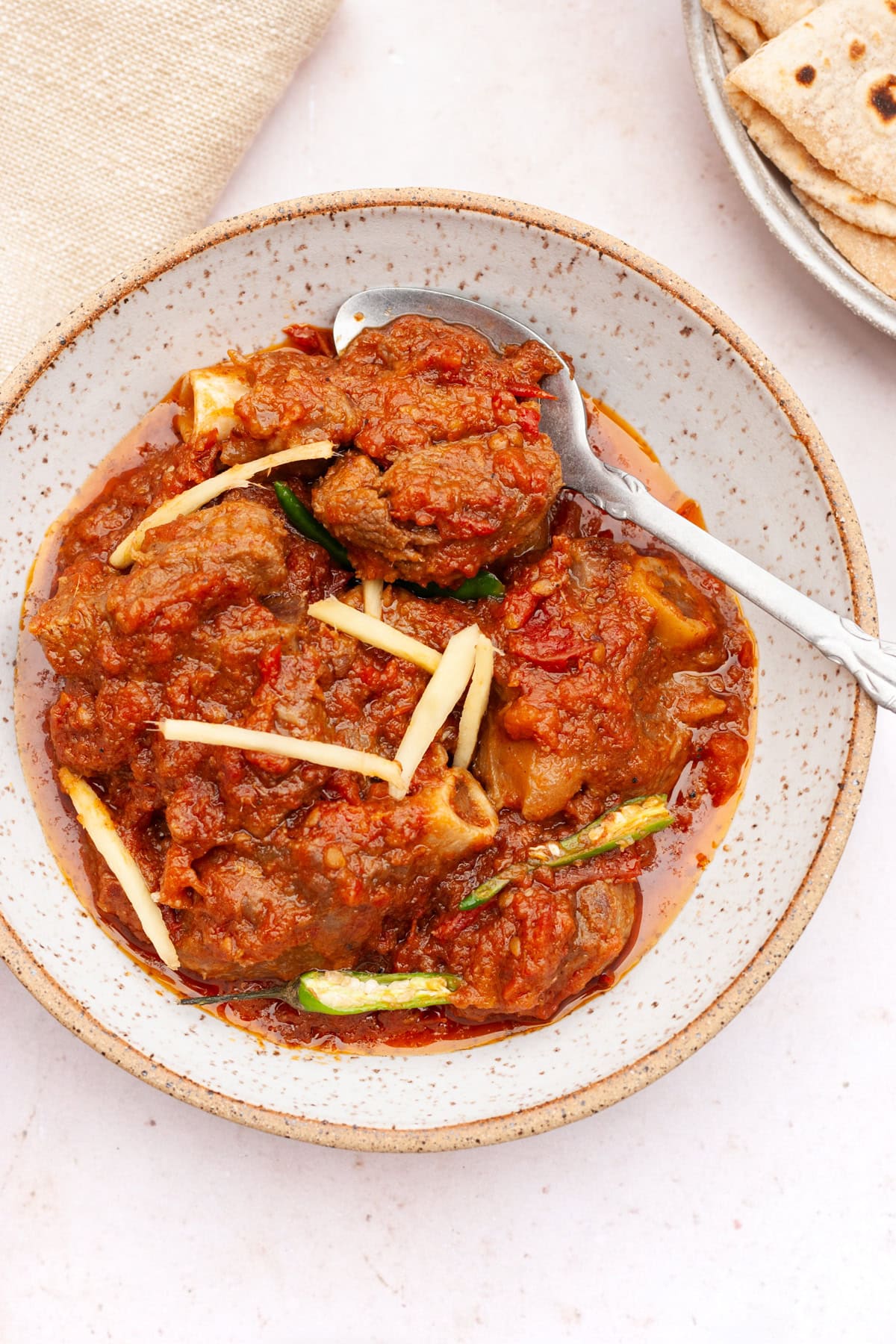 Want to eat a meat curry that tastes like heaven with roti or naan? Try lamb karahi gosht. Just dip a piece of bread into this curry and scoop it into your mouth. You will experience an explosion of rich, bold and very intense flavours that will blow you away! And I'm not exaggerating one bit, pinky promise.
It is surprising because you would normally associate a rich curry with ingredients like cream or butter or nut pastes. But this lamb karahi recipe is free of all of those ingredients and still packs quite a punch.
Ingredients in lamb karahi
Plus cooking oil and salt, of course, and fresh herbs of your choice (cilantro or parsley). This is optional, however. If you don't have these green herbs, that's totally fine too.
Ginger-garlic paste is a staple of Indian cooking. Here, you have two options. Either buy premade ginger and garlic paste (sold in separate bottles or tubes). Or make it at home - a very easy step. All you need to do is take equal quantities of both in a blender, add a little water and blend to a smooth paste. You can store this paste in a sealed glass jar in the refrigerator for a couple of weeks, at the least.
Dry red chillies are also found in Indian grocery stores.
How to make lamb karahi gosht
This is an easy lamb curry with few ingredients and a straightforward method of cooking. Here's how you make it -
Step 1 - marinate the meat
Take the lamb in a deep glass bowl and mix in the ginger-garlic paste and salt. Cover with clingwrap and leave to marinate in a cool place. While you are doing the other steps, the meat will be marinated.
Step 2 - make the dry masala
Dry roast the whole spices (peppercorns, cumin, coriander and red chilli) in a small frypan on medium heat. When the spices turn slightly dark and give off a distinctly spicy aroma, take the frypan off the hob and let cool for a couple minutes. Grind the toasted spices in a mortar or pestle or a spice grinder. I use my coffee grinder which doubles beautifully as a spice grinder too.
Step 3 - Fry the onions
In a wok or karahi, heat oil and add the sliced onions. Saute until they turn pinkish. There is no need to caramelize them in this recipe.
Step 4 - Add the meat and dry masala.
Stir-fry on medium heat for a few minutes until the meat turns brown and the oil leaves the sides of the wok.
Step 5 - Add tomatoes
Cook the tomatoes until they break down. Then lower the heat, cover the wok and slow cook for 45 minutes. Add half a glass of water halfway through the cooking process if the gravy seems to be getting too dry.
Step 6 - Garnish with slivered ginger and green chillies
When the lamb has softened and the gravy is done, take off the lid and add ginger juliennes and two green chillies slit lengthwise. Sprinkle with chopped cilantro or parsley (optional). Your lamb curry is ready to be served with warm naan.
What makes lamb karahi gosht so special
Check out the list above. You don't need anything fancy or exotic to make karahi gosht. So what is the secret to all the awesomeness? There's more than one -
marinating the meat - the ginger-garlic paste seeps into the meat to make it extra succulent and juicy.
dry roasting the masala - roasting the whole spices and then grinding them really enhances their flavour profile.
the cooking methods - sauteing the lamb and browning seals in those juices. This is a cooking method known as bhuna which is an essentials step while cooking any kind of meat in Indian recipes. Bhuna gosht or meat is very tasty. And of course, slow cooking it while it is covered and on low heat also contributes to its great taste. This is called dum.
Note: If you want to know more about Indian cooking methods like bhunao and dum, have a look at this post -
While we are on the subject of taste, leftover lamb curry tastes even more delicious! I have discovered that if I keep this spicy lamb curry in the fridge overnight, it tastes even better the next day. More time for the meat to absorb all the flavours, I guess.
Top tips for the best lamb curry
Use the most ripe and red tomatoes that you can find. The curry depends on the quality and colour of the tomatoes, so don't go for the pale orange ones. I used red grape tomatoes in this recipe, but you can choose any variety as long as they are ripe and very red.
Ideally, karahi gosht doesn't require any water, but you can add some if you see that the curry is getting too dry because of the long cooking time. Don't add too much though because we want a thick, shiny gravy in the end.
Don't skip step 4 above where you are stir-frying the meat. This is what makes for a really tasty curry.
Other Indian lamb recipes you might like
📖 Recipe
Did you make this lamb karahi gosht recipe? Don't forget to give it a star rating below!