Chilled fruit custard is the perfect dessert for the summer months. Seasonal fruit like strawberries, apple, grapes, mango, banana and pomegranate are dipped in a thick, creamy and slightly sweet vanilla custard sauce. Mmm!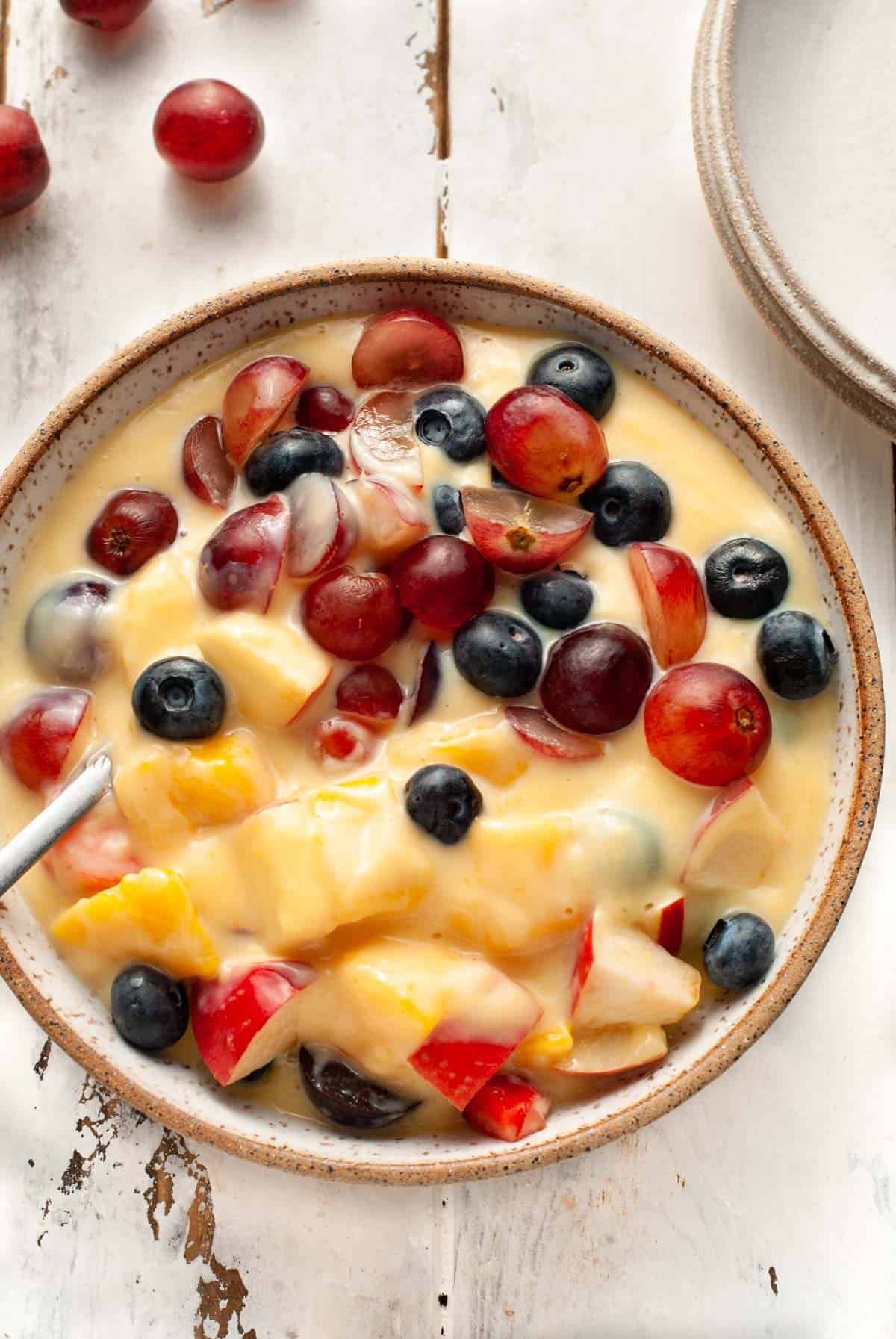 This Indian fruit custard is the best, most easy way to beat the summer heat. A very popular dessert in India, it is a real crowd-pleaser. Plus, it is so easy to put together, you'll want to save the recipe to make it again and again. Unlike some Indian desserts that can be quite fussy and time-consuming, this one comes together in a heartbeat. Granted, it's not the most traditional of Indian sweet dishes, but it has a refreshing, summery taste that will make you reach for seconds.
It's also the most kid-friendly dessert ever. When my twins were small, and I wanted them to eat more fruit, guess what I made for dessert? Yep. It was fruit custard on the menu, literally every week. Now that they are teenagers, they still love it and ask me to make it for old times' sake!
Ingredients in this Indian custard recipe
Vanilla custard powder - I used 3 tablespoons of Bird's Custard Powder (no affiliate links).
Honey - white granulated sugar is usually put in this recipe, but I substituted it with ⅓ cup honey.
Fresh milk - 3 cups + 6 tablespoons for dissolving the custard powder.
Fresh fruit - take your pick of the season - strawberries, grapes, banana, apple, pomegranate and mango.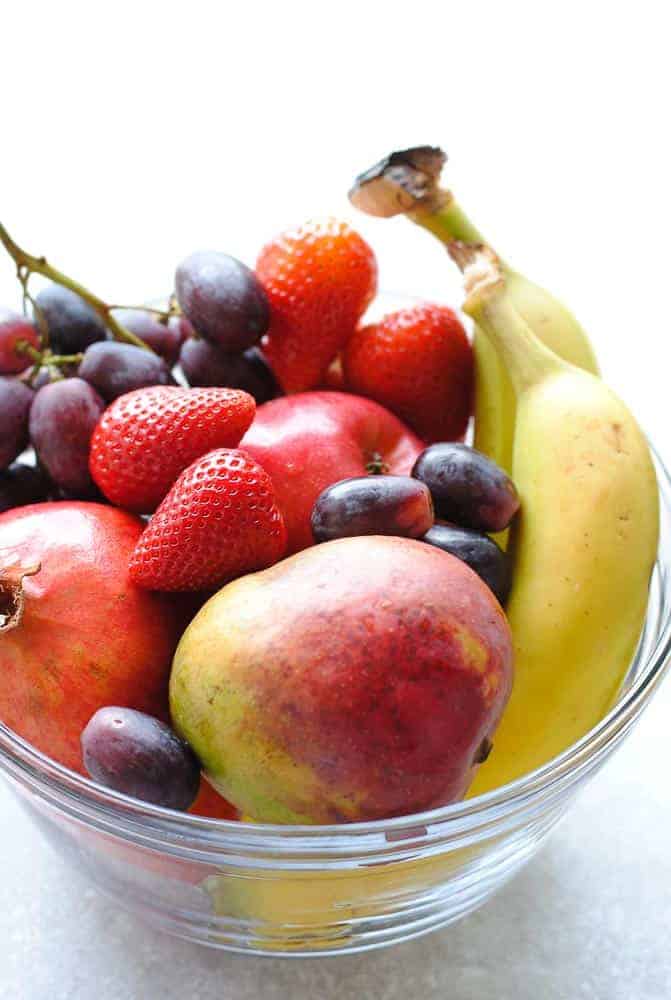 Which fruit to avoid
Citrus fruit like oranges and grapefruit should be avoided as the custard becomes runny after a while with these fruit. Watermelon and cantaloupe should also not be used as their water content is very high and they will disintegrate in the sauce pretty fast. Pineapple is another no-no due to the enzymes in it. Other than these, most fruit can be used.
What is custard powder made of and substitutions
Custard powder is made, largely, of cornflour or cornstarch. This is what thickens the milk instantly. Other ingredients are annatto coloring, salt and vanilla flavor. There are no eggs in it. This post has more info on Bird's custard powder which I used in this recipe. You can use any other brand, of course.
You can also use any North American vanilla pudding mix instead of custard powder, if you so wish. The ingredients are very similar.
Alternatively, you can make your own custard from scratch! Here's a recipe for making your own sauce.
How to make this fruit custard recipe
Step 1 - Heat 3 cups of milk and honey in a saucepan, and lower the heat when bubbles start to form.
Step 2 - Dissolve the custard powder in 6 tablespoons of cold milk until a smooth mixture forms. Add this in a thin stream over the boiling milk. Stir the hot milk constantly and vigorously with your other hand while you're adding the custard mix to avoid lumps.
The milk will start to thicken as you add the mix, but continue to stir it over low heat for another 2-3 minutes, then take it off the hob. Allow it to cool down completely. If you're in a hurry, you can cool the milk over a bowl of ice. Keep the custard in the fridge for a couple of hours until chilled.
Step 3 - Cut the fruit and add it to the chilled custard.
Fruit custard is ready to be served!
A few helpful notes -
If you follow the above recipe, you will get a smooth, neither thick nor thin custard that's perfect for dipping fruit.
The custard will thicken more when you cool and refrigerate it. This is okay.
Experiment with the fruit of your choice except the ones mentioned above. When mangoes are in season, I make a simple mango custard sometimes with no other fruit, and serve it with vanilla ice cream. I also add blackberries and blueberries to the custard when they are in season.
Serving ideas
There are so many interesting ways to make this simple dish fancier. Serve it with any one of the following -
Whipped cream
Jello - any flavor of your choice
Vanilla ice cream
Sponge cake
Some essential tips
Tip #1 - The secret to making a smooth, lump-free sauce is to keep stirring the milk while you're adding the custard powder dissolved in mix. I've mentioned this before, but it merits a second mention, that's how important this tip is.
Tip #2 - If you do end up with lumps due to whatever reason, never fear. Just cool the custard and give it one go in the blender. All lumps gone!
Tip #3 - Don't add fruit before the custard is ready to serve, especially bananas and apples as they discolor easily.
Tip #4 - If your custard is runny because you added less powder, just mix some more powder with cold milk, add to the hot custard and cook for a minute, stirring well all the time. The custard should become thick.
Tip #5 - If your custard is thicker than you desire, stir in some milk to the hot custard and mix well. It will loosen up.
Other easy Indian desserts for the summer
Pistachio Saffron Kulfi - the creamiest, dreamiest Indian ice cream you can make at home!
Bhapa Doi - a 5-ingredient Indian cheesecake made with yogurt instead of cream cheese.
Caramel Custard
-
A silky-smooth dessert made with milk, sugar, and eggs. It tastes awesome when served chilled straight from the refrigerator.
Instant Pot Kheer
-
A delightful rice pudding served chilled after meals. This is a no-fuss, one-pot recipe made with whole milk, rice, sugar, nuts and saffron.
Print
Fruit Custard
A thick, creamy and slightly sweet dessert with fresh, seasonal fruits!
Author: Saima
Prep Time:

10 minutes

Cook Time:

10 minutes

Total Time:

20 minutes

Yield: Serves

6

1

x
Category:

Dessert

Method:

Stovetop cooking

Cuisine:

Indian
Ingredients
3 tbsp

vanilla custard powder

⅓ cup

honey

3 cups

fresh whole milk

6 tbsp

fresh, whole milk

4

-

5

strawberries

half a

banana

8

-

10

red grapes

1

small mango

2 tsp

pomegranate seeds

half an

apple
Instructions
Heat the 3 cups of milk in a heavy-bottomed saucepan until steaming hot and add the honey. Stir to dissolve. Reduce the heat to low.
Mix the vanilla custard powder in the 6 tablespoons of cold milk to a smooth, lump free mixture.
Add this mixture in a slow stream over the hot milk and stir the milk in the saucepan with a spoon in your other hand continuously and vigorously. Keep stirring the milk for 2-3 minutes even after the custard mixture has finished. Switch off the gas.
Transfer the custard to a heat-proof glass bowl and allow to cool down completely. Once it has cooled, cover with clingfoil and keep in the refrigerator for a couple of hours or more.
Cut the fruit and add to the chilled custard. Fruit custard is ready to be served.
Notes
 I have not included the chilling time in the recipe. Keep the custard in the fridge for two hours or more before or after adding the fruit to eat chilled custard.
Serve the custard with any topping of your choice - whipped cream, Jello, vanilla ice cream or cake. Or have it just with the fruit. Tastes delicious with or without these extras.
You can add or subtract the fruit of your choice. Blueberries and blackberries are some more options, but don't use citrus fruit, melons or pineapple as these will make the custard runny and unappetizing.
If your custard is too thick, add some milk to it and stir well. If it is runny, add a tablespoon of custard powder dissolved in a little cold milk and heat gently until it thickens.
If the custard is lumpy, whizz in a blender on low speed and all the lumps will disappear.
None of the above should happen if you follow this recipe!
Nutrition
Serving Size:

1 cup

Calories:

184

Sugar:

21.8

Sodium:

66.6

Fat:

4.4

Saturated Fat:

2.4

Unsaturated Fat:

0

Trans Fat:

0

Carbohydrates:

34.2

Fiber:

1.1

Protein:

4.7

Cholesterol:

13
Keywords: mixed fruit custard, summer indian dessert, easy fruit dessert
Did you make this recipe? Don't forget to give it a star rating below!