Badam Burfi is one of those delightful Indian desserts that you just won't be able to resist. A holiday special, this fudge-like sweet is made with milk powder, almonds, ghee, sugar and cardamom. Yum!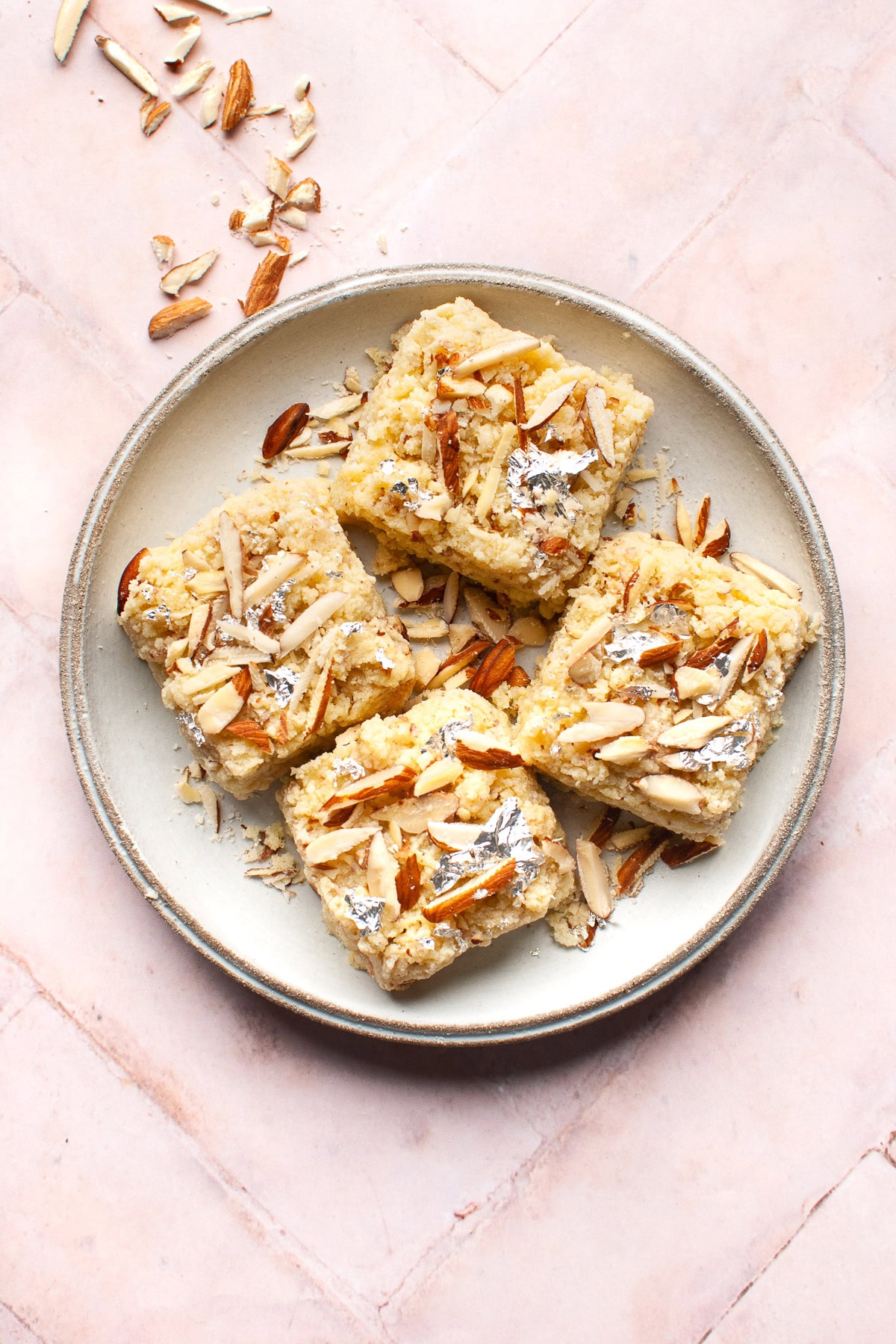 A brand new year is here and I'm celebrating on my blog by making badam burfi (badam: almonds, burfi: a dense sweet made of milk) - a rich and gorgeous sweet that almost every Indian I know adores!
Special holidays, weddings and festivals like Diwali in India are unthinkable without mithai (sweets), and burfi or barfi features prominently. As a child, I loved unwrapping a gaily wrapped box of mithai and reaching for the badam burfi inside.
Confession: As an adult, I still love unwrapping the mithai box and reaching for the badam burfi inside. That part hasn't changed.
What has changed though is that instead of waiting for a box of burfi to arrive from somewhere, I can now make it in my own kitchen!
But before I go into how to make burfi at home, allow me to share how barfi is made in those big mithai shops: milk, ghee and sugar are cooked in a large karahi (Indian wok) on a slow fire. Nuts like almonds, cashews or pistachios along with powdered cardamom are usually added. Once this mixture thickens and starts to solidify, it is cooled and cut into square or diamond shapes. Then the squares are decorated with a thin film of edible silver leaf called chandi ka varq.
Since this is a lengthy and time-consuming process, my homemade badam burfi recipe has seen two very significant modifications: I use milk powder instead of milk and make the burfi in a microwave. Brilliant hacks, if you ask me. The burfi tastes just as nice though.
Another burfi recipe that you might enjoy is this coconut barfi. The starring ingredient is, you guessed it, coconut!
Badam burfi ingredients
This burfi is made with just 5 easily available ingredients!
Milk powder
Sugar
Almonds
Cardamom
Ghee
There is a sixth ingredient, but it is totally optional: edible silver leaf (chandi ka varq). It is just there to give a festive look to the burfi; otherwise, it doesn't add or take away anything from the taste.
How to make badam burfi
Step 1: Grind the almonds and cardamom to a powder in the spice grinder. (2 minutes)
Step 2: Mix the milk powder, almond + cardamom powder, ghee and sugar with a little water until it forms a thick paste-like mixture. (1 minute)
Step 3: Microwave the mixture on high. (5 minutes)
Step 4: Scrape it down and spread on a tray. Cut into desired shapes. (3 minutes)
Step 5: Garnish with slivered almonds and silver leaf or varq. (1 minute)
I like doing decorating the burfi with silver varq because it adds an authentic and quaint touch to my badam burfi. But as I said before, it's totally optional.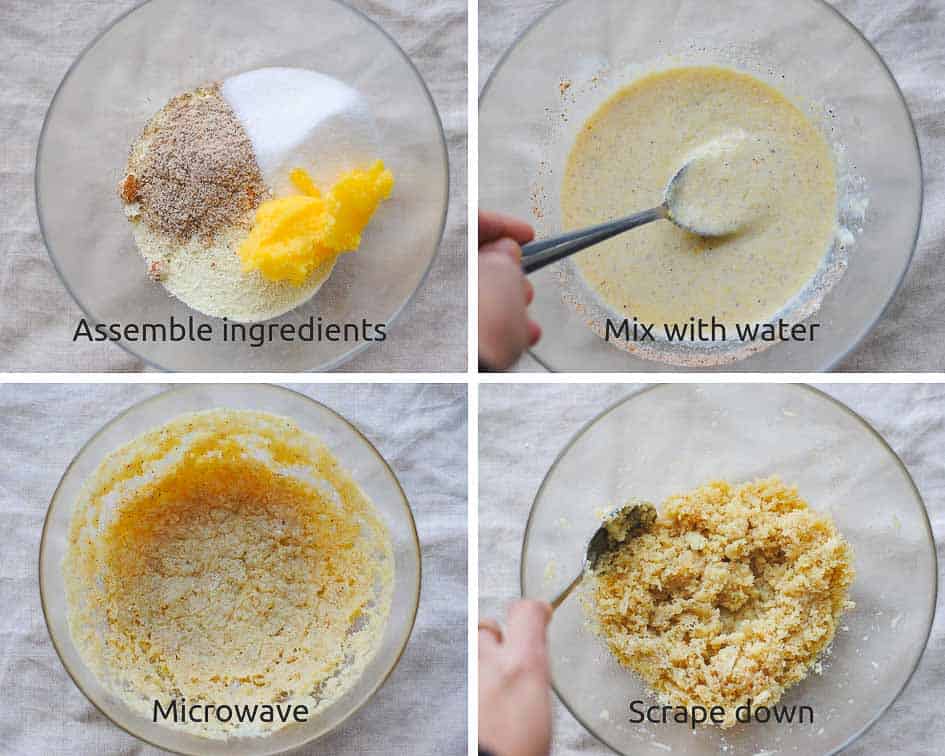 The whole recipe takes all of 12 minutes to make from start to finish. I mean, just look at it. That rich-looking, beautiful dessert is made in 12 minutes flat! Crazy, isn't it?
Tips for making badam burfi
Don't over-grind the almonds and cardamom, or the mixture will become sticky because of the oil that's released from the almonds. Still won't make much difference to the final outcome but mixing it in with the milk powder will become a tad difficult.
Microwave the mixture in a deep dish. If the dish is deep, the mixture won't boil and spill over. Big mess avoided.
Of course, once I made badam burfi successfully the first time, it opened all kinds of possibilities:
No time left to make dessert while expecting company? Make badam burfi.
Have a craving for something sweet, but don't feel like spending hours in the kitchen? Make badam burfi.
Want to take a little something for a friend? You got it.
I have done all of the above and I'm sure you can think of many more scenarios where you can make this delicious sweet.
Have fun making it!
More traditional Indian sweets and desserts for you
📖 Recipe
Badam Burfi
Badam Burfi is one of those delightful Indian desserts that you just won't be able to resist. A holiday special, this fudge-like sweet is made with whole milk powder, almonds, ghee, sugar and cardamom. Yum!
Ingredients
1

cup

milk powder

⅓

cup

granulated sugar

5

+ 15 almonds

¾

teaspoon

green cardamom seeds

2

tablespoon

ghee

⅓

cup

water

1

edible silver leaf

optional
Instructions
Cut the 5 almonds into slivers. Keep aside. Put the remaining 15 almonds and the cardamom seeds in a small grinder and grind to a powder.

In a deep bowl, put the milk powder, the above almond + cardamom powder, ghee and sugar. Add ⅓ cup water and whisk to make a thick paste.

Microwave on high for 5 minutes.

Spread the mixture on a tray and cut into squares or diamonds.

Garnish with the slivered almonds and silver leaf, if using. Serve warm.
Notes
Deseeded green cardamom is available in any Indian store, but I often don't go to the trouble of buying it. It's not at all difficult to peel some whole green cardamom and take out the seeds.
Grind the almond and cardamom seeds to a powder, but don't over-grind because the almonds will start congealing. Even if they are a little coarsely ground, it doesn't matter. The almond bits will actually taste good in the burfi!
Use a deep, microwave safe dish and keep an eye on the mixture while it is cooking in the microwave, so it doesn't boil over. It will rise and coat the sides of the dish, but if the dish is deep enough it won't spill, especially as it thickens.
I always use Nido milk powder to make burfi. I'm not sure how it will turn out with other brands though.