Succulent pieces of mutton in a rich gravy made with lots of fried onions, yogurt and whole spices. Made in the instant pot or stovetop cooker, this mutton korma is as authentic as it gets!
Mutton Korma or gosht korma (gosht - meat), makes for a great weekend night meal when you are relaxed and have the time for something a little more elaborate than usual. There is a fair bit of slicing and dicing involved (not to mention grinding) but the result is so worth it!
You will find many 'korma' recipes online but a good test of their authenticity is to take a peek into the ingredients. If there is turmeric or tomatoes or potatoes in the list, it's not really a korma. Run away from it 'cause you're not getting the real deal. Even a garnish of cilantro is a no-no for Mughlai mutton recipes like korma; it's just not done.
An authentic mutton korma recipe is made of fried onions, ginger, garlic, spices and yogurt … that's about it. Five ingredients in the right proportions make for a truly irresistible dish that's magic for the taste buds. You can add soaked and ground almonds too, but these are optional. They impart a creaminess to the dish, but if you want to stick to the bare bones korma recipe, feel free to leave out the almonds. The mutton korma will still taste awesome.
If you want to have the traditional stuff, try this recipe!
Note: Kofta curry (Indian meatballs in a rich sauce) is another mouthwatering dish that you won't want to miss if you're into traditional north Indian fare.
Note: If mutton is not easily available, you can make this recipe with lamb or beef too. Just add 5 minutes more if you're making it with beef since it is a tougher meat.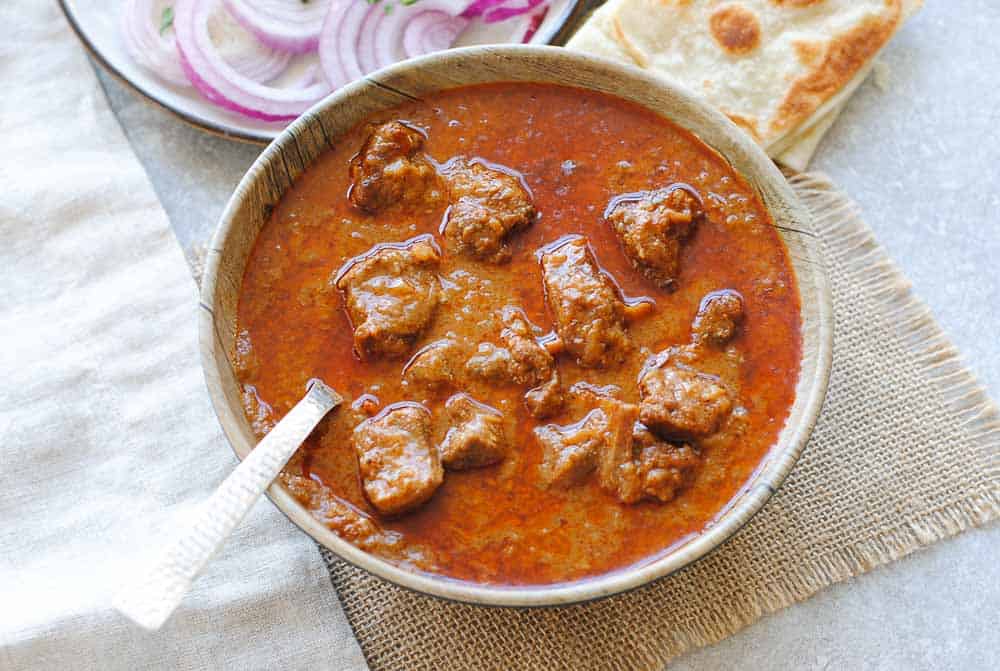 Ingredients in this mutton korma recipe
mutton, bone-in - the cuts from the shoulder are very tender and succulent. If you can get to a meat shop, ask the butcher to give you shoulder meat from goat.
onions, sliced
yogurt, whisked
ginger-garlic paste - available in small jars in Walmart or any Indian store. You can make it at home very easily too. Put equal quantities of peeled ginger and garlic in a blender along with a few tablespoons of water and whiz in a blender to a smooth puree. That's it! Store in a covered glass jar in the fridge and use as required.
powdered spices - red chilli, coriander and garam masala
cooking oil
salt, to taste
How to make mutton korma in the instant pot
Step 1 - Switch on the cooker to saute, add oil to the inner pot followed by sliced onions. Fry the onions until caramelized. Cancel saute mode.
Step 2 - Take out the fried onions and after they have cooled down a bit, mix with yogurt and blend to get a puree (doesn't have to be very fine). Korma masala is ready. Keep aside.
Step 3 - In the same oil that the onions were fried, add the meat and brown it on medium heat for a couple of minutes.
Step 4 - Add the ginger-garlic paste, powdered spices and salt. Saute for 5 minutes adding water as required.
Step 5 - Add the onion-yogurt masala prepared in step 2. Roast very well on low to medium heat, adding splashes of water to prevent the masala from sticking to the pot (10-12 minutes). Add 1 cup water and cancel the saute mode.
Step 6 - Switch on the pressure cooking mode (high) and set the timer to 12 minutes. Make sure the valve is in sealing position and secure the lid. When the timer goes off, wait for 12 minutes, then release remaining pressure. Open the cooker and serve the korma with some warm Indian bread and thinly sliced onions.
Note: If you want to make this recipe in a stove top pressure cooker or in an open vessel on the gas, look at the notes section in the recipe card below. There aren't many differences from the instant pot version, so I have not included the info here. 
Things to remember while frying the onions
Frying onions right in this mutton korma recipe is crucial since the  final color and taste of korma depends so much on this step. They should not be be under or over-browned but be a deep reddish color. If they are still pink, the korma will look pale, and if they are over-browned, the gravy will turn bitter. Here are a few tips to get it just right -
Don't leave the onions unattended; it's a sure way to burn them!
There is no need to stir the onions the whole time while they are frying, but do mix vigorously with a spoon every now and then. This will prevent uneven browning.
Don't leave the onions in the hot oil. Before you can say 'caramelized onions', they will have become a black mess. Take them out immediately and transfer to another bowl.
What to do if you want to save time
Prepping the onion masala takes up a major portion of time (25 minutes) since there is so much onion to be sliced and fried. It is totally worth it in the end, but sometimes we do need to compromise. When I am short on time, I buy a packet of fried onions from the Indian or Pakistani store, here in Edmonton, and make do with it. Yes, fried onions are sold in South Asian groceries, yay!
Other Indian mutton recipes you might like
KEEMA ALOO -
A scrumptious mutton mince curry with potatoes
MUTTON STEW -
A very tasty but easy stew with lots of onions
BHINDI GOSHT -
a hearty meat curry made with succulent bone-in mutton, okra, onions, tomatoes and spices
Print
mutton korma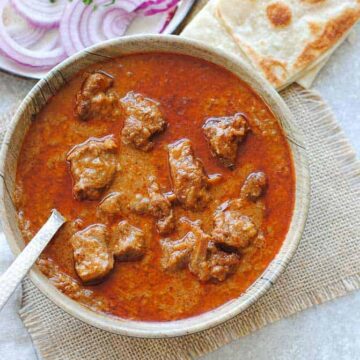 Succulent pieces of mutton in a rich gravy made with lots of fried onions, ginger, garlic, yogurt and whole spices. This mutton korma is as authentic as it gets!
Author: Saima Zaidi
Prep Time:

10 minutes

Cook Time:

60 minutes

Total Time:

1 hour 10 minutes

Yield:

4

servings

1

x
Category:

Dinner

Method:

Instant Pot

Cuisine:

Indian
Ingredients
1.2

lbs or

500 grams

mutton or lamb, bone-in, cut into small sized pieces

¼ cup

cooking oil

2

medium red onions, sliced finely

½ cup

yogurt

3 tbsp

ginger-garlic paste

1 tbsp

coriander powder

1 tsp

red chilli powder or paprika

½ tsp

garam masala
salt, to taste
Instructions
Turn the instant pot to saute mode and add oil followed by the sliced onions. Fry them until they are reddish brown. Remove from the oil immediately with the help of a slotted spoon. When cool, grind them with the yogurt to make a puree.
In the same oil in which the onions were fried, add the mutton and saute for 2 minutes until the meat is browned.
Add the ginger-garlic paste, coriander powder, chilli powder and garam masala. Sauté for 2 minutes.
Tip in the onion-yogurt puree prepared in step 1 and roast the masala for 10 minutes on medium heat. Add splashes of water to keep the masala from burning. Add 1 cup water when the masala is roasted and cancel the saute mode.
Press the pressure cooking mode on high. Set the timer to 12 minutes and close the lid of the cooker, making sure the steam release handle is in sealing position.
When the timer beeps, release pressure after 12 minutes. Remove the lid and serve warm with hot rotis or naan.
Notes
You can make this recipe in a stove-top pressure cooker also. Follow the exact same steps and after 1 whistle, simmer for 10 minutes. Release pressure after 10 minutes and you're done.
You can also make this recipe in an open pan instead of a pressure cooker, but it's going to take a lot of time for the mutton to cook. If you prefer to cook in an open vessel, keep an eye on it! Add water at regular intervals to prevent the mutton from drying out. It will take around 45 minutes just for the meat to cook. In total, it will take a little less than 2 hours.
It's really essential to brown the onions properly. They should not be under-browned or else the korma is going to be a pale brown colour. But if they are over-browned, you'll have an unappetizing looking, dark curry and it might taste bitter too. To get perfectly browned onions, slice them as fine as you can and fry them on low to medium heat in oil until they turn a warm, reddish colour. Turn off the heat immediately and remove from the oil with a slotted spoon. If you leave them in the hot oil, they will become too dark.
To make ginger-garlic paste, put peeled garlic and ginger (equal amounts) in a blender along with some water and whizz till you get a fine paste. You only need 3 tablespoons for this recipe, so if you have any left over, you can store it in an air-tight container in the fridge. It will keep for a week or two.
Nutrition
Calories:

485.9

Sugar:

4.5

Sodium:

713.4

Fat:

29.1

Saturated Fat:

1.3

Unsaturated Fat:

13.3

Trans Fat:

0

Carbohydrates:

9.4

Fiber:

1.0

Protein:

43.6

Cholesterol:

1.9
Keywords: mutton korma, korma, Indian mutton curry
Did you make this recipe? Don't forget to give it a star rating below!