Bhindi gosht or bhindi ka salan is a hearty meat curry that is made with succulent pieces of bone-in mutton, okra, onions, tomatoes and a few spices. It is one of those very popular mutton dishes that tastes excellent with naan or steamed white rice. Made in the instant pot!
Coming at ya today… a gravy-loving, delicious mutton and okra curry that you will flip for. To me, it tastes of home and love. In other words, my mom's cooking. She used to make this on weekend evenings when we were starving from not eating a bite of anything between breakfast and supper (who wants to eat after gorging on aloo poori and halwa at 12 noon?)
So when my mom brought bowls of steaming hot bhindi gosht with homemade rotis to the table, we (my siblings and I) would fall over the food like hungry hippos. Of course, I had to try and recreate the same magic in my home. The other day I was gratified to see the twins attacking my bhindi gosht with the same gusto that I used to all those years ago. Same pleased-as-punch expressions. HA!
Bhindi Gosht Ingredients
14-16 medium-sized mutton cubes, bone-in
20 pieces okra
2 medium onions
1" piece ginger root
10 cloves garlic
1 medium tomato
1 tablespoon coriander powder
1 teaspoon red chilli powder
1 teaspoon turmeric powder
½ teaspoon garam masala
⅓ cup cooking oil
a sprig or two cilantro
salt, to taste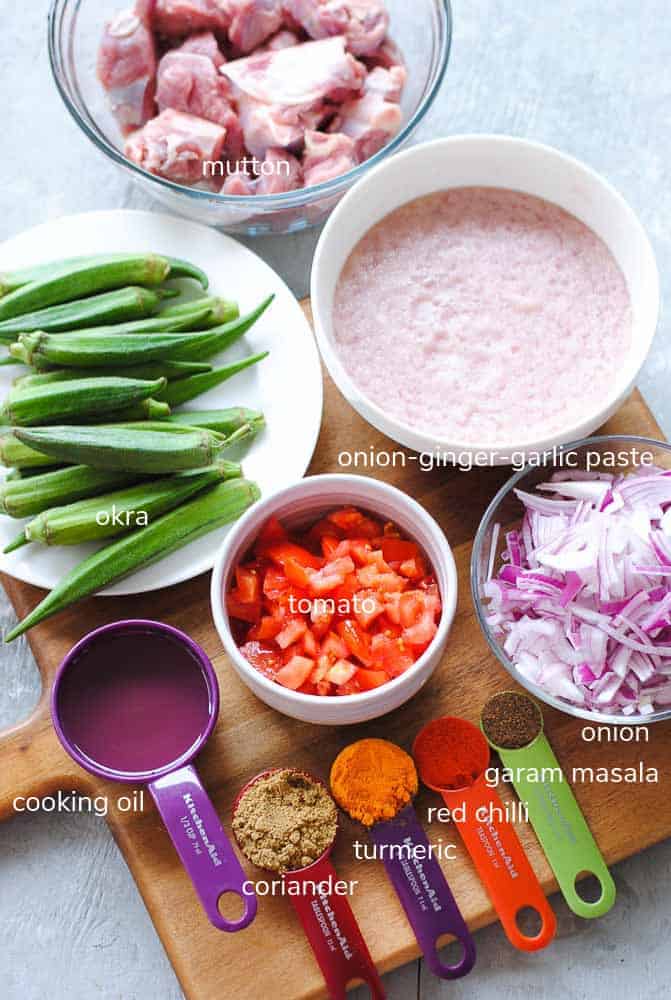 How to make okra with meat
Preparation (10 minutes)
Slice one onion finely and chop the tomato.
Make the onion, ginger garlic paste – Put the second onion, ginger and garlic in a blender along with a little water and whiz to get a smooth puree.

Cut off the tops and tails of the okra and cut each piece into two or three.
Cooking (1 hour, 15 minutes)
In your instant pot, heat the oil and add the sliced onions. Saute until they are reddish brown (10 minutes).
Add the onion-ginger-garlic masala, powdered spices and salt and cook on low heat or until the raw smell goes. Add splashes of water to keep the masala from burning (10 minutes).
Add the tomatoes and cook until they soften (5 minutes).
Add the mutton and half a cup of water. Let the meat simmer, stirring it every now and then (10 minutes).
Add 2 cups water and pressure cook for 15 minutes. Do a quick pressure release (QPR) after 15 minutes (30 minutes).
Open the cooker and add the okra. Cook the okra until it softens (10 minutes).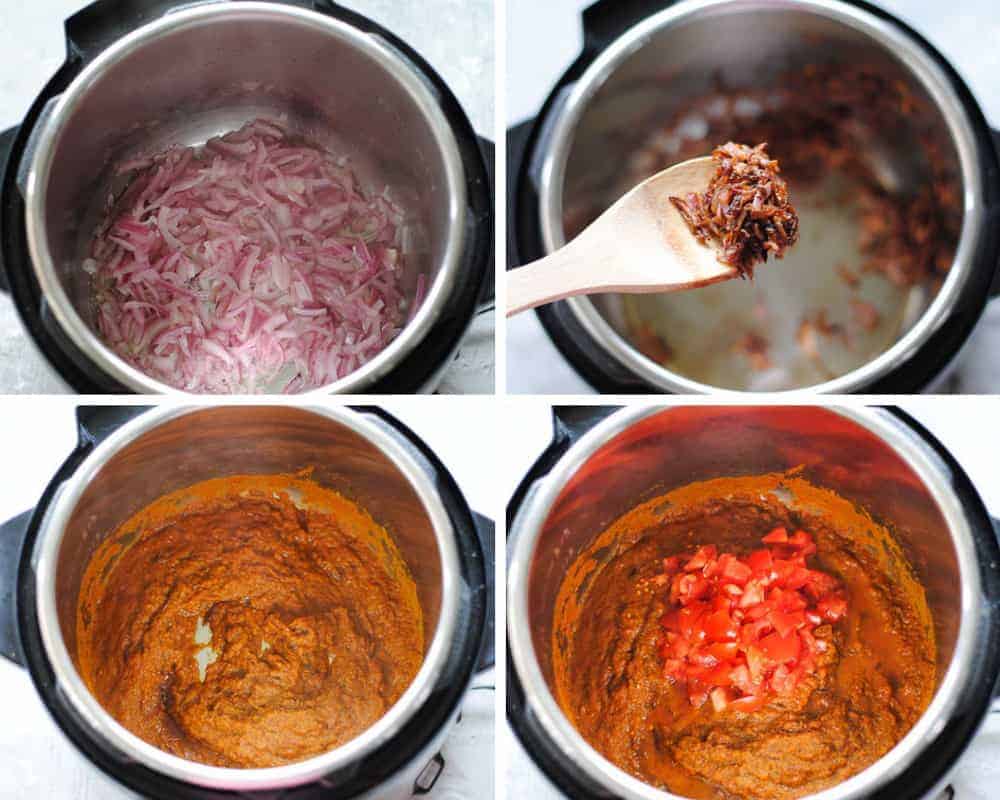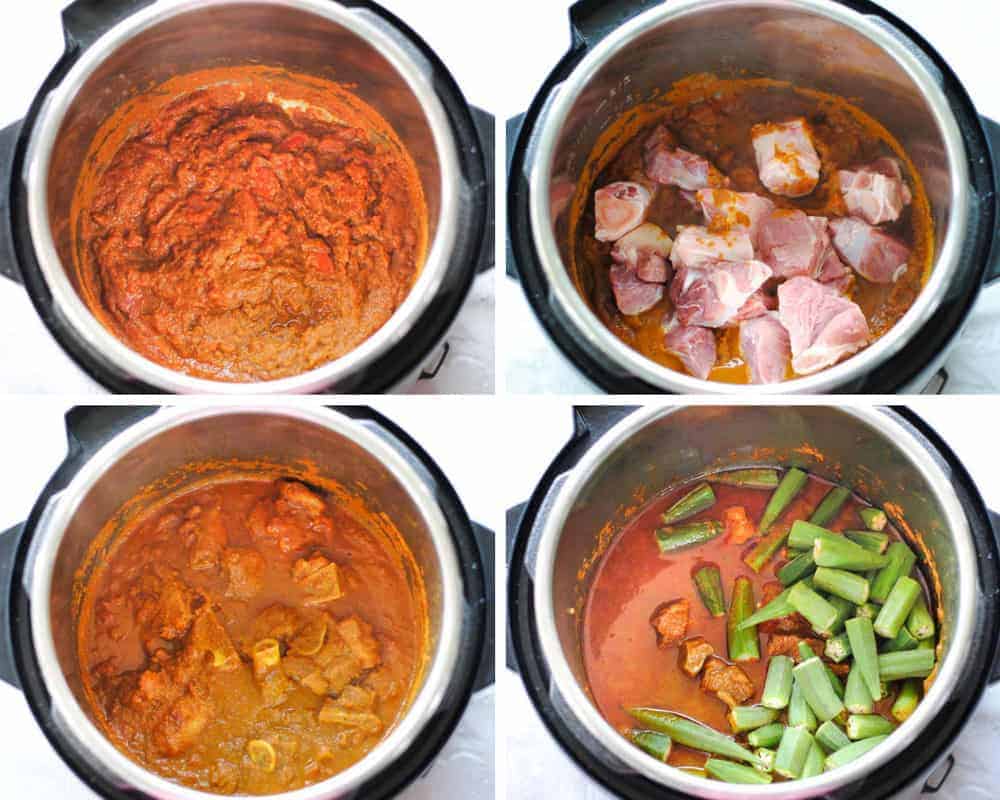 Bhindi gosht recipe: top tips
Slice the onions thinly. This makes for a smoother gravy.
Do not over-brown the onions while frying them or the curry will acquire an unappetizing brown color and a slightly bitter taste.
Roast the masala very well at every step for the perfect tasting curry. Under-roasting will not produce the same results as it takes a bit of time for the raw smell of onions, ginger, garlic and turmeric to go.
Note: If you want to learn how to fry onions and roast masala perfectly, have a look at this post - 5 Essential Indian Cooking Techniques.
Choose good quality mutton, preferably meat from the shoulder. The taste of any Indian goat curry comes from the the cut of the meat as well and not just the spices. I buy mutton from a meat shop rather than a supermarket.
If you can't get goat meat, you can cook this bhindi gosht with lamb if you wish too. Won't make a difference! Similarly, if fresh okra is not available, you can absolutely use a frozen packet. In a gravy-based dish, it doesn't really matter if the okra is fresh or frozen.
Okra softens in about 10 minutes of cooking in liquid, but if you want to save some time, pressure cook the salan for zero minutes after adding the okra and then do a QPR. Yes, you can pressure cook for zero minutes in the instant pot if you don't know this already!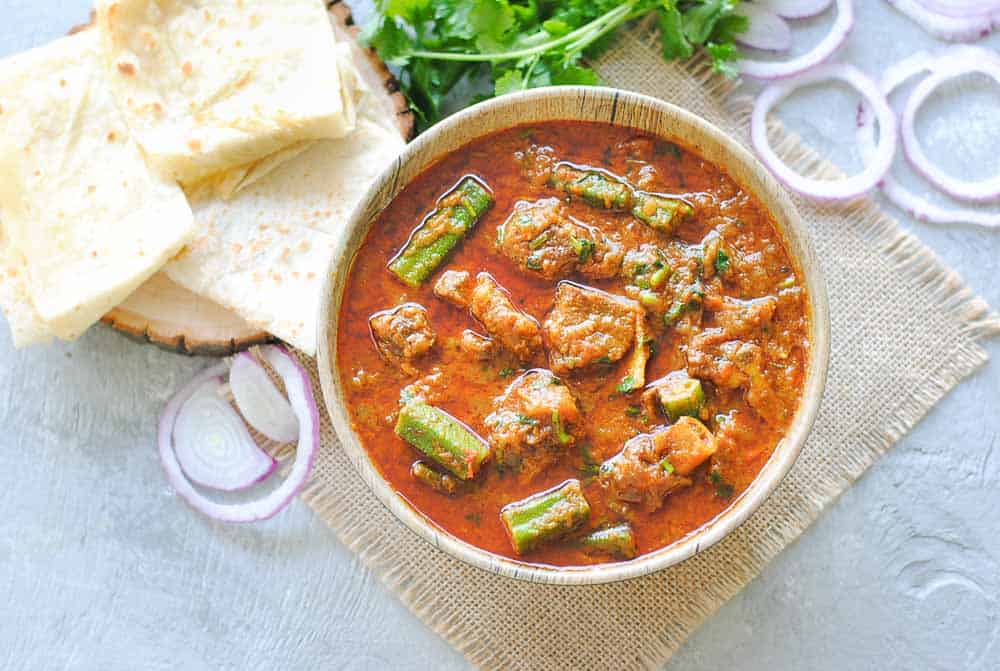 Other instant pot curry recipes you might like