Chicken kali mirch, also called murgh kali mirch, is the Indian version of the ever popular pepper chicken. It's made with a few common ingredients and comes together very easily. Plus it's packed with flavor. No muss, no fuss!
Not in the mood for cooking something that takes hours to make and has an ingredient list a mile long? Try my pepper chicken for a meal that's healthy, easy and super-tasty. It's also called murgh kali mirch or kali mirch chicken (kali mirch - black pepper, murgh - chicken).
Every time I cook pepper chicken, it gives me pleasure to think that a very vibrant dish with such interesting flavors can be made so quickly and easily.
Yes, ginger-garlic paste is something you'll need to make or buy if you don't already have a batch in your fridge (it is one of the staples of Indian cooking). But apart from that, most people will already have the other ingredients.
The point is that you don't have to go grocery shopping for special ingredients just to make it. It's that straightforward!
Why this recipe works
A truly easy recipe - no complicated steps and no degree in cooking required!
Quick - 30 minutes is all it takes to put this dish on the table. Not bad, don't you think?
Made with a few readily available ingredients - no difficult to find stuff that you'll use once in a while.
Easy tools - a frypan is all you need. Plus a blender if you're making your own ginger garlic paste.
Super tasty - there's something about chicken cooked in yogurt and seasoned with freshly ground pepper and green chillies that's totally out of this world!
Healthy - there are no artificial colors or flavors in this recipe. Just lots of good protein and wholesomeness!
Ingredients
Yogurt - imparts a tanginess to the chicken.
Ginger garlic paste - use store-bought or make your own. See prep below.
Black pepper - freshly cracked, coarse granules.
Sea salt - salt makes everything taste better.
Cooking oil - I like to use light olive oil for all my curries.
Red onion
Chicken - skinless and bone-in. Bone-in chicken has the best flavor. If you only have boneless chicken, however, you can use it in a pinch.
Green chillies - add a bit of extra heat and flavor.
Instructions
Preparation (5 minutes)
Chop the onion roughly.
Make the ginger garlic paste (homemade): put equal quantities of peeled ginger and garlic in a blender along with a few tablespoons water and blend to get a smooth puree. Use as required and store the rest in a sealed glass bottle in the refrigerator. Skip this step if using store-bought paste.
Make the marinade and add the chicken: in a deep bowl, add yogurt, ginger-garlic paste, black pepper and sea salt, and whisk. Add the chicken and make sure to coat it well with the marinade.
Note: You can rest the marinated chicken for 10 minutes if you want to, but I have found that it doesn't make a difference even if you cook it instantly.
Cooking (25 minutes)
Step 1: Heat the oil in a medium-sized frypan and add the onion.
Step 2: Add the marinated chicken to the frypan and cook on high heat for about 2 minutes.
Step 3: Lower the heat, cover the pan and cook for 25 minutes or until the chicken is tender.
Step 4: Add the green chilli and cook for 2 minutes.
Serve hot with warm naan.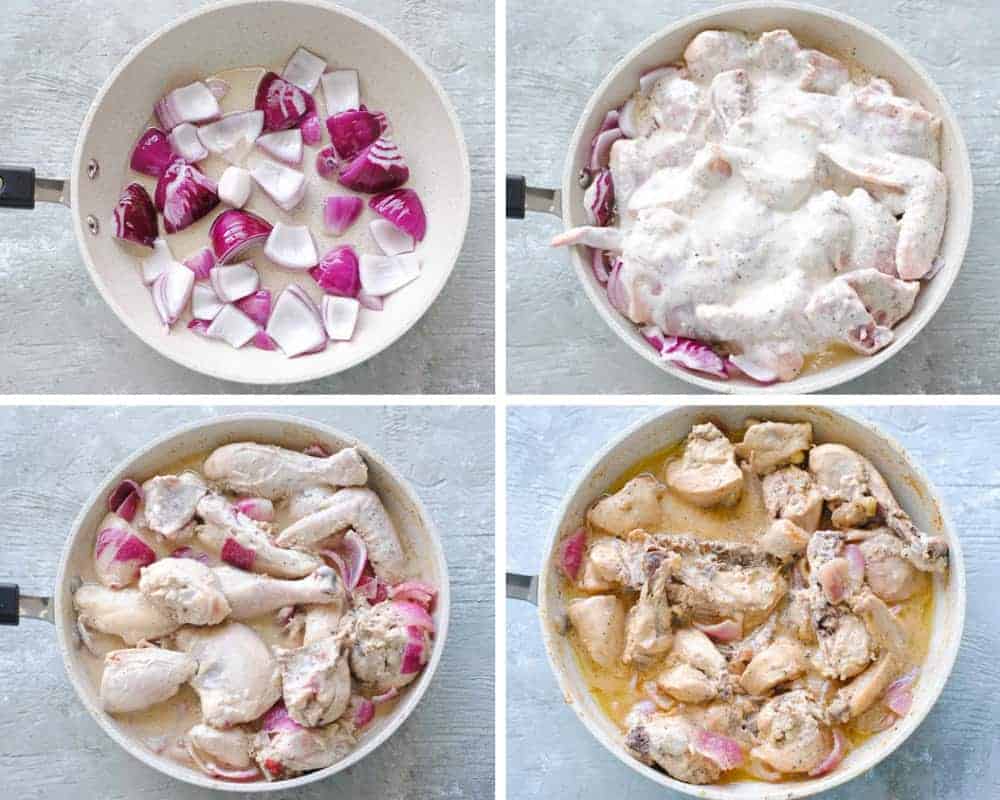 A simple hack to make chicken kali mirch very flavorful
I have noticed that chicken kali mirch tastes much better with freshly ground, coarse black pepper. You can do this in two ways:
1. Use a pepper mill and turn it a few times on the coarse setting.
2. Grind some peppercorns in a spice or coffee grinder. Just a few seconds because, remember, you want coarse granules.
So, if you're planning to use the tired, spent black pepper that's been lying around in your kitchen cabinet for the last few months, ditch it, and get grinding fresh, black peppercorns while making this recipe.
Your pepper chicken will be punchier with this simple hack, I promise you that!
Best side dishes for chicken
kali mirch
Chicken tastes fantastic with some basic bread or plain rice, but if you want to move away from the same old and do things differently, try some new side dishes to go with it. Here are a few recipes that complement it perfectly:
These are just a few possibilities. Find a lot more recipes for what to serve with chicken curry in this post: 20+ Best Side Dishes for Chicken Curry. You'll never run out of ideas for interesting sides!
Other chicken recipes you might like
Pepper Chicken
A pepper chicken recipe that's made with just five ingredients besides chicken: onions, black pepper, green chillies, yogurt and ginger-garlic paste. No muss, no fuss!
Ingredients
1

cup

yogurt

2

tablespoon

ginger-garlic paste

1 ½

teaspoon

black pepper

freshly ground

1

teaspoon

sea salt

1.6

lbs

chicken

bone-in, skinless, cut into 14 pieces

¼

cup

cooking oil

1

red onion

medium-sized, cut thickly into 4 or 5 pieces

2

green chillies

slit lengthwise
Instructions
In a bowl, add the yogurt, ginger-garlic paste, black pepper and sea-salt and whisk well. Add the chicken and make sure it is coated on all sides with this marinade. Let it rest for 10 minutes if you have the time.

Heat the cooking oil in a large pan and add the onions. When they turn pink, add the marinated chicken and cook on high heat for 3 minutes.

Cover the pan, lower the heat and cook until the gravy reduces and the oil separates (25 minutes). Stir once or twice.

Add the green chillies, simmer for a minute and turn off the heat. Serve with warm naan bread.
Notes
Ginger-garlic paste is easily available in Indian stores or even big chain supermarkets like Walmart. It is very easy to make at home too. Put equal quantities of peeled ginger and garlic in a blender along with a few tablespoons water and blend to get a smooth puree. Store in a sealed glass bottle in the refrigerator and use as required.
Nutrition
Calories:
372
kcal
Carbohydrates:
7
g
Protein:
19
g
Fat:
29
g
Saturated Fat:
6
g
Polyunsaturated Fat:
7
g
Monounsaturated Fat:
15
g
Trans Fat:
0.1
g
Cholesterol:
73
mg
Sodium:
749
mg
Potassium:
310
mg
Fiber:
1
g
Sugar:
5
g
Vitamin A:
187
IU
Vitamin C:
6
mg
Calcium:
94
mg
Iron:
1
mg