Carrot halwa or gajar halwa is an Indian dessert made of fresh carrots, whole milk, pure ghee, sugar, and cardamom. I added almonds and cashew nuts instead of khoya or milk solids. This halwa is indescribably sweet, rich and impossible to resist. Make it in your instant pot quickly and easily!
There is no word in English for 'halwa'. I realized this when I was trying to translate 'gajar ka halwa' into English. I couldn't proceed beyond 'gajar' which obviously means carrot. For some words, of course, there are no English equivalents, but it still came as a slight surprise. So, I'll try my best to describe it to you.
There are lots of varieties of halwa but the one common thing among all of them is that these are very dense desserts made by cooking the main ingredient (in this case, carrot) in milk first and then roasting it in pure ghee (clarified butter) and sugar. Other goodies are added, but by and large, this is the basic technique of making halwa in north India.
In India this delicious carrot halwa is made in the winter months since carrots, especially red ones, are available in abundance. But of course, these days, we can make it any time we want. Since it's difficult to find juicy red carrots, we will make this halwa with orange carrots.
At this point, a little bluntness is in order;) Traditional Indian desserts are not for the faint-hearted. Did you wince already at the ingredients? This instant pot gajar halwa is not for you if you want something quick and light and healthy.
It's a seriously sweet confection. But, have it once and your senses are going to explode in delight, I can promise you that! It's that intensely addictive combination of milk, sugar and pure ghee that creates the magic. However, as I always say, if you behave yourself and eat healthy MOST of the time, you can indulge once in a while.
Ingredients
Here's a picture of the ingredients. Exact amounts are given in the recipe card further down in the post.
How to make carrot halwa in your instant pot
Add the milk and grated carrots to the instant pot and pressure cook for five minutes on high pressure. Allow all the steam to release naturally. It will take between 10-15 minutes.
Open the pot and switch to sauté. The carrots will be cooked, but there will be quite a bit of liquid in there. Cook down the carrots and milk until all the milk has been absorbed by the carrots and the mixture has thickened. When you can't reduce it further and you can see that the halwa is now sticking to the bottom, stop. It takes 15 minutes of cooking to achieve this consistency.
Add the ghee, sugar, grated coconut, ground almonds and cashews, cloves and cardamom powder. Roast the halwa with the help of a wooden spoon until the fat leaves the sides and the halwa become thick and shiny. This last step will take about 10 minutes.
Now your halwa is ready and you can garnish it with the slivered or sliced almonds. Serve warm!
Some useful tips
Grate the carrots in a food processor, not a box grater - It takes hours to grate carrots by hand plus it's totally exhausting, so don't even think about it! It's easier to grate them in a food processor and be done with it. You will get finely grated carrots in 10 minutes.
Measure the grated carrots in cups, tightly packed - This recipe calls for six US cups of tightly packed grated carrots.
Grind the cardamom, almonds and cashews in a spice blender - Rather than grinding these separately, all three ingredients can be processed together to save time. Peel 10-12 green cardamom pods and throw in the black seeds right along with the almonds and cashews in the grinder to make a fine powder.
Use full-fat milk only since this is what gives the halwa its flavor and taste. If you are vegan, you can use almond milk instead of dairy milk and vegan butter or coconut oil instead of ghee but it will change the taste of the halwa considerably.
Do make sure to dry all the liquid after you open the pot - Ghee, sugar and the rest of the ingredients should be added to the halwa only then. If you add them without reducing the liquid, it will take a lot of time for the halwa to get that glossy look and thick consistency.
How to make almond slivers - Slivered almonds are available in most supermarkets. However, you can make your own if you don't have these handy. Soak around 10-12 almonds in water for 3-4 hours. When the almonds become plump, remove the skins (they will slide off) and slice lengthwise into slivers.
Make this carrot halwa in pure ghee - I don't recommend anything other than pure ghee, certainly not any kind of oil. All halwas are traditionally made in ghee which imparts a wonderful, nutty aroma to the dessert. If you have never made halwa before, you will be delighted at the aroma that will fill your kitchen when you roast the milk-infused carrots in ghee and sugar! Pure ghee is easily available in the international aisles of most supermarkets as well as Indian and Pakistani grocery stores. Or you can order it online. When ordering online, I like to buy Amul ghee (affiliate link), a good quality ghee. It's what my mom used to cook traditional Indian desserts with in India!
More popular Indian dessert recipes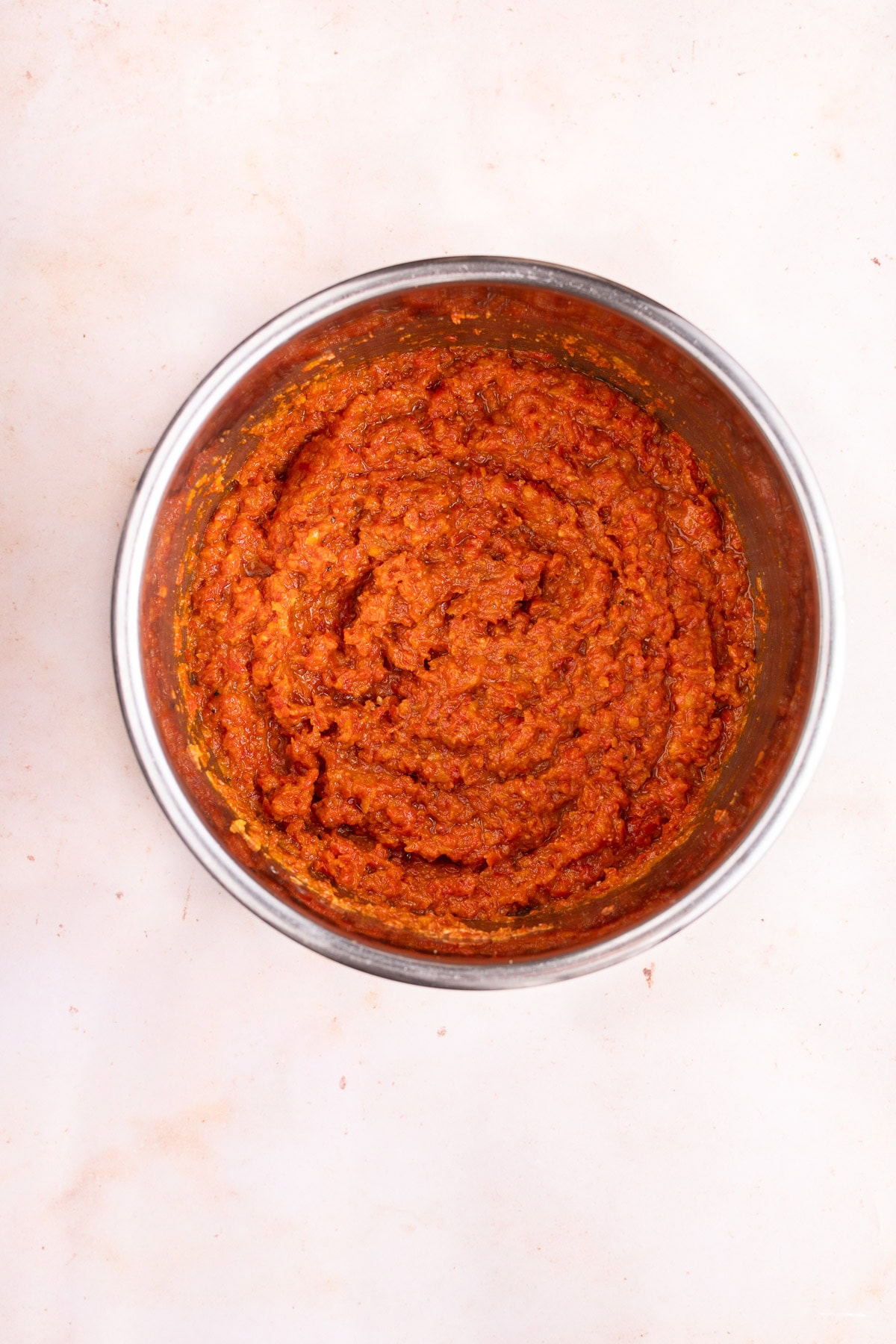 📖 Recipe
carrot halwa (gajar halwa)
Carrot halwa is an Indian dessert made of grated carrots, whole milk, pure ghee, sugar, cardamom, almonds and cashewnuts.
Ingredients
2

cups

whole milk

6

cups

grated carrots

½

cup

pure ghee

¾

cup

white

granulated sugar

1

teaspoon

green cardamom seeds

ground

10

almonds

ground

10

cashews

ground

3

cloves

2

tablespoon

dry sweetened coconut flakes

2

tablespoon

almond slivers
Instructions
Add the milk and carrots to the steel insert of your instant pot and close the lid. Make sure the steam release vent is on 'sealing', then press the pressure cooking button (high). Set the timer to 5 minutes. Once the timer beeps do a natural release. 

When the pot opens, switch to sauté and cook the carrots until all the milk has been absorbed. 

Add the ghee, sugar, ground cardamom, ground almonds and cashews, cloves, and coconut flakes. Roast the halwa with a wooden spoon, stirring all the time. Do this until the ghee leaves the sides and the halwa becomes dark orange and glossy. 

Garnish with slivered almonds and serve warm. 
Notes
Make sure the grated carrots are tightly packed to get an accurate measure.
Pure ghee is available in Indian stores. It is semi-solid at room temperature. Measure half a cup of ghee in this semi-solid state, and make sure to pack it tightly in the cup to give an accurate measure.
Make sure all the milk is absorbed by the carrots before adding ghee and the rest of the ingredients. 
Grind the cardamom seeds, almonds and cashews together to save time. 
Nutrition
Calories:
277.7
kcal
Carbohydrates:
41.7
g
Protein:
4.9
g
Fat:
11.1
g
Saturated Fat:
5.8
g
Polyunsaturated Fat:
2.5
g
Cholesterol:
18.1
mg
Sodium:
115.3
mg
Fiber:
3.9
g
Sugar:
35.2
g