Bhindi Sabzi is an easy, very simple and quick okra stir-fry that requires just 5 ingredients. It is vegan, keto-friendly, gluten-free and can be put on the table in 30 minutes. Also, read about some fail-proof tips for making non-sticky, non-slimy okra. No more sticky bhindi, yay!
Like Indian vegan recipes? Try this simple arbi fry (colocasia fry) or this aloo palak recipe. They are full of flavor!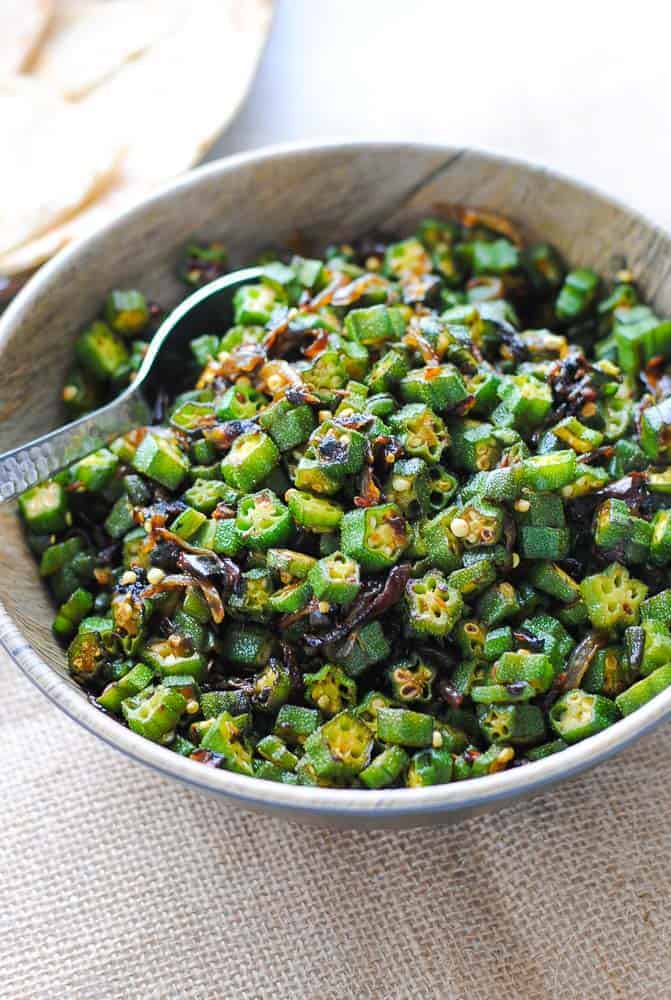 Some evenings, the only thing I'm willing to look at is an old, trusted recipe that requires no special effort to make. No mile-long ingredient list, no complex flavours and no culinary acrobatics. Just a simple, tasty and healthy meal that will fill my belly and leave me satiated.
Enter this North Indian style bhindi sabzi or bhindi ki sabji as some people like to call it. Bhindi or okra is a vegetable I've eaten a gazillion times before and I don't tire of it. Ever.
The reason? It ticks all of these boxes here. It's simple, it's easy to make, it's healthy and it's tasty.
This healthy bhindi recipe has just 5 ingredients, (not counting the bhindi itself and salt) and is made in 30 minutes. And I love the way it tastes with warm roti or naan or any Indian bread that I might have. If you are gluten intolerant or on a keto diet, have it with flatbread made with flours like coconut. Here's an easy flatbread recipe made with coconut flour.
And if cooking with fresh vegetables is your thing, do check out the bharwa shimla mirch recipe (bell peppers stuffed with a spicy potato filling) and the aloo shimla mirch recipe (potato and capsicum curry): simple dishes literally bursting with flavor. Oh, and this mixed vegetable curry, a recipe flexible enough to make use of vegetables you already have in your fridge.
Fun fact: Okra is also called ladies finger in India! The only reason I can think of is that the variety of okra that grows there naturally is long and slim in shape instead of short and fat. So bhindi sabzi can also be called 'ladies finger fry', I guess:) Conjures a weird picture in the mind, for sure!
Want to check out more Indian vegetarian recipes? Try aloo curry, paneer jalfrezi, and lauki chana dal (bottle gourd and lentils).
Or pair this bhindi sabzi recipe with lentils like dal palak or dal makhani, and serve with hot roti or rice for a complete meal.
How to make non-sticky bhindi (remove slime from okra)
If you follow these suggestions, you will have the most beautiful green okra stir-fry ever, I promise you that.
Use fresh okra if you can. Frozen okra just doesn't cut it with this recipe since there is frozen water clinging to it. Your sabzi will become a pale mush if you use frozen okra.
Make sure the okra is completely dry before you cut it. This is essential as even a little water can spoil the look and taste of the sabzi.
DO NOT ADD WATER. Sorry for the caps, but this is the key to making a successful okra stir fry. If you add water, the okra pieces will break and you will get a sticky, gooey mess on your hands. So, do not add even a drop of water. There, I said it again!
You might wonder how the okra will soften without water. Don't worry, it will. And it happens quite fast too. When you start to cook it, the okra releases a sticky, gooey substance. But you'll see that it starts disappearing as you saute the vegetable and is gone in a few minutes. This is also a measure of this veggie's 'doneness'. The okra is cooked through when the goop is gone!
For the above reason, use a good non-stick pan or skillet to cook the okra. It will be easier to saute and will not leave a sticky mess to clean later.
Add salt right in the end. One of the ways you can make sure the okra remains non-slimy is to add salt at the end of the cooking process. Salt draws out water from most vegetables and okra is no exception.
Ingredients
1. Fresh bhindi or okra - As mentioned, Indian okra is slightly different from its North American counterpart in that it is greener, longer and slimmer. This variety can be found in any Indian grocery, but if you don't want to make that trip, by all means use the one that's available more easily.
2. Onions - red onions are preferable although any kind will do. Slice them finely for the stir-fry.
3. Dry red chillies - Available in most markets, especially Indian groceries.
Substitution - you can use one teaspoon red chilli powder instead of dry chillies.
4. Mustard oil - gives warm, spicy overtones to the sabzi. Most vegetable sabzis are cooked in mustard oil for that added punch.
How to use mustard oil - Mustard oil in its raw state is not fit for cooking. You will want to smoke it before you can use it. Heat the oil until it starts fuming and becomes pale in colour. Then let it cool down enough to put the other ingredients in.
Tip - Do air your kitchen after smoking mustard oil. The fumes can be quite pungent!
Substitution - if you don't have or want to use mustard oil, feel free to cook the okra in any oil of your choice like olive oil. I do it when I can't be bothered with mustard oil.
5. Cumin seeds - one teaspoon is enough.
6. Turmeric powder - optional. No matter if you don't have turmeric. It doesn't make a huge difference to the sabzi.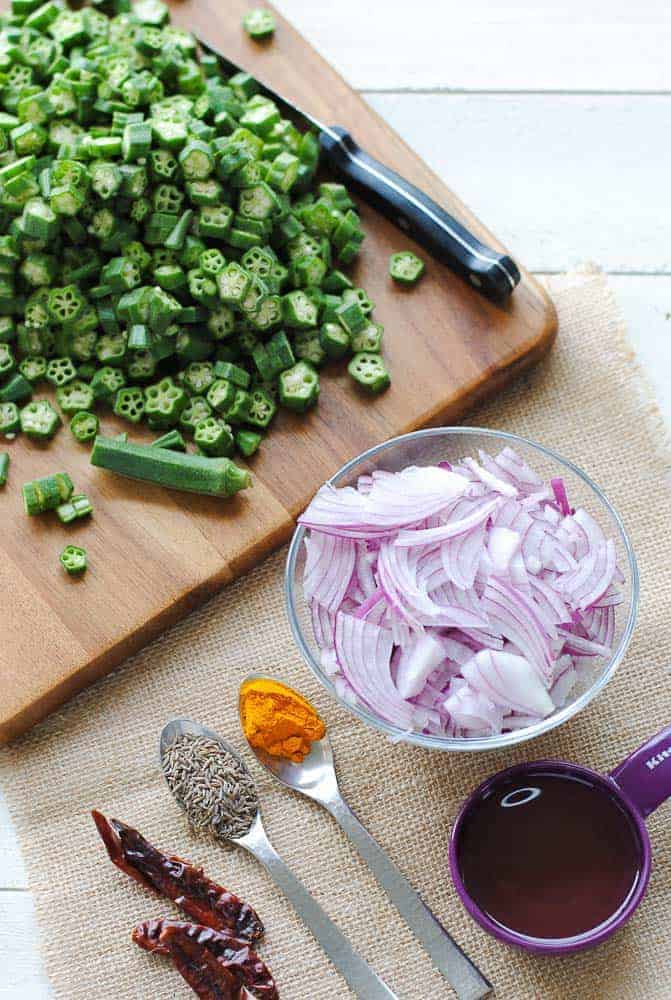 How to make bhindi sabzi
This is a fairly straightforward recipe and cooks in minutes. Chopping the okra is the only part that might take a bit of time and effort if you are not used to it, but once this is done, it's easy all the way. Here's what you need to do -
1. Wash the okra and dry it very well. I line a tray with paper napkins, spread the okra on it and let it dry naturally. Sometimes when I'm in a hurry, I speed up the process by using more paper to pat dry the okra. (5 minutes)
2. Cut off the tops and discard them. Chop the rest of the okra with a sharp knife into small, even pieces. (10 minutes)
3. While you're cutting the okra, fry the onions until they are caramelized. The onions will be fried in about the same time it takes to cut the okra, so I do both at the same time. Just don't forget the onions as you're busy with the okra!
4. Add the cumin and dry red chillies also to the frying onions.
5. Once the onions are reddish brown in colour, add the okra and turmeric and leave it to cook, uncovered for 10-12 minutes. Give it a good stir with a wooden spoon now and then to prevent it from sticking to the bottom of the pan. Don't add water at any stage to the sabzi.
6. In the end, add salt as per your taste. I deliberately add salt in the end to prevent the okra from releasing water during the cooking process. Serve the okra with any Indian bread of your choice.
📖 Recipe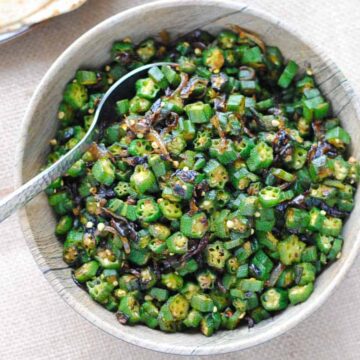 Simple Bhindi Sabzi (5-Ingredient Okra Stir Fry)
Bhindi Sabzi is an easy okra stir-fry that requires just a few simple ingredients. It is vegan, keto-friendly and gluten-free. Can be put on the table in 30 minutes!
Ingredients
1

lb

okra

¼

cup

mustard or olive oil

2

cups

red onions

sliced

1

teaspoon

cumin seeds

½

teaspoon

turmeric

2

dry red chillies

salt

to taste
Instructions
Heat the mustard oil in a pan until it starts to smoke and changes colour. After it cools down a bit, add the sliced onions and  fry them until reddish-brown.

While the onions are frying, wash the okra, pat it dry it and cut it in small, even pieces.

Add the cumin and dry red chillies to the frying onions.

Add the okra and turmeric. Cook, uncovered on medium heat for 10-12 minutes, or until the okra softens. Give it a good stir occasionally.

Add salt just when the okra is done. Serve hot with Indian naan or rice.
Notes
Make sure the okra is dry before you cut it.
Don't add any water during the cooking process.
Add salt towards the end when the okra is cooked.
It is preferable to use a non-stick pan for this recipe. 
Nutrition
Calories:
164.7
kcal
Carbohydrates:
9.3
g
Protein:
2.9
g
Fat:
15.4
g
Saturated Fat:
2.1
g
Polyunsaturated Fat:
0.2
g
Sodium:
599.6
mg
Fiber:
3.9
g
Sugar:
4.6
g