Palak pulao with paneer made in the instant pot is an easy and fresh pulao that's bursting with the goodness of spinach and cottage cheese. Pair this spinach pulao with raita (yogurt dip) and a salad for a simple and fuss-free vegetarian meal.
If you love using your instant pot for Indian vegetarian dishes, do check out this collection of 30+ (and growing) recipes: Instant Pot Indian Vegetarian Recipes.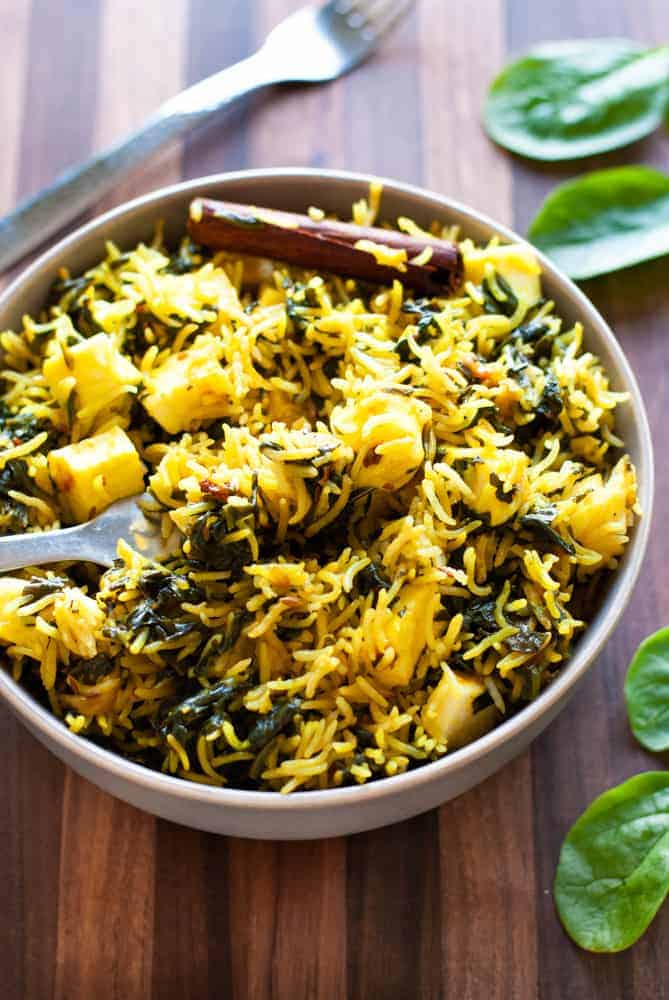 Jump to:
A one-pot pulao
Vegetarian rice bowls can be so inspiring. They're easy to make and fresh and healthy. Take this palak rice or spinach rice, for example. It's a one-pot affair that you will love digging into. The paneer in this pulao is an innovation of mine because I ♥ paneer, in anything and anywhere:) And you will, too, I'm willing to bet. The cubes of cheese mixed with the rice and spinach really elevate this pulao, and you will find yourself wanting a cheese bite with every forkful of rice.
And of course, my trusty instant pot simplifies the recipe so I don't have to stress about the rice getting under or over-done. It's one of the best parts of owning an instant pot. Rice dishes are a cinch to make if you know the rice and water combo and the pressure cooking time. If you want to learn how to make the perfect rice, do look up this cumin rice recipe. You'll never go wrong with making rice in the instant pot with the tips in this post.
Ingredients
Note: exact quantities of all ingredients are mentioned in the recipe card further down.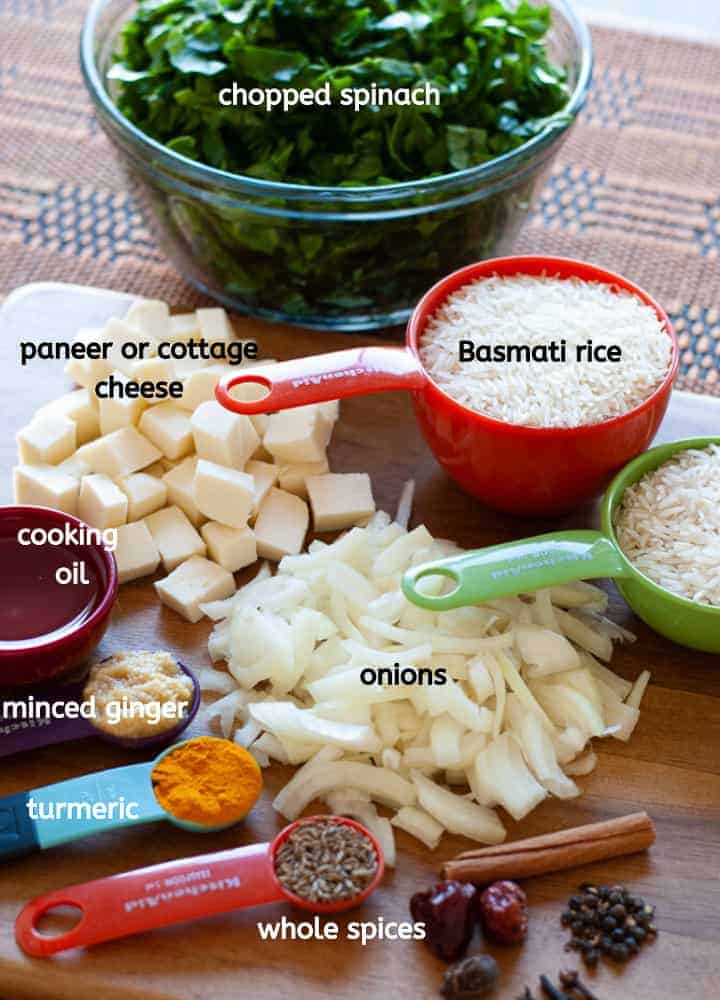 The whole spices I used are

black cardamom, cumin, cloves, cinnamon, black pepper and dried red chillies.

If you don't have all these spices, it's okay... use the ones you have. Instead of black cardamom, you can add 2-3 green cardamom as well. However, don't omit the spices completely as they add the much-needed kick to this palak rice recipe.
Indian cottage cheese or paneer is easily available in Indian grocery stores or even most supermarkets these days. That said, you can make your own paneer in a heartbeat in the instant pot. Here's how: instant pot paneer. Homemade paneer is the best, if you ask me. It's fresh and milky and really easy to make with just two ingredients: milk and lemon juice! Yep, that's all that's needed:)
Instructions
Note: this is an overview. Detailed steps are in the recipe card further down.
Preparation
Slice the onions thinly.
Chop the spinach.
Mince ginger or use ready, bottled paste.
Cut the block of paneer into small cubes.
Cooking
Heat the oil and add the whole spices and red chillies.
After a few seconds, add the onions and fry until reddish brown.
Add the ginger paste and stir for a few seconds.
Add the spinach, salt, and turmeric and cook for 4-5 minutes.
Add rinsed rice, water, and cottage cheese and mix well. Pressure cook for 4 minutes with 5 minutes QPR (Quick Pressure Release).
Open the pot, fluff the rice, and serve hot with the accompaniment of your choice.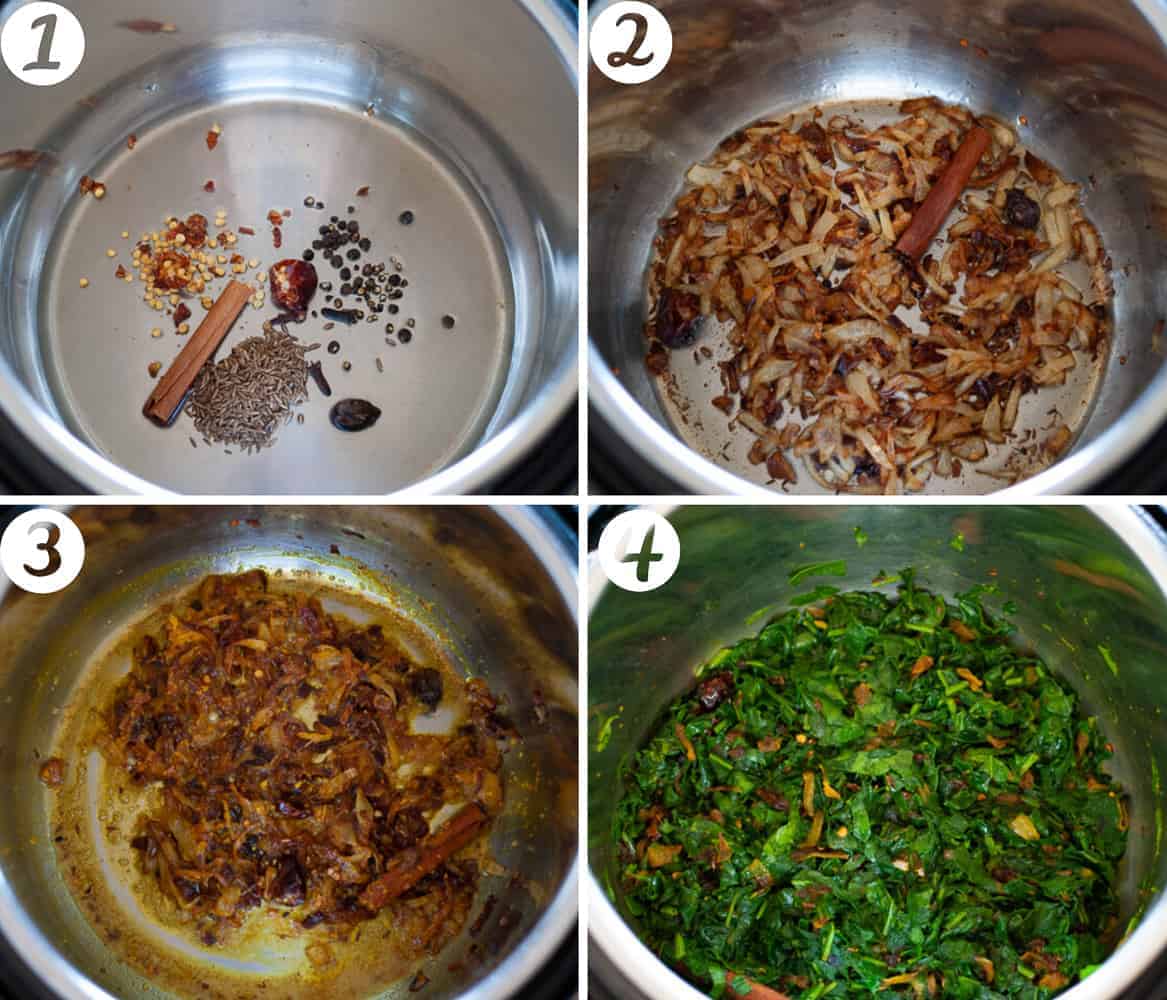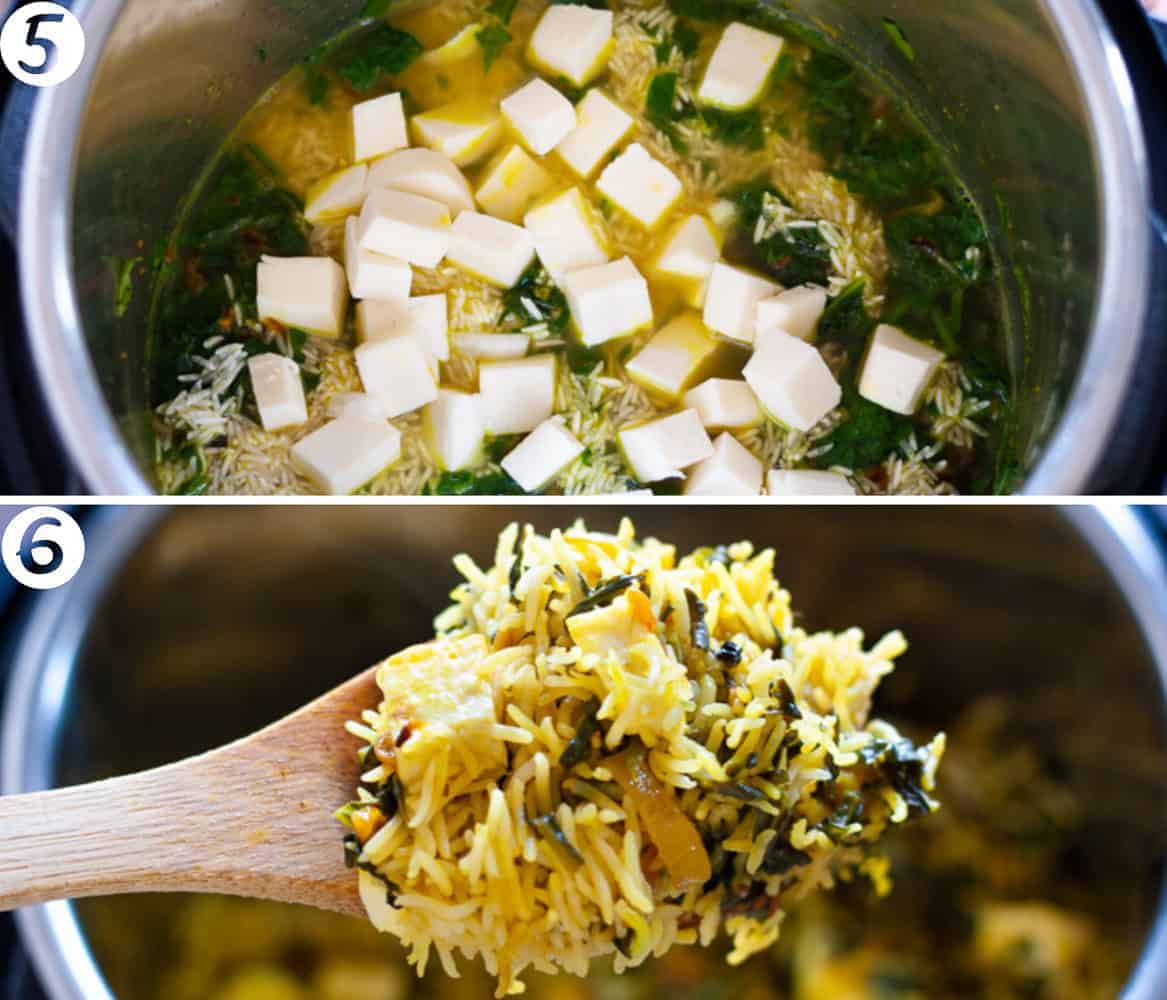 Top tips
Do use good quality Basmati rice (affiliate link) for making this pulao. In fact, if you are cooking Indian food, this is the preferred variety of rice in 90 percent of recipes.
Use fresh or frozen spinach, depending on what you have at hand. I usually buy the pre-washed baby spinach from the produce section of the supermarket and chop it up roughly for this recipe, stems and all.
If you don't have dried red chillies, use green Thai chillies instead. They work well too.
Brown the onions well if you want the full taste of the pulao to emerge. But do be careful, there's a fine line between caramelized fried onions that are a pleasing reddish-brown in color and burnt fried onions. Once onions start changing colour, don't walk away. It's a sure recipe for disaster!
If you don't have the whole spices or don't like picking them out of the rice as you eat (can be a pain, I know), use powdered garam masala (affiliate link) instead. Add half a teaspoon at the same time as the turmeric and salt.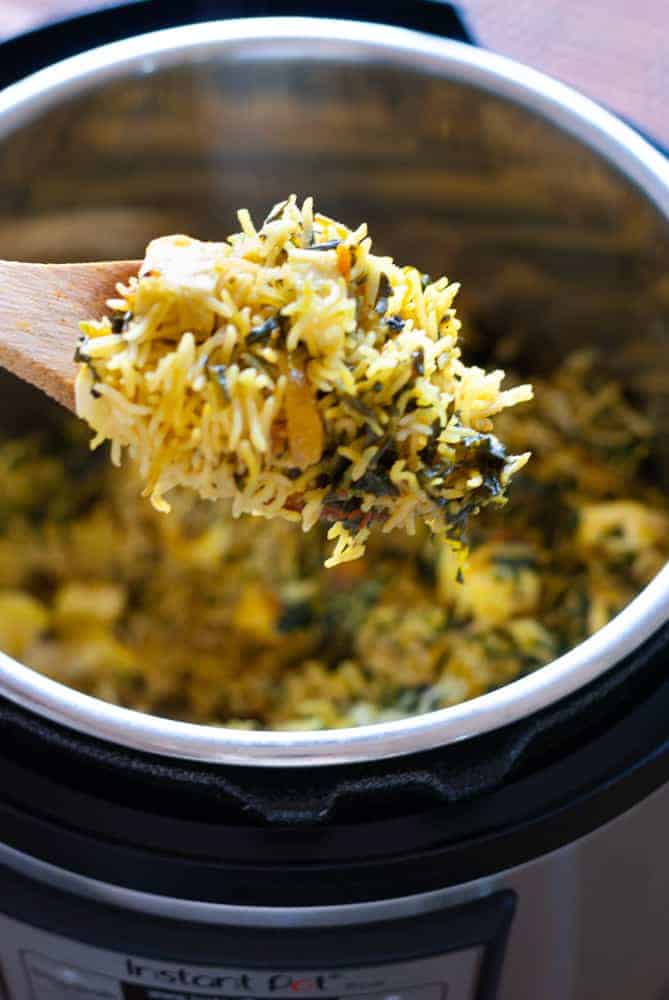 Accompaniments
All kinds of pulao taste fantastic with a generous dollop of raita, a cooling yogurt dip. There are an infinite number of raita recipes out there, but the simplest is an onion raita. You can also try this beetroot raita for a fun twist.
A fresh salad also goes well with palak pulao. Slice the vegetables of your choice: cucumbers, carrots, lettuce, radish... anything you like really will work here.
Drizzle some coriander chutney on this pulao to make it taste even better. Again, all kinds of chutneys and dips go really well with Indian rice dishes and this one's no exception. It is an extra frill, of course, but the pulao does taste quite nice with this slightly spicy chutney made of fresh cilantro leaves and a handful of other simple ingredients.
More vegetarian pulao recipes for you
Vegetable Pulao -
Basmati rice, mixed vegetables of your choice plus a few whole spices come together for a weeknight recipe.
Mushroom Pulao -
An Indian mushroom rice recipe that makes for a tasty one-pot brunch or dinner.
Peas Pulao -
The sweetness of fresh, garden peas and the slight spice of green chillies make this a winner!
Lemon Rice -
A beautiful, sunshine-yellow dish with anti-inflammatory turmeric and the crunch of roasted peanuts and lentils.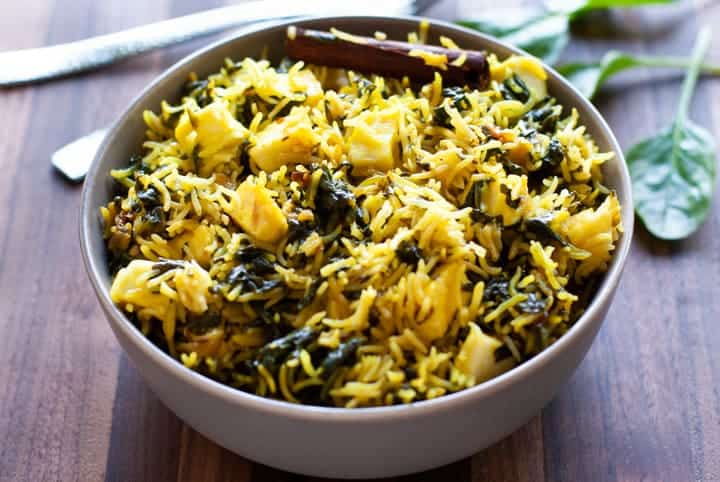 📖 Recipe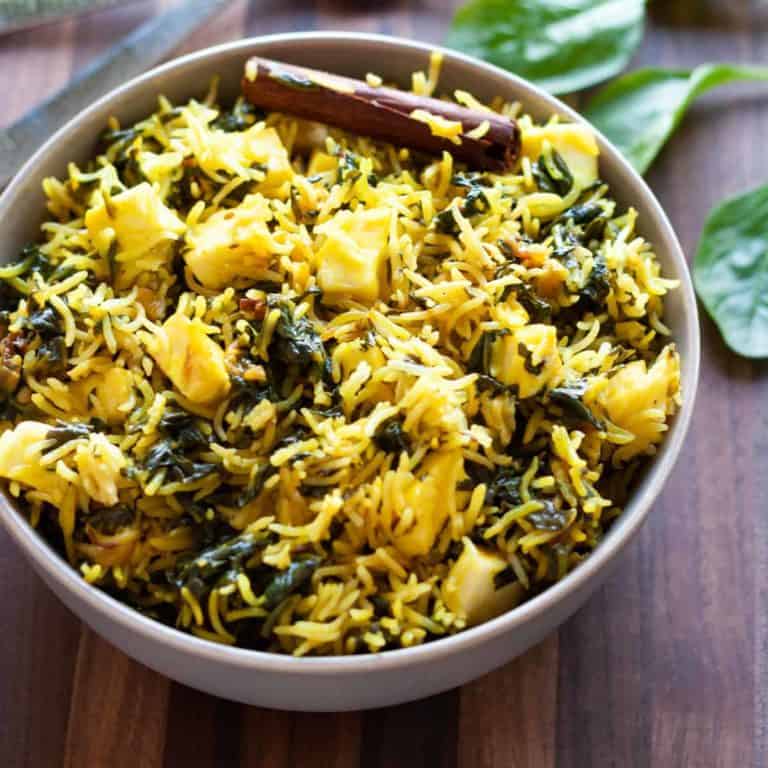 Palak Pulao With Paneer (Spinach Rice With Cottage Cheese)
Palak pulao with paneer is an easy, light and fresh pulao that's bursting with the goodness of spinach and cottage cheese. Pair it with raita (yogurt dip) and salad for a simple and fuss-free vegetarian meal.
Ingredients
1.5

cups

white Basmati rice

rinsed and drained

2

cups

water

5

oz

baby spinach

1

cup

cubed paneer

1

cup

finely sliced onion

5

tablespoons

cooking oil

1

teaspoon

grated ginger

1

teaspoon

turmeric powder

2

dried red chillies

2

cloves

0.25

teaspoon

whole black pepper

1

teaspoon

cumin

1

black cardamom or 2 green cardamom

salt

to taste
Instructions
Switch your instant pot to sauté (normal) and add the oil. When the oil starts shimmering, add the whole spices and dry red chillies. Let them sizzle for a few seconds.

Add the onions and fry until reddish-brown.

Add the ginger and stir for a 4-5 seconds.

Add the spinach, salt and turmeric and cook this until the spinach wilts and becomes dark green in color (4-5 minutes). If the spinach sticks to the bottom, add a few splashes of water too.

Add the rice, two cups water and paneer cubes. Mix well and cancel sauté.

Secure the lid and make sure the steam release vent is on 'sealing'. Press the pressure cooking button and set the timer for 4 minutes. When the timer beeps, wait for 5 minutes, then release the steam by turning the steam release vent to 'venting.' Open the pot, fluff the pulao and serve hot.
Notes
Substitutions
No dried red chillies? Use ½ to 1 teaspoon red chilli flakes or 2 green Thai chillies. If using green chillies, add them in step 4.
No whole spices? Substitute with ½ teaspoon powdered garam masala. Add it in step 4 with the salt and turmeric. Garam masala is easily available in most supermarkets.
You can use fresh or frozen spinach in this recipe.
Dos and don'ts
Do use good quality Basmati rice. This is the best rice for making Indian pulao.
Brown the onions well, but don't over-do it. See picture for degree of doneness. If the onions start turning black, your pulao will have a slightly bitter after-taste.
Nutrition
Calories:
314.8
kcal
Carbohydrates:
36.4
g
Protein:
6.9
g
Fat:
15.8
g
Saturated Fat:
0.9
g
Polyunsaturated Fat:
4.4
g
Sodium:
118.8
mg
Fiber:
1
g
Sugar:
1.2
g